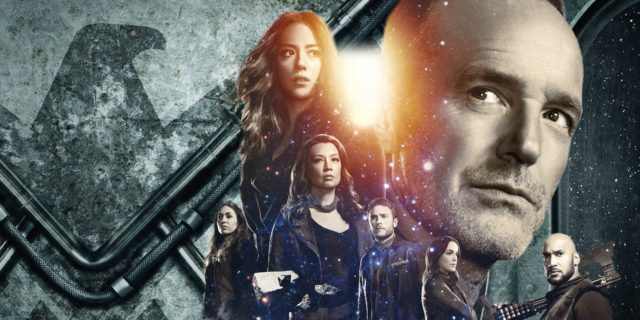 Rumors have begun circulating that Marvel's Agents Of Shield has been renewed for a sixth season. These rumors first appeared on the website Movie TV Tech Geeks who have quoted a source from ABC. The report that they have seen reportedly states that a renewal has already been agreed by the production team of Agents Of Shield, Disney and ABC. The report also reveals that the show will return to airing on a Tuesday night instead of Friday as it does at the moment.
This site is not known for breaking new stories and there has been no official comment from ABC. Therefore the news is still very much at the rumor stage but fans may still have several reasons to be hopeful that the show will return for a sixth season.
Although the show does not draw in as many viewers as the producers would like when it is aired live, it does much better when people watch it later. It is one of the best performing shows on the network for delayed viewing. There are a lot of fans that have been loyal to the show from the first season and this fan base may have saved the series on more than one occasion.
The loyalty of the fans is appreciated by both ABC and Disney, which holds the rights to the Marvel content that is shown on TV. This is one of the main reasons it was renewed for season five after the season four ratings were not as good as expected.
Another reason that Agents Of Shield continues to be renewed season after season is that Disney want to keep a Marvel presence on TV. Although none of the Avengers have appeared in the series, certain storylines have followed on from the Avengers films. There have also been appearances from supporting cast members such as Cobie Smulders, Samuel L. Jackson and Jaimie Alexander. With the first part of Infinity War due to be released later this year, interest in Marvel characters will be at an all time high and the network are likely to want to cash in on this.
Fans have also been given more hope that the rumors of a renewal will be confirmed after the head of ABC Channing Dungey seemed to give her seal of approval. She has been quoted as saying that season five has been one of the most creative seasons of Agents Of Shield that she has seen and that the writers have even more planned for the remainder of season five. She has also said that she is looking forward to hearing what the writers have planned for season six and that she is cautiously confident that it will be renewed.
The season five finale is scheduled to air in May and an announcement regarding season six will probably not be made until after this. Fans will have a little longer to wait to find out whether the show is renewed but there is plenty of action happening in season five to keep them going until then.