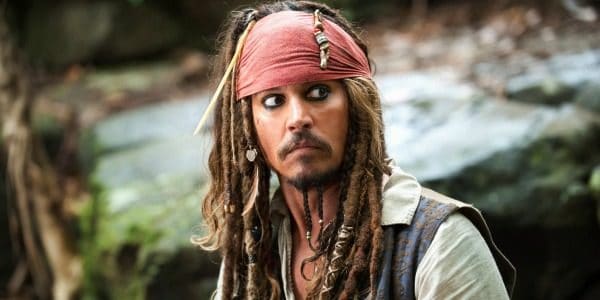 What is Johnny Depp's best role? Without a doubt, it is the legendary, the slippery, the one, the only, Captain Jack Sparrow. You've heard of him, right? He may be the worst pirate you have ever heard of, but you have heard of him. If you haven't, then there's something missing in your life. I remember seeing Pirates of the Caribbean: The Curse of the Black Pearl for the first time in the summer of 2003. It feels like a lifetime ago, but what I saw in the theater that day could never be forgotten. Needless to say, the first Pirates of the Caribbean movie was pure lighting in a bottle. And just think about it, this was all based on a park ride at Disneyland. On paper, this was the dumbest idea Disney could have ever came up with. Boy, did the naysayers eat their words like candy. Before Pirates of the Caribbean, there were plenty of movies about pirates, but they were all trash. It's a good thing this movie came around, but let's be honest, it wouldn't be the same without the notorious, womanizing, rum-loving Captain Jack Sparrow.
In order to appreciate this iconic character, we have to acknowledge the phenomenal performance by Johnny Depp. Debate me if you want, but this cunning pirate is his best role. Right off the bat, Johnny Depp makes Jack Sparrow look like your typical drunken pirate who gets caught through his own incompetence. But it doesn't take too long for him to convince everyone that he's the real deal. Heck, even when he's not committing a crime, he's just destroying everyone verbally. He can have a casual conversation with anyone and he'll just make them look stupid using dry sarcasm and witty comebacks. Hands down, Captain Jack Sparrow is one of the greatest movie characters ever. Again, debate me, because I can probably make a list of why he's one of the greats. Now with that in mind, it should be noted that after The Curse of the Black Pearl, the Pirates of the Caribbean movies went downhill from there. The last one we got was Dead Men Tell No Tales, which was a huge disappointment. Johnny Depp looked like he was basically sleepwalking throughout the whole thing and for me, that's not the Jack Sparrow I remember. I'd like to see the character end on a proper note, but as of now, that seems unlikely.
As far as all the things that are going on in Johnny Depp's personal life, let's put all of that aside for a few minutes and think about the future of Jack Sparrow. Will we get a sequel to Dead Men Tell No Tales? As much as I would like to see him return as Jack Sparrow, I have a feeling that won't happen. As far as the franchise goes, it seems like it still has a future, even without Depp and Captain Jack. We know that another Pirates of the Caribbean movie is coming with Margot Robbie taking over as the new lead. That does sound exciting and I'm all for a fresh new take on the franchise, considering we all know it has reached a low point. Interesting enough, some interesting rumors are spurring about another Pirates of the Caribbean project. I would take these rumors with a big grain of salt, but this did make me raise an eyebrow. So apparently Disney is planning on another Pirates of the Caribbean project. It's not the Margot Robbie project. In fact, this supposed project will apparently bring back Captain Jack Sparrow. But put on the brakes for one second, because if the rumors are true, then Johnny Depp won't be returning.
Wait, hold the phone. A movie about Jack Sparrow without Johnny Depp? If you're thinking that's totally preposterous, you're absolutely right. Now before we lose our minds just yet, let's dive deeper into the rumors. This supposed project will either be a prequel that shows us the early days of Jack Sparrow before he became Captain of the Black Pearl. If that's the case, then having Johnny Depp return to play a younger version of the character wouldn't make sense. I will admit, that does sound interesting. Seeing the early days of Jack Sparrow's pirate life would be a fun adventure and we got a glimpse of that in Dead Men Tell No Tales. But the rumors also suggest that it could be an animated project. Pirates of the Caribbean as an animated movie or show? Somehow, I just don't think that will work. Maybe it could, but this was meant to be translated as a live-action swashbuckling adventure with a protagonist who isn't really a children's hero. Yeah, I'll pass on the animated speculation, but a Jack Sparrow "origins" story would be much more ideal. Will this actually happen? Better question, is it a good idea?
Honestly, the answer is a hard no. When I read about these rumors, I just thought about the 2018 Han Solo movie. You know, without Harrison Ford. Yeah, I'm pretty sure that's a big part of the reason why it bombed at the box office. Han Solo is one of Harrison Ford's signature roles. You can't possibly have another actor come in to take over and expect a performance similar to Ford's. Granted, it was a fine movie and Alden Ehrenreich was a fine Han, but he doesn't light a candle to Harrison Ford. I mean, how could you? That's probably why they're not getting another actor to play Indiana Jones. If they did, then it would be practically criminal.
Just like Han Solo is a signature role for Harrison Ford, Jack Sparrow is a signature role for Johnny Depp. In all honesty, it would be utter nonsense to have another actor come in to replace him. No one can possibly do that character better than Johnny Depp. If this does happen, then the best they can do is to not imitate Depp's stellar performance in any way. Try to make it their own and add some new layers to the character. The thing is, we've seen that happen with an ill-advised attempt with Han Solo. We all remember how that turned out. The movie bombed and it put Disney in a bad spot. They can't afford to do that again, so I won't be holding my breath for a solo Jack Sparrow project. Unless it has Johnny Depp attached to it, it just won't feel the same. Then again, if it does happen, I'll probably still watch it, but I'll probably be in the minority.
Tell us what's wrong with this post? How could we improve it? :)
Let us improve this post!