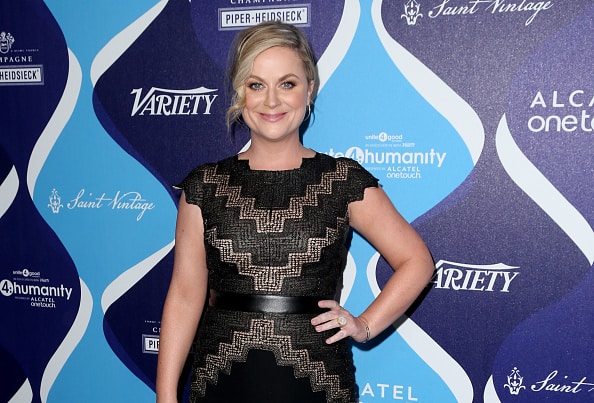 Tomorrow we will be saying good-bye to one of the greatest sitcoms of recent years. Parks and Recreation never dominated in the ratings, but it was able to build a strong following and was loved by the critics (after the shaky first season aired). A lot of that adoration can be attributed to the show's star Amy Poehler. Poehler was known for her impersonations of Hillary Clinton, Kaitlin the odd little girl who had a fascination with her stepdad, Rick, Dakota Fanning, and morning talk show host Kelly Ripa on the late night sketch comedy show Saturday Night Live. Poehler would leave the popular series in December 2008 to begin working on Parks and Recreation, which would begin airing the following spring. Poehler has devoted her time to making us laugh every week on the NBC series for the last seven seasons. Before we wish the series a fond farewell, here are seven things you may not have known about Ms. Poehler.
1. She is not the only famous person in the family
Amy Poehler's parents are both teachers. However, she and her brother both decided to pursue careers in acting in lieu of teaching. Greg Poehler earned a Juris Doctorate degree from Fordham University of Law and then added a Masters degree in European Intellectual Property Law in 2006. He left his job as a lawyer to follow in his sister's footsteps. He is the star, producer, and writer of the NBC sitcom Welcome to Sweden. Season two of the comedy will air later this year.
2. A first for SNL
Amy Poehler spent eight seasons on Saturday Night Live. Her debut season was in 2001 and the first episode she appeared in was the first to air after the attacks on September 11th. Her first sketch was a parody of the Law & Order franchise where they are parking attendants. The skit also featured Rachel Dratch. Amy Poehler was promoted to a series regular before the conclusion of the first season she appeared. This feat had only been accomplished two times prior by Eddie Murphy and Harry Shearer. In 2008, Poehler was nominated for a Primetime Emmy Award in the category of Outstanding Supporting Actress in a Comedy Series. This was a first for anyone on the sketch comedy show. Kristen Wiig and Kate McKinnon would also later receive nominations.
3. She's appeared in the most projects with her BFF
It should not be a shock to anyone that Amy Poehler and Tina Fey are lifelong best friends, and two of the funniest women in the entertainment industry today. The two of them have worked together countless times, and Fey is the person Poehler has appeared in the most projects with during her time as an actress, though her ex Will Arnett is a close second. Their first collaboration dates back to when the dynamic duo studied improvisational theatre at Second City in Chicago back in the early 90's. They would go on to star together in the 2002 film Martin & Orloff, which would also star Rachel Dratch, Andy Richter, and David Cross. The two would then work together on Saturday Night Live from 2001 to 2006. During that time they would appear in Mean Girls and then in 2008 would co-star in the film Baby Mama. Poehler even popped up on Fey's comedy 30 Rock in 2012 on a live episode. Plus in 2013, both actresses provided voices on good friend Seth Meyers' animated show The Awesomes. Poehler and Fey have hosted the Golden Globe Awards three times and will be starring in the 2015 film Sisters.
4. She looks familiar because of another late night gig
Speaking of Andy Richter, Martin & Orloff was not the first time that Amy Poehler worked with him. During the nineties, Andy Richter appeared on Late Night with Conan O'Brien. He would eventually leave the show to star in his own sitcom Andy Richter, PI. It would not even last one season before NBC gave it the axe. Poehler would appear frequently in sketches on the late night show. She would play Andy's younger sister, Stacy. She was crazy in love with Conan.
5. She is obsessed with being fake
Well, sort of. Amy Poehler has been known to collect realistic-looking food that is actually fake. She enjoys fruit that is not real, but it appears to be. She told the Huffington Post, "I have a thing for tiny crocheted cupcakes, little carved pieces of sushi. I have no idea where the obsession came from, but I hope it never ends." The actress has even purchased a sleeping bag that is in the shape of a slice of pizza. I wonder if she has anything that resembles waffles, since her Leslie is so crazy about them on Parks and Recreation.
6. She helped Seth Meyers become who he is today
Amy Poehler was ready to go to work on Saturday Night Live in 2008, but instead of heading in to anchor Weekend Update she went into labor. Because of this, Seth Meyers had to hold down the segment all on his own. Meyers was able to take the reins and perform the segment solo for many years after Poehler officially departed from the series in late 2008. He would even go on to host his own late night talk show that follows The Tonight Show Starring Jimmy Fallon. Meyers admitted that Poehler sent him nothing but "words of encouragement" that first night he first anchored solo.
7. She founded a theater
Amy Poehler got her start in Chicago at Second City. After that, she would go on to become one of the co-founders of New York's Upright Citizen's Brigade Theater. It is a great and affordable place for people who enjoy comedy to frequent. If you visit on a day that Poehler is in New York, you may see her on stage as she likes to pop up from time to time and put on a show for the guests. Other members of this awesome and funny group include Adam Mckay, Horatio Sanz, and Neil Flynn. Poehler even starred on the television series of the same name that ran on Comedy Central from 1998 to 2000 and produced 30 episodes.
Do you know any other fun facts about Amy Poehler? Let us know in the comments section below.
Photo by Frederick M. Brown/Getty Images for Variety
Tell us what's wrong with this post? How could we improve it? :)
Let us improve this post!