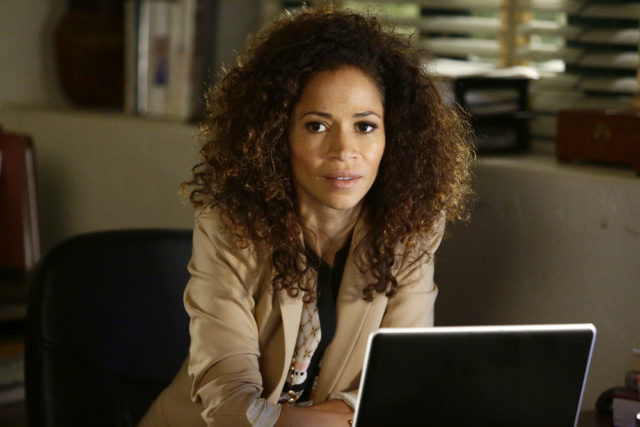 Okay, the producers of the Fosters are being lauded for their inexorable quest to attack highly controversial social issues on mainstream television, and while their world around us is definitely becoming more liberal in its thinking, taking on certain issues can still prove to be quite risky, but one way to take some of the edges off of the show that is centered on a lesbian couple raising children of multiple ethnicities is to cast the role of one of the parents with the gorgeous Sherri Saum. It is amazing how images have the power to trump values in the right environment. Sherri takes on a very polarizing role and she makes it look easy, and she looks good doing it. Now that is a winning combination any way you chalk it up.
For those fans of the show who may not know who Sherri is, we are going to share a few facts with you to help familiarize you with the gorgeous and talented star.
1. She Was a Guest Star on How To Get Away With Murder
Sherri is no stranger in front of the camera and she has proven that she has amazing range. She was able to land a guest role on How to Get Away with Murder, which stars Academy Award winner, Viola Davis. To demonstrate her range, Sherri plays a sex worker is accused of murder by "vagina." Needless to say that Sherri was able to pull off that role and leave the camera lens steamy and the audience thirsting for more.
2. She Is a Dayton Darling
When you visit the town of Dayton, Ohio, it will not take long to discover that Sherri Saum is one of their dearest and darling daughters. The people there will quickly tell you that she graduated from Fairmont High School and then they will tell you how proud they are of the actress whose acting careers spans back almost 20 years, which is hard to believe. There are not too many places you can visit in Dayton and they do not know who she is.
3. She is A Buckeye
Wouldn't you know it? That is something else that not only Dayton, but the entire state of Ohio is proud of. She actually began her career as a model while she was still studying at Ohio State University. While she also has a degree from New York University, she is definitely claimed and covered by those dear old Buckeyes, and it is obvious that she would not have it any other way. Well, while she studied at Ohio State she has taken the entire world by storm.
4. Her Mom is a Former New Media Employee
While it was probably not given a lot of consideration early in life, it is obvious that the career choice of Sherri's mother played some role in her interest in entertainment. Her mother worked for an undisclosed number of years as an editorial assistant for the Dayton Daily News. I can imagine the stories that Sherri would hear when her mother would get home from work. Having that type of access to media will definitely change your perspective on life in general.
5. She is a Mall Girl
Yeah, I know, I had to check out the term myself. It turns out that a "mall" girl is a girl who goes to great lengths to spend every possible moment in the mall whether they are shopping or not. Rumor has it that Sherri would take the RTA to the Dayton Mall almost every day. I guess that is where she developed her sense of fashion and taste from Well, she has definitely come a long way from catching the RTA to the mall, the mall executives would probably pay her to come and send a limousine for her.
Tell us what's wrong with this post? How could we improve it? :)
Let us improve this post!