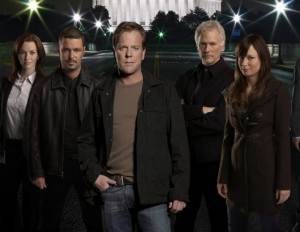 Last week on 24: Dubaku blew up a couple planes. Tony killed Emerson. EVIL Sexy Secret Service Agent killed Samantha and nearly killed the First Dude as well, until he was thwarted by a 20 foot drop and flimsy table. So now EVIL Sexy Secret Service Agent is DEAD Evil Sexy Secret Service Agent. Have I made that confusing enough for you? Good. Agent Walker decided to trust Jack, but her rogue status caused Agent Moss to get his panties in a twist about the possibility of his Not!Girlfriend being dead. Matobo and his wife agreed to let Jack give them over to Dubaku. And I got all excited at the preview for this week because there was explosions and stuff.
We join Agent Moss at the FBI Washington Field Office, where Special Agent Sean has identified the Totally Inconspicuous Bright Yellow Van of Chaos. See? That's what you get for choosing brightly colored transport vehicles! Special Agent Janis also has news for Moss: she thinks she can figure out Dubaku's next target. Moss reluctantly gives her the okay to pursue her lead. Special Agent Sean leans over to Janis and asks her if she thinks Moss is up to running this operation. Janis tells him to get back work and shoves him and his rolling chair back to his workstation. Hee.
White House. The Chief of Staff is still trying to get in touch with DEAD Evil Sexy Secret Service Agent, but he can't, because… well, you know. He really really needs to talk to the First Dude. Agent Moss calls him, and lets him know they've identified the Totally Inconspicuous Bright Yellow Van of Chaos. This development isn't good enough for the Chief of Staff, though. People are going to die! Moss knows that, dumbass! His Not!Girlfriend already died! Okay, not really. But he doesn't know that.
Jack and Co. have apparently swapped out their Bright Blue Van of Covert Ops for a Practical and Unassuming Black Van, as they've realized the peril of choosing brightly colored transport vehicles, and are on their way to the building where the Matobos have been taken. Jack asks for Walker's help (Oh, yeah? Is that what they're calling it these days, Jack?) and we cut to Dubaku in the Green Command Center of Evil and Mayhem. Mr. Nichols drags in the Matobos while Dubaku explains his malicious plan to kill half the population of Kidron, Ohio by making the safety valves on the main tank in Kidron's chemical plant fail. Dubaku goes up to Matobo and recounts their last meeting: at a state dinner, they had been sharing a very fine bottle of wine, and when Dubaku offered his hand in friendship, Matobo slapped it away. Dubaku appears to be one of those guys who gets pissed off very easily at very piddly things. "You used the last bit of toilet paper and didn't replace it? TAKE HIS HAND OFF." Matobo reveals that Dubaku had given him an ultimatum — to be a puppet for the Sangala military ("or else"…? Don't ultimatums usually have an "or else" clause? I'M SO CONFUSED.) Dubaku's going to send Matobo back to Sangala to reveal the names of his allies (the "traitors") to General Duma (who is currently controlling the government). Matobo protests, and Dubaku sets his sights on Matobo's wife before promising, "Believe me, you will." After the Matobos are taken away, Mr. Nichols approaches Dubaku and asks, "Any word from the President?" Dubaku responds, "Not yet. But when she sees dead Americans lying in the street, she will be less stubborn." DUN DUN DUN.
Outside, Jack, Tony, and Bill scale the building while Walker goes inside (Chloe's stuck in the van). She smoothly flashes her FBI badge to the security guard at the front desk, and he lets her inside. Walker makes her way to the service entrance on the top floor and lets Jack, Tony, and Bill inside. They split up; Jack and Walker go to the fourth floor so they can do surveillance through the air ducts while Tony and Bill wait on the Third Floor, where Matobo's being held. As Jack and Walker drop down into the crawlspace, I'm starting to think this was the whole "getting to second base" thing I was talking about last week. Wow, Jack. You sure know how to treat a lady! Gets me all tingly.
Meanwhile, Matobo and his wife are having a little chat in the holding room. Matobo regrets letting his wife come, but she assures him that, "Jack Bauer will be here soon." Hell yes, he will! Cut to Jack and Walker messing around in the crawl space. No, not like that. They're just kind talking and crawling. Jack follows Chloe's directions until he finds an air vent that looks over the Green Command Center of Evil and Mayhem.
Back at the FBI Field Office, Special Agent Sean is whining to Janis about how she's wasting time with her lead, but it turns out that "Kidron, Ohio" keeps turning up in the intelligence data she's running. Janis thinks she's found the target: the chemical plant! A highly-toxic insecticide plant, to be specific. Janis gets the plant manager on the phone, who reveals that three of the safety valves on their primary storage tank just failed and they can't reset them. Oops! Janis tells them it's probably a terrorist attack and they need to shut down the tank and STAY ON THE LINE, DAMN IT! They are so screwed. Pressure's rising in the tank and Janis gives the manager orders to start evacuating ASAP while Special Agent Sean runs to get Moss.
White House. The Secretary of Homeland Security alerts the Chief of Staff of the chemical plant crisis, and they run off to brief Madame President. They still can't find the First Dude, which means that they can't convince Madame President to pull the troops out of Sangala. Madame President is crafting a speech about her little terrorist problems when they barge in on her. The explosion of the chemical plant itself wouldn't be too big a problem, except for the fact that the prevailing winds will send the toxin all over Kidron, resulting in lung damage, chemical burns and death for upwards of 18,000 people (more than 50% of the population). Emergency responders have been contacted, but there's not enough time. Their only chance of stopping this attack is to find the CIP and Dubaku.
Actually, Jack's working on that. Chloe informs he and Walker that they only have twelve minutes until the tank goes critical. They're going as fast as they can! Jeeze. Chill. Jack aims a wire camera through the vent in order to get reconnaissance on the Green Command Center of Evil and Mayhem. He's able to identify Dubaku and Nichols, and relays the scouting report to Tony and Bill. Chloe's pretty sure the green, glow-y lights in the background are powering the CIP device.
FBI Field Office. Special Agent Sean informs Moss that the NSA is still trying to plug the firewall breech, but it's not going fast enough to stop the chemical plant from going KABOOM. Things are not going well at the chemical plant either, and they're focusing mainly on evacuation. The plant manager heads to the main tank room in order to buy his people some time by manually releasing some of the pressure from the tank. Janis walks him through the process and just when it looks like he's going to be okay, the gas that's being released into the room is too much for his flimsy little gas mask to handle. Looks like a suicide mission, folks.
In the Green Command Center of Evil and Mayhem, Dubaku sees the security tapes of Jack and Co. breaking in. Nichols was supposed to have killed them! Dubaku justifiably freaks out. Because, seriously, when Jack Bauer's running around with an automatic weapon and you don't know where he is? That's trouble. Yessssss. Dubaku orders them to stop CIP device and get the hell out of there, despite Nichols' protests.
FBI Field Office. Special Agent Sean realizes the firewall breech has been closed. It's now secure and they have no idea how it happened. <cue Twilight Zone music>
Dubaku orders his minions to get Matobo and his wife. Jack — still in the air duct with Walker — is going over the tactics with Bill and Tony, completely oblivious to the evacuation going on right underneath him. Whatever. Tony and Bill storm the place as Jack detonates a C4 charge that causes the air duct to collapse and he and Walker come flying out of there and land on their feet and they start shooting and there's gunfire and explosions and WHEE WHY DON'T THEY DO THIS EVERY WEEK?? Badass. As Nichols goes into the holding room to get the Matobos, Agent Walker awesomely shoots him in the back. Meanwhile, Jack and Tony finish off Dubaku's thugs, but they've lost track of the terrorist mastermind himself. However, they have found the CIP device, which was effectively destroyed in the firefight.
FBI Field Office. Janis is on the phone with the rapidly-fading chemical plant manager. The pressure's dropping in the tanks and the CIP is no longer controlling the system, so things are looking good. However, the plant manager is too weak from the gases to get to the door. Janis tells him to stay with her. Shut up, Janis. We all know he's doomed.
Meanwhile, Walker has secured the Matobos in the Practical and Unassuming Black Van and alerts Jack that the first responders are five minutes away. Dubaku, however, has found a very sweaty Michael Latham (The computer nerd from earlier in the season — the guy who designed Homeland Security's firewall… remember? I sure didn't.) and threatens his family if he doesn't cooperate. Jack, Tony, and Bill storm the door and find Michael handcuffed to a pipe, practically sobbing. Dubaku has rigged him as a human bomb. Jack yells for his team to hit the floor and they make it outside the room moments before Michael explodes into itty bitty pieces of barbecue. They're okay, but Dubaku has disappeared. Chloe warns them that the police are almost there — they have to get out ASAP or they'll be arrested and thrown into Gitmo (that's an editorial comment). Dubaku is a couple steps ahead of them, though, as he nonchalantly joins the group of evacuees outside the building before waltzing down the sidewalk.
FBI Field Office. Moss can't figure out why the CIP device was stopped and is consequently giving Special Agent Sean a hard time. He finally tells Special Agent Sean to find the CIP device. That should lead them to Dubaku. Or not. Moss stares at his Not!Girlfriend's file photo for a moment. Creeeepy. On the floor, Janis informs Special Agent Sean that the chemical plant manager died. She wants to talk to his family and tell them how brave he was, but there isn't time for that. She has to find the location where the CIP device was being used.
White House. Madame President is informed by the Secretary of Homeland Security that there was one casualty at the plant. It appears as though the crisis has been averted, but no one knows why. Madame President smells something fishy going on and orders the Secretary to maintain alert levels. She gets a call from Admiral Smith, of the Joint Chiefs of Staff, who's getting impatient about the Sangalaese invasion. She tells him to stay put. The Chief of Staff comes back in after his continued attempts to get in touch with DEAD Evil Sexy Secret Service Agent have failed. The Chief of Staff reveals to Madam President that First Dude has been harassing Samantha and won't let go of his conspiracy theories about his son's death. Except… there's this teeny tiny problem that the Chief of Staff can't reach the First Dude at the moment. Uh oh. Just what Madame President needs right now. The Secret Service put out an APB and is on its way to Samantha's apartment.
DEAD Evil Sexy Secret Service Agent's Evil Cohort is still stuck in the car and gets the APB, so he calls DEAD Evil Sexy Secret Service Agent. The phone rings, but DEAD Evil Sexy Secret Service Agent can't pick it up because he's DEAD. First Dude wakes up on top of the destroyed table and picks up the phone, but he can't use it because it's locked. Seriously? Who locks their cell phone?? Plus: land line, anyone? First Dude sees Samantha's body on the floor and goes, "Oh,." I'm pretty sure he's about to puke. He heads towards the door, but Evil Cohort is coming his way. First Dude tries to get DEAD Evil Sexy Secret Service Agent's gun, but Evil Cohort kicks it out of his hand. First Dude tries to negotiate, but Evil Cohort conveniently gets a call from Dubaku, who tells Evil Cohort not to kill First Dude. "Bring him to me," Dubaku sneers eeeeevilly before hanging up.
You know what, Dubaku? Holding the First Dude hostage sounds like a GREAT idea. Why didn't you just do that in the first place? Jeeze. These evil villains need to take an "Effective Use of Your Villainous Resources and Contacts" class or something.
Jack and Co. bring the Matobos back to the Loft (which is what I've dubbed their central control room because, well, it looks like a loft from a Pottery Barn catalog, or something). Chloe tries to pull up satellite images in order to locate Dubaku, but Jack's worried they can't do it alone. Of course you can do it alone! You're Jack Bauer! Bill's extremely wary of trusting the government, as is Tony (if not moreso). Matobo offers to get them into the President's inner circle, and Bill reluctantly agrees. Awww. I was liking Rogue!Jack. This starting to look an awful lot like Season 3, which could be good or bad, depending on how much you liked Season 3. I was kinda meh, personally. But I think that mostly had to do with Kim Bauer (a.k.a. Spawn of the DEVIL).
Back at the White House, Madame President receives a call from Matobo. They can't trace it, though. She asks Matobo if he's okay, and he informs her that he's been rescued, and his rescuers destroyed the CIP device. He needs to speak to her alone and will be there in ten minutes. Madame President calls in the Chief of Staff and relates what happened to Matobo. She tells him to bring Matobo through the south wing and keep things quiet.
Chloe finds a safe route to the White House for Jack, who convinces Walker to come with him. Tony's not coming, though. He did some bad, bad things while he was working for Emerson, and will likely be arrested if the government gets its hands on him. Jack thinks Tony needs to deal with the consequences of his actions, but Tony tells him, "Oh, believe me, I will. But not yet. Not until we get Dubaku." Jack makes Tony give him his word that he'll turn himself in when this is all over. Ha. Yeah, right. Not gonna happen. At least, I hope not. I like the way this season seems to be setting up for a Jack/Tony showdown towards the end, and I can only hope that the writers follow through on that because it would be awesome.
The ending scenes have Evil Cohort stuffing First Dude into the trunk of his car, Matobo and his wife leaving with Agent Walker and Dubaku seeking shelter in a safe house. There's a knock at the door and it's his girlfriend. Yes, his girlfriend. Since when do Evil Terrorists have time to have girlfriends? And normal ones at that?! My mind, she is blown. His girlfriend is heading to work (at a diner, judging by the way she's dressed) and wants to make sure he's coming to dinner that night. Unfortunately, he's got business to attend to. If, by "business" you mean "blowing up Americans and trying to kill Jack Bauer." She tells him, "Samuel, you work too much," but he eventually slams the door and pulls out his BlackBerry to call Evil Cohort. He arranges to have First Dude brought in so he can do bad, bad things to him… dun-dee-dun-dee-DUN.
Okay, well, I got my wish of less plotty and more shooty! I think. It's like, a crapload of stuff went down, and yet… I found myself being bored at many points. But this episode was definitely more Jack-centric than what we've been seeing, so I'm pleased with that.
Next week: First Dude is being held hostage by Dubaku! Who's the only person Madame President can trust? Jack Bauer! Although Walker's looking pretty friggin' badass as well. See you then!