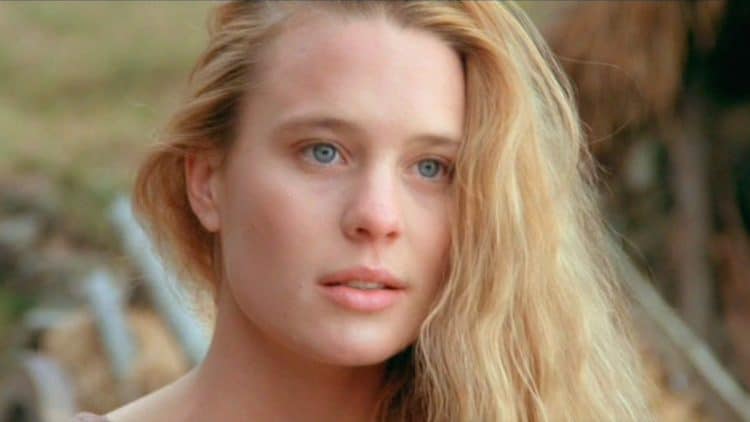 Robin Wright is one of those women that, when she was younger, was the fantasy of a lot of men that was uniquely talented and able to play a wide variety of roles so long as they were quiet, strong-willed women that weren't exactly tough but knew how be mentally resilient. Throughout her career she's been seen to take on more than one role in which she was quite feisty if not outright commanding in her tone and manner, making her one of the most desired women around since she would speak her mind without much trouble. As she's gotten older that quality hasn't gone away thankfully as it's made her an even more regal and imposing figure despite the fact that she still looks as though she could be one of the nicest women on the planet. But if her role in House of Cards has proven anything it's that she can conceal a rather hard and unforgiving demeanor beneath those kind eyes.
Here are a few things you might not have known about Robin.
10. She had to back of out starring in Robin Hood: Prince of Thieves.
Around this time Robin found out she was pregnant with her first child, so she had bow out of the role and take care of herself. Looking back it almost seems as though she would have done just as well in this role as the actress that managed to get it, but that's how things work.
9. Robin owns two oil wells in Texas.
If those wells stay running and are maintained then it seems as though she might not have any trouble maintaining the lifestyle she wants since oil is a huge commodity in the US and something that could make anyone a healthy amount of money if it's kept running.
8. She was robbed at gunpoint in Los Angeles.
Someone stole her car at gunpoint and as you can imagine it scared the hell out of her. She and Sean Penn, who she was with at the time, decided to move out of Los Angeles not too long after that, which seems like it was a wise move.
7. She was acting in a soap opera when she was given her role in The Princess Bride.
In order to go work on the movie she had to come to an agreement to extend her contract for the soap opera for another 9 months so she wouldn't be in breach of contract. But it was a good decision since without her the movie might not have been as adored as it was. She was the perfect princess for the role.
6. For the film Unbreakable she made a reported $2.5 million.
Seeing how much she made you can only imagine what Bruce Willis and Samuel L. Jackson made since both men were much bigger stars than Robin at that time and, if you want to admit as much, women don't always get paid as much when it comes to films. In this case however you could chalk it up to star power when it comes to the discrepancy in pay, as Robin didn't exactly sell the whole idea of this movie.
5. At the age of 14 she was working as a model.
There have been a lot of actors and actresses that have taken this route, though the modeling career that some have experienced isn't exactly the reason they were discovered. It simply seems to be something that a lot of celebrities have in common, as though it's a useful tool to have in your pocket later on.
4. She was offered roles in Batman and Sabrina but she turned these down too.
For these films there's not a lot of explanation as to why she bowed out, but she's had to leave a couple of movies when she found out she was pregnant. Seeing as how she would have likely played the female love interest in Batman it's actually kind of a good thing she didn't since Kim Basinger was probably a better choice point, as was Michelle Pfeiffer.
3. The Princess Bride gave her an 'introducing' credit but it wasn't her first movie.
This is kind of interesting to be honest since it could have been an honest mistake, seeing as how it was just her second actual movie appearance. Before that she'd been in TV and it could have been that a lot of people hadn't seen her first movie.
2. She and Sean Penn lived together for several years before they were married.
They even had kids together before they were married. But as most people know they did divorce eventually, though they seemed to drag it out as they tried to reconcile only to finally call it quits.
1. Robin was named one of the most influential people in the world in 2014.
Think about it, what show came out just the year before that could have given her this reputation? House of Cards of course. But it was likely a combination of that and other qualities.
She's a very impressive person, but one has to wonder if the characters she plays are just an act or actual parts of her coming out to play.
Tell us what's wrong with this post? How could we improve it? :)
Let us improve this post!