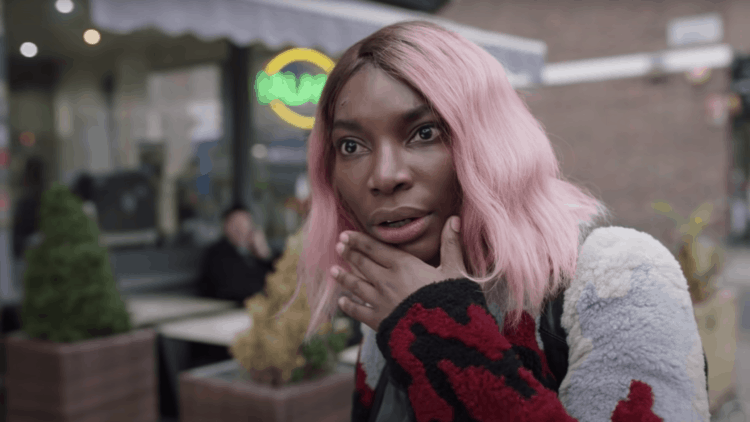 "I May Destroy You" is a new TV series that is what can only be called unconventionally structured . It's also a candid exploration of some intriguing ideas that revolve around the subjects of dating and consent. It premiered on June 7th on HBO at 10:30 PM EST.
1. Coel is a Multihyphenate
This 12-part series of half hour shows has Michaela Coel at the helm, a decidedly British novelist who is also known in the biz as a multihyphenate. This is just a big word for somebody in the entertainment world with more than one skill or job. So, basically, Ms. Coel wears more than one hat on this production, writing all 12 episodes and also directing several of them.
2. Coel is a Consummate Actress
As a talented writer, Coel successfully navigates both the sarcastic and the serious terrain of her new series. As a consummate actress, she plays a character who, in spite of a very traumatic experience, is simply refusing to be a victim. Either way, she is truly skillful at depicting the personal torment that follows her vicious sexual attack. She has a screen presence that is transfixing and, along with the freewheeling and dynamic visual onscreen style, it makes looking away virtually impossible.
3. Coelo Wrote & Starred in "Chewing Gum"
According to Indiewire, in 2015, Coel dazzled television audiences with what has been described as a raunchy British comedy, "Chewing Gum" (aka the new "Doctor Who"). This time, the British actress/writer/director seeks to take on the topic of some even more serious sexual consent. The story revolved around a religious 24-year-old named Tracey Gordon who is obsessed with Beyoncé. It premiered on October 6, 2015 and the final episode aired on February 9, 2017 and it won the British Academy Television Award for Best Female Performance in a Comedy Programme,
4. The Show Has Quite a Cast
Besides Coel in the leading role, the series also stars Samson Ajewole, Ann Akin, Aml Ameen, and Franc Ashman. The cast also offers some amazing performances from Paapa Essiedu, Karan Gill, Adam James, Ellie James, Sarah Niles, Weruche Opia, Harriet Webb, and Natalie Walter. All in all, they play off of Coel's Arabella character quite nicely and make a well-rounded cast for this small-screen series.
5. The "I May Destroy You" Trailer Was Released on April 24, 2020
Again, according to Indiewire, the series presents Arabella's (played by Coel) world as being completely filled with partying and excessive drinking. One night that she doesn't even remember irreparably changes all of that. Although the trailer never discusses sexual assault explicitly, Coel chooses instead to go for a fragmented string of scenes written for implying that Arabella's life is not only dysfunctional but there is much more going on behind those wild child eyes than we may ever know.
6. It Could Be the Best Drama of the Year
Coel's "I May Destroy You" is not just a TV series but a breathtakingly extraordinary exploration of the subjects of millennial life, sexual consent (whether implied or perceived), and race and it ends up working on every single creative level. In fact, according to the Guardian, it's being touted as the best TV drama of the year.
7. Michaela Coel has a Diverse Background Herself
For starters, Coel is a black woman who was born on October 1, 1987 in London. Her parents are Ghanaian and she is not just a popular British actress. She's also a singer, screenwriter, playwright, songwriter, and even a poet. The especially interesting thing about Coel is that she's quite proficient at every one of her creative skills.
8. Coel is an Award Winner
According to the Guardian, she won a much-deserved BAFTA award. In addition, she won an award as Breakthrough Talent for "Chewing Gum", which she not only created, but also penned and acted in, playing the lead role. Could there be another award in her future for her new TV series?
9. They're Called "The Hookup Generation"
On the series, Arabella and her friends are called members of "The Hookup Generation". To them, this means that "They'll study us when we're dead and gone". And, they're probably right. Surely, this TV series will be studied for many years as a gritty interpretation with the problems related to sexual assault in our time.
10. Real-Life Author Becomes Fictional Author
On the show, Coel is an author who is playing Arabella, who is also an author. In fact, she's the writer of a bestseller entitled "Chronicles of a Fed-Up Millennial". That's especially timely because it's based on Arabella's very popular Twitter account. However, no matter how talented she may be, like many authors, she struggles mightily at finishing her first draft on time since she's working on her bestseller's follow-up book. Midway through the final night of the grace period allowed by her book publisher, she decides to go out for a short break but it ends up turning into a wild night out.
When early morning comes, Arabella finds herself right back at her desk in front of her trusty laptop. The problem is that she has minimal memory of getting or much that happened before that. She does have a flash of a strange vision of a man as he looms over her in what appears to be a restroom. She has a hazy toilet as a remembrance of a sexual assault taking place. She suddenly comes to the realization that her drink was spiked. Her detached reaction when she simply says, "Huh", gives way to her revelation which sums it up in that one syllable. It also sets the show's unique tone and Coel's creative approach to it, which is always quite a long way off from where we expect it to come from.
Tune In on Monday Nights
So, if you haven't tuned in to HBO to see "I May Destroy You" yet, you've only missed the first two episodes, so you should make it a point to tune in at 10:30 PM EST on Mondays. There are 12 episodes total, so you get to enjoy all the rest on HBO and BBC.
Tell us what's wrong with this post? How could we improve it? :)
Let us improve this post!