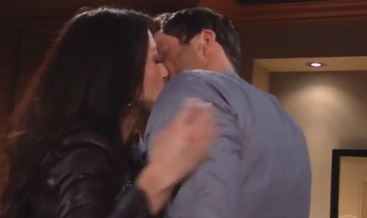 Young and the Restless spoilers tell us that Juliet is going to have to make some serious moves if she has any hope of really ever winning Cane over. She knows he doesn't want to be with her. She knows that he's here because he doesn't want to not have any of his families. He has one that's upset with him, and he has one that hasn't even been born yet. He's going to do right by one of his families, and since this is the only one he hasn't messed up yet, it's his second choice.
She knows she is the backup choice, too. She knows he doesn't want her for her. She knows he wants Lily and their kids and his old life back, and she knows he still wishes in the back of his mind that this baby didn't have a life in his life. She knows that he doesn't want it and that he's embracing it for no other reason than the fact that he wants to have a family at all.
It's not a good situation for her or for him, and there is nothing we can do about that. He's going right back to Lily the second she gives him the glance he needs to make it happen, and Juliet knows this. She knows he won't stick around at all and that he will make it his mission in life to be with her only if it's beneficial to him. And that's all she is.