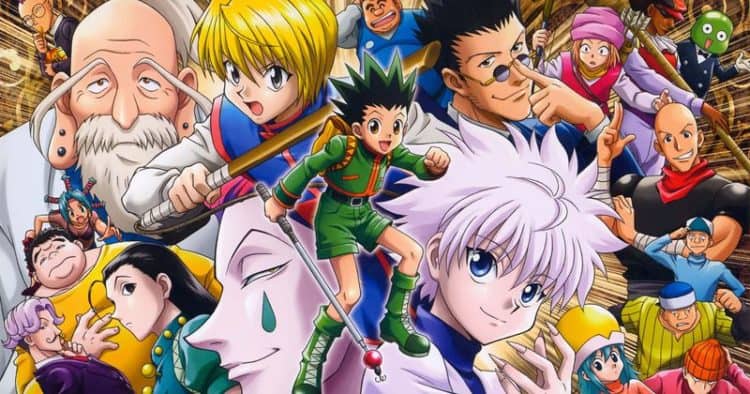 A lot of shonen manga have been released over time. Most are forgotten within a short period of time. However, a small number manage to stand head and shoulders over their counterparts, with the result that they are remembered for years and years to come. One excellent example would be Hunter x Hunter, which tends to be known by interested individuals for a couple of things. First, it is considered to be one of the best shonen manga ever released. Second, it has been on hiatus again and again. Something that has had a very real effect on the rate at which it proceeds towards progression.
Story-wise, the protagonist of Hunter x Hunter is a young boy named Gon Freecss, who had been told that both of his parents were dead. However, it turns out that wasn't the case because his father Ging Freecss is a Hunter, meaning licensed individuals who perform dangerous tasks such as searching for treasure, hunting down dangerous beasts, and hunting down dangerous humans. As a result, Gon sets out to become a Hunter as well, with the result that he winds up meeting likeminded companions. First, there is Kurapika, the last survivor of his clan who wants to retrieve the eyes plucked from his murdered clan members by the thieves called the Phantom Troupe. Second, there is Leorio, who a would-be physician who believes that the benefits of being a Hunter would enable him to cover the costs of medical school. Third, there is Killua, who has left his former role in a notorious family of assassins. From that forward, the central cast of characters have a wide range of encounters with a wide range of issues, which is pretty much what most people would expect from a battle-themed shonen work.
Will We See a Season 7 of Hunter x Hunter?
On the whole, Hunter x Hunter has been ridiculously successful. However, it can still be useful to mention something about the sheer extent of its popularity. For starters, the manga started up in March of 1998 and has continued to the present time, with the result that there are now 36 volumes that are available to interested individuals. It didn't take very long for the manga to become popular enough to receive an animated adaptation. This can be seen in how a short anime movie of 26 minutes came out in July of 1998, which was followed by the first of six seasons of anime, one anime OVA, and two anime movies in October of 1999. Combined, this means that Hunter x Hunter has had more than 200 episodes. Something that surpasses the overwhelming majority of the series out there.
On top of this, it should come as no surprise to learn that Hunter x Hunter has had a lot of other products. To name an example, it has had seven video games. Yes, there are a number of franchises that have it beat in this regard. However, the fact of the matter is that most series can be counted lucky if they have one or two video games. Meanwhile, other products range from CDs and film books to action figures and a trading card game. On top of this, Hunter x Hunter has had not one but two musicals, which isn't even mentioning the live-action play that ran in August of 2004. Simply put, it has been ridiculously successful, as shown by its number of products as well as its range of products.
As such, it seems safe to say that insufficient popularity isn't the factor holding up Hunter x Hunter. Instead, a more common explanation is the rather irregular release rate for the source material. For those who are unfamiliar, the Hunter x Hunter manga is created by Togashi Yoshihiro, who might be known to interested individuals for a number of other things. One example would be how he is also the creator of both Yu Yu Hakusho and Level E. Another example would be how he is married to Takeuchi Naoko, who created Sailor Moon. Unfortunately, Yoshihiro is also known for the multiple hiatuses that he has taken from Hunter x Hunter. In some cases, it is known that these hiatuses happened because of lower back pain as well as other health issues. However, the causes for the other hiatuses have not been made public, though that hasn't prevented plenty of speculation from happening. One line of thought is that Yoshihiro's perfectionism is slowing down things. Another line of thought is that Yoshihiro is known for wanting to do things himself while also being more generous to his assistants than most mangaka, meaning that he isn't setting the kind of brutal pace that is widespread in the manga industry. Whatever the case, Hunter x Hunter has often been delayed, which is presumably a major factor holding up the release of a Season 7 of the animated adaptation.
What Can We Expect from a Hypothetical Season 7 of Hunter x Hunter?
Very recently, there has been renewed hope of interested individuals seeing a Season 7 of Hunter x Hunter. For those who are curious, a couple of voice actresses Han Megumi and Ise Mariya posted cryptic statements that have been interpreted to mean a potential revival of the series, which is relevant because they provided the voices for Gon and Killua. In the first case, Han has mentioned "returning to her starting point" as well as recording alongside "her partner." In the second case, Ise has also mentioned being involved in a project as well as meeting with "her partner." These statements are far from being sure proof that a Season 7 of Hunter x Hunter will happen. However, they can definitely be interpreted in that light, which is why a lot of interested individuals have been keeping an ear out for Hunter x Hunter-related news.
As for what a hypothetical Season 7 will involve, well, that is difficult to guess. Certainly, it will continue from where its predecessors left off. However, it will be interesting to see if it will complete the series, which is something that Yoshihiro has mentioned wanting to do in the past. There isn't enough source material to support that, but it wouldn't be impossible for the animation studio to do the heavy lifting using guiding material provided by the relevant parties. Time and only time will tell what happens next.