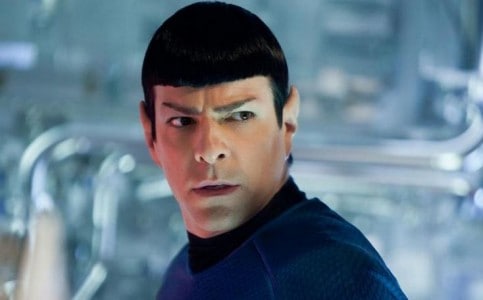 When we watch movies and TV shows, the finished products are usually so polished that it's hard to imagine all of the hard work that goes into creating those magical moments. Even projects with big budgets sometimes have to find 'cheap' ways to make things work in order to make sure everything is completed on time. The world-famous science-fiction franchise Star Trek is no exception. For that reason, many Star Trek fans may be surprised to know that Zachary Quinto had to rely on glue when playing the role of Spock. Not only is this fact interesting, but the reason behind it is even better. Let's talk about why Zachary Quinto needed glue to film Star Trek.
Zachary Quinto's Journey in the Star Trek Franchise
Zachary Quinto started his professional acting journey more than 20 years ago. By the time he was cast as Spock in 2009, he has already built a pretty solid resume. That said, most of his work up until that point had been on the small screen. However, he quickly showed that he had what it took to put on a good show on the big screen as well.
Interestingly enough, however, Zachary wasn't really into Star Trek before he joined the family. During an interview with Trek Movie, Quinto shared, "I am familiar with the series, certainly watched the series and saw the movies I was always interested in it peripherally. But I never really got too deeply involved in the mythology of it, which is part of what excites me about doing the movie and being part of this re-imagining of the franchise."
In the years since joining the Star Trek family, Quinto has reprised the role several times. While he may not be the person who originated the part, he will definitely go down in Star Trek history for the work he's put into bringing Spock to life.
Here's Why Quinto Needed Glue to Play Spock
When you read the title of the article, you probably thought that Zachary Quinto's need for glue while playing Spock had something to do with the character's ears or hair. However, that actually isn't the case at all. According to an article from Looper, it was actually Spock's signature 'live long and prosper' hand gesture that required Quinto to need help from the glue. Although there are plenty of people who can make this shape with their hands without any issue, Quinto isn't one of them. Apparently, he really struggled with it. IMDB reported that "The actor was so desperate to get the V-shaped hand gesture right he even tried binding his fingers with rubber bands – but it didn't work, forcing Abrams to reach for the glue pot." In the article from Looper, Quinto admitted that it's "much harder than it looks".
The use of glue shows Quinto's dedication to the role and his respect for the character's legacy. Even those who have seen the movie several times can't tell that there is glue holding his fingers together.
What's Next for Star Trek
It's been nearly 60 years since Star Trek was introduced to the world and the franchise is still going strong. With a catalog that includes movies, TV shows, and merchandise most fans would probably agree that Star Trek could go on forever. On the bright side, it doesn't look like things are going to slow down any time soon. There is currently another movie in the works that is set to be released some time in 2023. Quinto will be reprising his role as Spock in the film. As of now, there is no title for the project and very little information has been revealed to the public. Still, the upcoming movie has generated a good amount of buzz among fans both young and old.
In an update on the project that was released in February of 2022, J.J. Abrams said, "We are thrilled to say that we are hard at work on a new Star Trek film that we'll be shooting by the end of the year, featuring our original cast and some new characters that I think are going to be really fun and exciting, and help take Star Trek into areas that you've just never seen before".
As the film's release date gets closer, we can all expect to see more information released. Until then, however, everyone will have to sit tight. Whenever the film does come out, though, you can watch it knowing an interesting little secret about Zachary Quinto and his role as Spock.