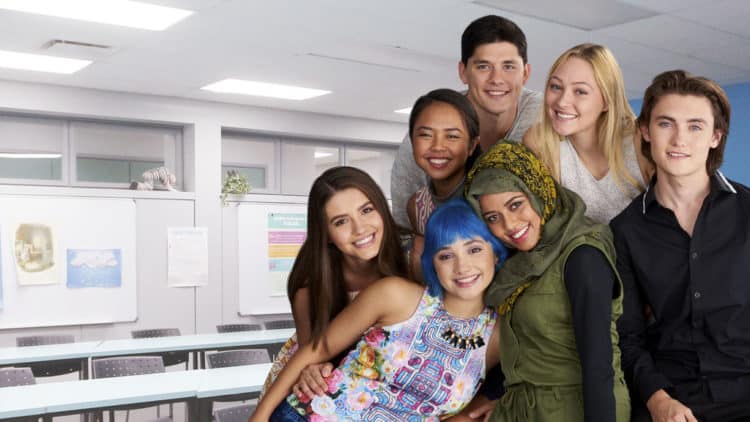 If you've been living under a rock for the past month, HBO Max has confirmed that they've greenlit a reboot for the Canadian teen drama Degrassi as the series is slated for a debut in Spring 2023. There's no word on casting or if anyone in the previous seasons will make a return, but it's described as an evolution of the original series that wasn't afraid to tackle any controversial subject. During its initial run, Degrassi made waves when it started in 2001. The very first episode came out of the gate swinging with one of the most talked-about moments in television history, in a two-parter, Mother and Child Reunion, with the episode centering around Emma and her online boyfriend named Jordan in Toronto. Everything seemed all fine and dandy as they had a lot in common, and the young man wanted her to meet him in person, much to the dismay of Emma's friends. It ended up being that Jordan was some creepy old dude who tried to lure Emma into her hotel room by claiming to be Jordan's teacher. Luckily, Emma is saved by her friends and family, but the Emma storyline introduced us to what Degrassi was ultimately about. The show ventured into hot button topics that weren't discussed much when it came to teenagers.
Degrassi was essentially a soap opera for young teens, but an entertaining show that wasn't afraid to ask hard questions and answer them. Kids have committed suicide, others have been murdered, some went through an identity crisis, or struggled with drugs, sexual assault, and others juicy topics that were cautionary tales that educated a young audience that needed to know and understand these lessons. Degrassi was more than just an entertaining drama that occupied the television screen for fourteen seasons, it was something that tried to impact the culture in a positive manner. Degrassi paved the way for shows such as Euphoria or 13 Reasons Why (which quickly went off the rails after season one). But more importantly, it managed to pull off a tricky act of making these storylines come across as realistic, yet not in a preachy and judgmental manner. One of the most infamous moments was Jimmy Brooks being shot. Other than the fact that this features famous rapper Drake aka Aubrey Graham, the popular basketball star seemingly had it all in life; coming from a wealthy family and was generally one of the more likable characters on the teen drama. However, he was crippled when Rick Murray shot the basketball star. Rick had reached a boiled point after a bullying prank similar to Carrie had pushed him over the edge. It was a heartbreaking moment because on one hand, you understood the humiliation and pain that Rick went through. However, he wasn't exactly the best character on the show given his past behavior of abuse against his girlfriend. Jimmy was an innocent bystander in the entire situation, and the show had a strong way of showcasing the emotions and turmoil that teenagers can go through, and just how hard life can be no matter the decisions that we made. Sure, at times, the moments could come across as cartoonish such as Dean's evil smile after he goes free in his rape case against Page.
However, it isn't just the meaningful social message and topical themes that makes Degrassi such a great show. The teen drama was always a compelling watch, no matter the difficult situations that the characters go through. Part of that reason was how strongly developed the characters were on each season. Granted, not everyone was a winner, but people like Jimmy, J.T., Adam or Marco feel like genuine teens dealing with life's problems. Rarely did any of the core cast come across as mustache twirling villains or plot devices for the sake of whatever lesson that the story wanted us to learn. There's plenty of memorable characters to choose from the Degrassi roster, and it's hard to not at least identify with one of them because the show understands adolescences and carefully constructs each arc in a mature manner. Is Degrassi one of the greatest shows of all time? In terms young adult programming yes, but I don't feel it matches the strength of shows such as The Sopranos, Breaking Bad, or The Wire, but that isn't a knock on the series because its quality television that remains timeless because of its powerful themes. Given how much times have changed since the show ended in 2015, hopefully Degrassi is able to explore new topics in the same mature manner as the original masterfully did.