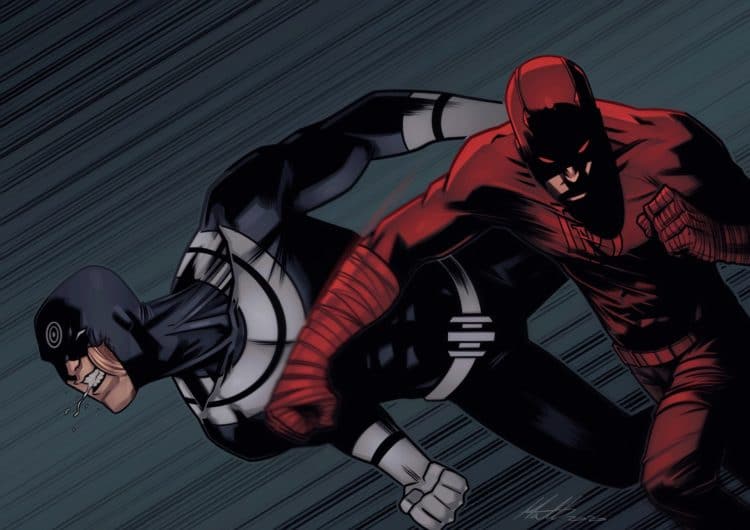 Who is Daredevil's greatest enemy? The arch-enemy is undoubtedly the Kingpin, but right below him is Bullseye, the merciless, sociopathic assassin who never misses. Like, ever. If you like DC, you could say that this Marvel hitman is like Deadshot, another assassin who never misses. What's the difference between them? Well, while Deadshot uses his wrist-mounted mini-guns, the mysterious hitman only known as Bullseye actually very rarely uses firearms. So what does he use for weapons? Oh, just about everything. I literally mean everything. You give him the most casual items and his his hands, they're very deadly weapons. I'm talking pencils, pens, straws, toothpicks, bobby pins, playing cards, baseballs, you name it. If you think that's crazy enough, he actually killed a man with his own tooth after he spat it out. There's a reason why his alias is Bullseye. Anything he throws is a deadly projectile. If you've never seen the former Daredevil Netflix series, then you might have seen the villain in the 2003 Ben Affleck movie. I know, it wasn't too memorable, but then again, I'm more used to the director's cut. Either way, one of the biggest standouts in that movie was Colin Farrell's Irish Bullseye. First of all, he was only Irish because Colin Farrell is Irish, which makes sense. He didn't wear the famous blue and white unitard suit with the bullseye symbol from the comics, but he did have the variation of the symbol carved on his forehead. It was a good take for a more grounded version of the villain, but Colin Farrell's Bullseye still fell a bit short.
He lived up to the Bullseye name and skillset, but we didn't get enough of him in the movie. In fact, his version felt a bit too comical. His greatest moment in the movie was killing Elektra in a similar manner in which he killed her in the comics. Other than that, he was ultimately overwhelming. Maybe it was partly because he was the secondary villain behind the Kingpin, who was played brilliantly by the late Michael Clarke Duncan. Boy, I really do miss that man. Every Marvel fan knows that Bullseye is one of their most terrifying villains. It's not because he's super powerful, but because he's a cold-blooded killer with no filter. That has made him popular with crime lords who are willing to pay him whatever price he demands, especially Wilson Fisk, better known as the Kingpin. Bullseye is by far the Kingpin's top assassin. If Kingpin is Daredevil's greatest enemy, then Bullseye is his greatest physical challenge. Just think about this way. Bullseye is responsible for killing two of Matt Murdock's greatest love interests. The first is the cunning and deadly Elektra Natchios, and the second is the sweet and innocent Karen Page. For the record, that was a moment that was almost mirrored in the third season of Daredevil.
Needless to say, the Netflix series version was significantly better than the Colin Farrell version. Just to jog everyone's memory, the third season of Daredevil is supposedly where that story ends. Of course, we Marvel fans are all well aware of the ever-growing rumors of Charlie Cox apparently returning to reprise the role in the upcoming Spider-Man: No Way Home. Is that actually happening? I'm going to say that it certainly is. I mean, Charlie Cox was simply too great for Marvel to forget about and having him as Peter Parker's attorney just makes all the more sense. So let's just say that the rumors are true. If Charlie Cox is returning to reprise the role, then it's highly possible we could be up for another Daredevil series. Speaking of which, more rumors are firing up on the web, which heavily imply a Daredevil series coming to Disney+. That hasn't been confirmed yet, but that's probably because Spider-Man: No Way Home releases next month. By that time, I'm confident a Daredevil series on Disney+ will be confirmed. Based on what Charlie Cox has said, it's likely that a new series will be a soft reboot of the character. That's kind of lame, considering where the third series left off, but I guess it's better than never seeing him as Daredevil again.
But even if it is a slight reimagining of Charlie Cox's version, I do believe they should bring back Wilson Bethel as Bullseye. I never heard of him before I watched him play Bullseye, but I must say, he absolutely nailed it in the most unexpected ways. I have to emphasize that Bullseye is one of the most ruthless and irredeemable villains in Marvel Comics. However, Wilson Bethel managed to pull off the unexpected and actually make his version sympathetic. The thing that made his Bullseye stand out was that he actually tried to live a normal life. However, due to his mental instability, he was incapable of feeling empathy, which made it almost impossible for him to function in regular society.
He managed to find some sort of solace in his job as a FBI agent, but this led to an encounter with Wilson Fisk. Of course, we all know where the story was going to go even before season three was released. How it ended, however, has left fans craving for more of Wilson Bethel's Bullseye. It's mostly because of how Bethel portrayed the declining sanity of the character and how he could defeat Daredevil in a fight. Season three ended with Wilson Fisk's downfall, but unbeknownst to Matt Murdock, another villain was being reborn. After Fisk did some severe damage to his back, Benjamin "Dex" Poindexter was having his spine laced with an unknown type of metal. The final shot was seeing the bullseye iris in his eyes. That was a scary sight and was setting up for a what was going to be a bloody rampage of vengeance.
I got so excited for season four after that chilling cliffhanger. The fact that he was never really called Bullseye just meant they were building him up for truly epic showdown with Daredevil. His new spine, along with the fact that his mental state was completely shattered meant that he was going to be Daredevil's toughest challenge. Will we get that in the Disney+ series if it does happen? Oh, we most definitely should. Kingpin had enough time with Daredevil and now it's Bullseye's turn to give him trouble. Of course, since it's Disney+, we can't expect buckets of blood to be spilled, but that won't matter. We just need them continue what was set up at the end of season three. Even if it's a reimagining, it can be done and it should.
Tell us what's wrong with this post? How could we improve it? :)
Let us improve this post!