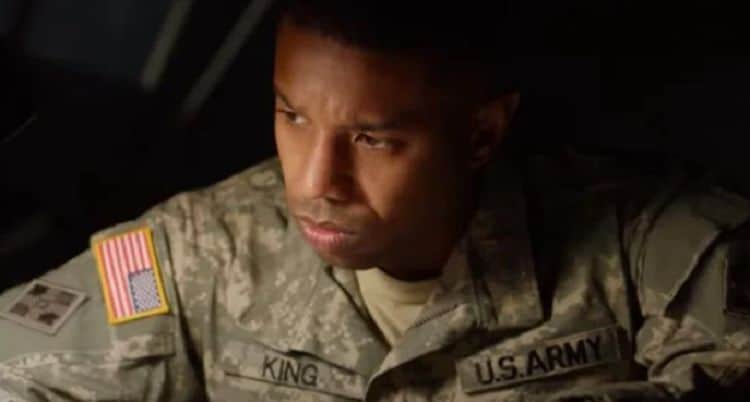 In the midst of a busy Spider-Man: No Way Home week saw four new releases including A Journal For Jordan, Denzel Washington's latest directed feature starring Michael B. Jordan as First Sergeant Charles Monroe King, a soldier deployed to Iraq who begins to keep a journal of love and advice for his infant son. The film is based on the novel of the same name by Dana Canedy. This was Denzel's fourth feature film as a director, but unfortunately, A Journal for Jordan is his weakest effort as critics gave the film a middle-of-the-road score of 49% on rotten tomatoes. Of course, the most important aspect is the box office numbers, and considering the fact that the movie has a production budget of $25 million then it shouldn't have been a tough sell given the names attached. Unfortunately, the film opened on Christmas day and only garnered a measly $2.2 million over a five-day period. So, what happened? Denzel Washington and Michael B. Jordan are certified stars who tend to have solid drawing power. It's always possible that A Journal For Jordan could have incredible legs, but for now, let's dive deeper into the reasoning on why A Journal For Jordan bombed during opening weekend. Of course, the coronavirus played a role in the weak box office return, so that reason won't be mentioned here.
Denzel Washington Has Not Built His Resume as a Director
Denzel Washington is a once-in-a-generation type of talent. His acting skills rival some of the best in the history of film and the veteran has over ten movies that have made $100 million-plus at the box office. However, that's on the acting front. In terms of directing, Washington has made three critically acclaimed films: The Great Debaters, Fences, and Antwone Fisher, but none of them have even come close to reaching $100 million. Fences is currently Washington's highest drawing film, and that movie only made $64.40 million worldwide. Oddly, Denzel isn't much of an international draw. None of his films have made it over the $200 million mark and as previously stated, his directorial works just aren't catching fire with the worldwide audience. Denzel's films cater to a certain demographic and it's the likely reason why it doesn't have much drawing appeal.
This isn't me saying that the international audience isn't interested in a film featuring an all-black cast. If that was the case, Black Panther wouldn't have reached a billion and Bad Boys for Life wouldn't have come close to making $500 million worldwide. However, the key difference between those two movies and Washington's features is that they play to a wider scale of audience. Washington's film are not arthouse features, but they are considered niche films. Black Panther and Bad Boys for Life have mainstream appeal because their entertainment is aiming with everyone in mind. A Journal For Jordan seemed in to fall in line with the type of films that Washington tends to direct. The advantage the film had was coming out on Christmas. A Journal For Jordan wasn't a holiday themed movie, but it was a sweet and tender film that genuinely plays well around this time of year. However, with Spider-Man: No Way Home sucking up the buzz this holiday season, A Journal For Jordan was barely existent in the eyes of most fans.
Michael B. Jordan Hasn't Done Well in Oscar Type Films
First, one of the biggest issues with A Journal For Jordan was that the advertisement for this movie was barely there. It's a telling sign that the studio likely didn't see much return in their investment. However, another key factor is that Michael B. Jordan's films that seemed geared towards the Academy Awards don't particularly do well. Jordan's breakout role was Fruitvale Station, though the film was never nominated for an Oscar, it still won plenty of prestigious awards such as the Grand Jury Prize at Sundance Film Festival and the Independent Spirit Award. However, that film didn't make any sort of splash at the box office as it only amassed $17.40 million worldwide. The good news is that the budget was only $900,000, so Fruitvale Station was a financial success, but there's no denying that it's still a small number. Just Mercy didn't fare much better. It only made $36 million. Again, an Oscar hopeful that came out around Christmas time. Michael B. Jordan is a well-respected actor. However, outside of franchise films such as Creed or Black Panther, his filmography doesn't have impressive numbers when it comes to the financial side. There's also Chronicle, which did pretty well; however, that wasn't the movie that jumped off his career despite its success.
Tell us what's wrong with this post? How could we improve it? :)
Let us improve this post!