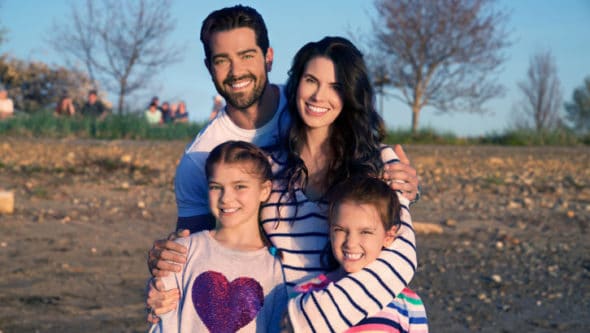 The Hallmark Channel has come a long way over the years. The network now offers several original series and Chesapeake Shores has become a fan favorite. Starring Jesse Metcalfe and Meghan Ory, the show follows a woman named Abby (Ory) who returns to her hometown of Chesapeake Shores in Maryland to help her sister save the hotel she purchased. As is trying to save a struggling business wasn't hard enough, Abby also finds herself confronted by her first love, Trac (Metcalfe). What some viewers may not know is that the series is based on the novel of the same name by Sherryl Woods. Since the show is set in Maryland, most people would probably assume that the show is filmed there. In reality, however, filming actually takes place pretty far from Maryland. Keep reading to find out where Chesapeake Shores is filmed.
Here's Where Chesapeake Shores Is Really Filmed
Before we get too deep, it's important to note that Chesapeake Shores is a fictional town. That said, Chesapeake Bay is a very real place. Now that we've gotten that out of the way, let's take a look at where filming takes place.
The show is actually filmed on Vancouver Island in Canada. Despite being an American network, The Hallmark Channel frequently shoots its shows in movies in Canada. We didn't find an official answer on why Hallmark seems to prefer Canada. However, the internet seems to have its own idea. When someone on Quora asked why this is the case, a user named Perry Ball said,
"There are several reasons. Hallmark is a brand that is known for low budget movies that are of high quality shot for television. To meet their reputation they frequently hire Canadian crew and actors to be able to qualify for financial grants from Canada. If the production company filming the project for Hallmark is 100% Canadian owned and is registered as a Canadian company, then there are additional grants and tax incentives. On top of everything I just mentioned there is a tax incentive to encourage the entertainment industry to film in Canada to the tune of 20%. So if one is carefully planning a project, it could be remotely possible to get paid to make a movie in Canada. Although I have never heard of anyone actually doing that just yet."
With a little creativity and some editing, the show's production team has been able to make Vancouver Island look like Maryland.
Filming Locations You Can Visit
Fans of Chesapeake Shores will be happy to know that many of the show's filming locations also double as great tourist attractions. Of course, fans in the United States will need a passport to visit, but many would agree that it's worth it. Take a look at some of the best destinations to check out.
Chesapeake Shores Flower Shop
Known in the show as the Chesapeake Shores Flower Shop, this location is really called Smithford's Gifts. This shop has lots of cute items and pieces of art created by local artists. Of course, it isn't going to look exactly like it does in Chesapeake Shores, but you'll still be able to feel the overall vibe.
Chesapeake Shores Town Square Cafe
Quaint coffee shops are a fixture in lots of TV shows, and Chesapeake Shores is no exception. Known in real life as Bailey's in the Village Cafe, this local coffee shop is known for its relaxing and comfortable atmosphere and some very delicious baked goods. If you're visiting the area and are looking for a good cup of coffee, this is one place you should definitely add to your list.
Chesapeake Shores Art Museum
Those who love art should take some time to visit the Chesapeake Shores Art Museum AKA the Nanaimo Arts Council. According to the location's website, "The Nanaimo Arts Council provides opportunities for people to participate in creative activities through our programs and partnerships. We are the only arts organization in the community with a mandate to serve all forms of artistic expression."
Baltimore Law Offices
One of the cool things about the entertainment industry is that it has the ability to create completely new realities. That's exactly how Chesapeake Shores was able to turn the Crown Mansion Boutique Hotel into Baltimore Law Offices. This hotel is a formal 19th-century mansion that is full of style and charm. if you need a place to stay during your visit to Vancouver Island, Crown Mansion Boutique Hotel is a great option.
Sally's Cafe
Sally's Cafe is one of the most popular places in Chesapeake Shores. This cafe is where many of the show's most intense moments take place. In real life, however, Sally's cafe is actually Leigh House. Interestingly enough, Leigh House isn't actually a business.