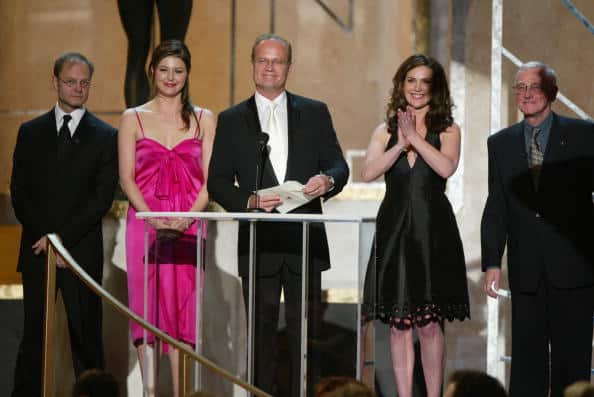 Although it began as a spin-off of the classic 1980s sitcom Cheers, Fraiser, which premiered on NBC back on September 16, 1993, quickly became just as popular and successful as the show it originated from, running 11 seasons and winning receiving dozens of accolades, including a whopping total of 37 Emmy Awards. In fact, Frasier, along with Modern Family after this year's Emmys, holds the record for most consecutive wins for Outstanding Comedy Series, winning the award five straight years from 1994-1998.
So what made Frasier such a beloved show by both critics and viewers? While it's certainly true that both the writing and directing for the series were top-notch, I'd argue that it was the Frasier cast that made the show truly exceptional, which can be seen by the numerous nominations and awards that the show's actors received. From Kelsey Grammer's leading performance as the titular character to David Hyde Pierce perfectly portraying Niles' neurosis to Peri Gilpin's fantastic job at making Roz a character that you rooted for, despite her constant cynicism, every member of the Frasier cast was brilliant and ensured that the show was as enjoyable as it was.
With repeats of Frasier constantly on Lifetime Channel or Hallmark, I've recently rediscovered my love for the show, and David Hyde Pierce's recent recurring gig on The Good Wife has made me wonder: what are all the members of the Frasier cast up to today? Are they still acting? Are they in any new shows or movies? After doing some research, here's what I found about each Frasier cast member.
Kelsey Grammer (Dr. Frasier Crane)
Unfortunately for the talented Kelsey Grammer, he's had a lot of professional issues to go along with his personal ones in the years since Frasier ended. Grammer's most recent TV ventures haven't been particularly successful. He was the lead in the Starz drama Boss for the show's two-season run (a role which did land him a Golden Globe in 2012), and he then teamed up with Martin Lawrence for the ill-fated FX comedy series Partners, which only lasted 10 episodes before being cancelled. As far as his work in film, Grammer's last roles were both in blockbuster movies that came out this summer. He played a villain in Transformers: Age of Extinction and also co-starred in The Expendables 3.
David Hyde Pierce (Niles Crane)
My personal favorite member of the Frasier cast, Pierce has, as I stated above, just begun a recurring role on CBS's The Good Wife, his first major television role in years. In addition to that, he has kept busy with voice acting for series like The Simpsons and also with numerous theatre roles in productions like Spamalot, Curtains, and Vanya and Sonia and Masha and Spike. He received a Tony nomination for Best Actor in a Musical for Curtains and another one for Best Actor in a Play for his performance in Vanya and Sonia and Masha and Spike.
John Mahoney (Martin Crane)
Although he guest starred on numerous different television shows, such as ER, In Treatment, and Burn Notice after Frasier ended, John Mahoney, who played Martin, the ex-cop father of Frasier and Niles, hasn't done much in television or film since 2010. He has most recently appeared in episodes of TV Land's Hot in Cleveland, playing the character of Roy, a love interest for Betty White's Elka, and he also was a cast member in a 2013 Chicago production of The Birthday Party.
Jane Leeves (Daphne Moon/Daphne Crane)
Although she hasn't appeared in any films since 2009, Jane Leeves, who played Daphne, Martin's caretaker and Niles' love interest on the series, has kept busy on television in recent years with voice work on Disney Channel's Phineas and Ferb and, most notably, a starring role as Joy Scroggs in TV Land's Hot in Cleveland. While I don't watch Hot in Cleveland, I may need to track down all the episodes that feature both Leeves and Mahoney just so I can get a little bit of a Frasier cast reunion on my TV!
Peri Gilpin (Roz Doyle)
Easily one of the funniest members of the Frasier cast (behind Pierce's Niles, though–Niles is the best) was Peri Gilpin as Roz. Since Frasier ended, Gilpin has bounced around with guest starring stints on many TV series, from Grey's Anatomy to Modern Family. Additionally, she was a series regular on ABC Family's gymnastics drama Make It or Break It and, most recently, had a recurring role on the now-cancelled TBS sitcom Men at Work.
Who was your favorite member of the Frasier cast? Which character from the show did you like the best?
Photo by Kevin Winter/Getty Images