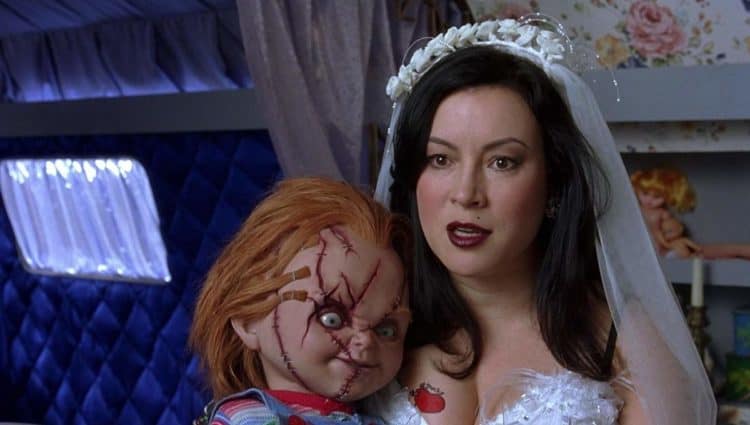 So just to clarify, Jennifer Tilly is still around, but if you're thinking that she's about to make a big comeback then you might be waiting for a while longer since at this point her career is still alive, but it's definitely been on a lower key than a lot of people might want to admit. The thing is that this tends to happen to a lot of celebrities throughout the years as they either find that their popularity decreases for one reason or another or they simply get tired of what they've been doing and want to change the pace. In Tilly's case it almost feels as though she's been trying to hold on but people are gradually moving away from her and might acknowledge that she's still a star but are coming to the conclusion that she's not quite the same caliber as those that are currently tearing up the charts and showing that they're worth paying attention to. There's been plenty in her career that points to the idea that she's still worth following, and a lot of people would gladly argue that she's still a big-time celebrity, but if all a person does is point out the movie's she's been in throughout her very successful past then it doesn't make a lot of arguments for the present and future.
Simply put, she's a 61-year old woman that has done quite a few things in her career but seems to be leaning towards the downhill side of life as she tries to hold on and do what she can. That might not be a popular opinion but it is one that a lot of people might echo since after her stint in the Chucky movies things really started to spiral and her popularity was definitely aimed at a downward slide. That could sound mean-spirited or even inaccurate to some but when you look at how many people really talk about her these days then it might open your eyes a bit to the idea that she's not really as big of a deal as she used to be. Is she still talented? Oh yes, very. Does she still have the ability to draw people in? Absolutely. Is she still blowing up like she used to on the movie scene? Not so much. She does have a couple of movies that are in post-production at this point but if you'll notice there aren't a lot of people hyping them out of control and it might be that you'll have to go searching for them using her name and a small bit of patience.
On a personal note I have watched her in the past and there have been a few movies in which I believe she was really great. Liar Liar was hilarious simply because she played such a horrible character, but you've got to give her a lot of credit for keeping her composure around Jim Carrey, who was still insanely funny at that time. But if a person were to be honest and state that she'd been just as great throughout her entire career then they might need to back up and take a really good look at her movies and realize that even if she was on point there were a few times when she should have walked away from the production and savored her reputation rather than take the money and watch it tank yet again. If there's anything to be said about Tilly's reputation as an actress it's that she's not fully to blame for having gone up and down like a rollercoaster throughout the years, but there are times when she could have stayed away from certain projects and simply ridden the fame she already had until another project came along that was far more sound in theory and principle. But then again, it's hard to gauge just how popular or effective any movie or TV show is going to be until it's seen by the public, so each one is a gamble.
Her role in the Chucky movies could have been a resurgence and might have even been called such by dedicated fans if not for the fact that the idea had been so horribly played out already. The whole Child's Play angle has been done, redone, and continued in such a way that it's tried to squeeze every last bit of interest from the story as is humanly possible, and yet it still feels as though it might continue onward. At this point in Tilly's career it seems best that she try a new angle and continue to show up for new material rather than take a step back. She's still very much in the game, she hasn't gone anywhere and she's not retiring, but it might take a bit for her to gain the renown she once enjoyed.
Tell us what's wrong with this post? How could we improve it? :)
Let us improve this post!