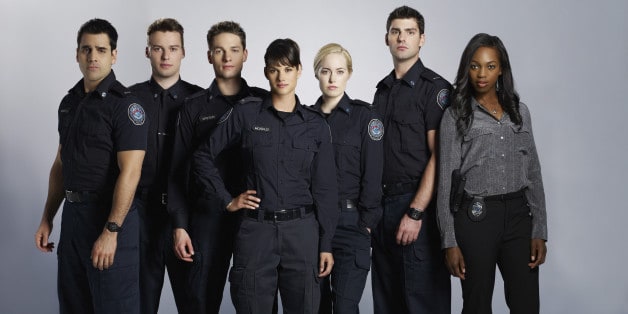 Rookie Blue was an action drama that focused on a group of first responders that had just graduated and were now expected to take on the responsibilities they'd been training for. The job was bound to be a little difficult since they not only had to meet the expectations of the community but also their friends and families as well. Being a cop isn't an easy job to start with but knowing that you have to deal with the constant pressure of making people happy and serving the law at the same time is a lot to ask of a bunch of rookies that hadn't seen much more than they'd been allowed to see before having to deal with it all on their own. The show ran from 2010 to 2015 so it enjoyed a decent run.
Here are the cast members of the show and a little bit about them.
Priscilla Faia – Chloe Price
It would almost seem as though Priscilla hasn't done much since the show, though she's been in a few productions up until a couple of years ago. It could be that she got more into her charity work and decided to take a break. It'd be nice to see her again as she did manage to play her part in the show and was fairly well received.
Peter Mooney – Nick Collins
Peter has had a fairly busy career since Rookie Blue as he came in during season three and stayed until the final season. He's been seen in several shows since, one of those being Heroes Reborn. He's still acting to this day yet it doesn't seem as though he's taking the Hollywood life too seriously since he's been taking it kind of easy since the show.
Travis Milne – Chris Diaz
Travis stayed busy for a short while after the final season of Rookie Blue but it seems that he hasn't been seen that much since 2016. Do you get the sense that for some of these people the show was meant to be something more? It went on for five seasons but it almost feels as though it was meant to catapult careers more than it really did.
Charlotte Sullivan – Gail Peck
Charlotte has had a nice long career before Rookie Blue and she's been going steady after. She seems to like to play in cop shows since she was also in Blue Bloods for at least an episode. She's been going pretty strong since the show ended and doesn't appear to show have any inclination to slow down.
Enuka Okuma – Traci Nash
Enuka is another actor that's been around for a little while and has been quite active before and after the show. It really seems like those who were well-established before Rookie Blue have done the best since they had something to fall back on and enough experience to keep moving forward. That does make a lot of sense considering that those who just came into the business might not have the contacts or the experience to really keep getting the roles they want.
Gregory Smith – Dov Epstein
Gregory was a child actor when he got his start and has been in the business for quite some time, since the mid-90s in fact. He's participated in some of the films that we might recall from our childhood years and unfortunately hasn't been seen in a movie since 2014. What's really interesting though is that he managed to direct several episodes of Rookie Blue while starring in the show at the same time. This is a guy that wanted a little more than just an active role in the show.
Ben Bass – Sam Swarek
Ben's career goes all the way back to the late 80s and 21 Jump Street, so you know he's been around. His career has been ongoing ever since and even after the show ended he stuck around and continued to line up gigs here and there to extend his career. A lot of these actors that have been around for years definitely had the edge over those that didn't have much to fall back on.
Missy Peregrym – Andy McNally
If you remember Missy from Stick It then raise your hand because that was a great movie despite how little attention it got. But since then, and after the show, she's been kept pretty busy since her acting is still great enough that she's worth hiring and her abilities onscreen are more than enough to keep her around. She's more or less the kind of woman that's not afraid to get down and dirty with the guys and yet can be a lady when she really needs to be. That's the kind of lead character that you can get behind without a doubt.
Despite the cancellation of the show most of the cast members have at least gone on to something else whether it's TV or film.