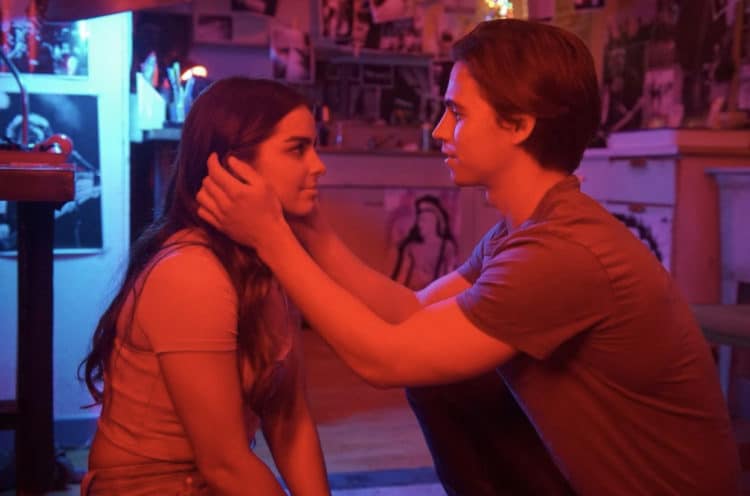 Over the last few years, Netflix has really stepped it up when it comes to their original movies and He's All That is hoping to be another shining example of that. Starring Addison Rae and Tanner Buchanan, He's All That is a remake of the 90s classic She's All That except the genders have been swapped. This time, Padgett Sawyer (Rae) makes a bet with her friends that she can turn one of the nerdiest boys in school, Cameron Kweller (Buchanan), into the next prom king. The movie has the perfect amount of humor, sass, and drama. The movie was directed by Mark Waters who directed Mean Girls, which means that the expectations for the project are even higher than usual. Now that the trailer has officially been released, the buzz around the movie is starting to grow and lots of people are looking forward to seeing if it lives up to the hype. Here's what we learned from the trailer for He's All That.
The Cast
Similar to the original film, He's All That features a cast of up-and-coming young actors. Addison Rae is best known for being a TikToker and dancer, but she's ready to branch out into other things. This movie is the perfect opportunity for her to prove that she really has acting chops. Her so-star, Tanner Buchanan, is best known for playing Robby Keene in the popular Netflix series Cobra Kai, so this will give viewers a chance to see him in a completely different kind of role. Peyton Meyer and Madison Pettis will also have significant roles in the movie. Fans of the original will be happy to know that Rachael Leigh Cook will be in the movie as well. However, she will not be reprising her role as Laney Boggs. Instead, she'll be playing Addison Rae's on-screen mom. It doesn't appear that He's All That will overlap with the original movie's universe in any way. Kourtney Kardashian will also make a minor appearance in the movie, but we aren't sure exactly what her role will be.
What We Got From The Trailer
Typically it's a red flag when a trailer gives too much of the movie away. However, when it comes to He's All That, this strategy may have actually been useful. Let's be real, the plot is fairly predictable. Even if you've never seen She's All That, you can probably guess how things were going to pan out: popular girl helps give nerdy guy a makeover, nerdy guy gets popular, and popular girl develops a crush on him along the way. That's basically how movies like this always go. Needless to say, when you watch a movie like this, you're watching to see the dynamic between the characters, not because you don't already know the story. With that being said, the trailer for He's All That does a good job of giving a glimpse into the main characters while creating enough intrigue to make viewers want to know more about who they really are. At the same time, though, this could backfire if the movie doesn't actually fully develop the characters. People are definitely going to want to know more about them than the basic surface-level things.
What The Internet Has To Say
So far, responses about the movie have been mixed. Some people are excited to see She's All That being re-made, but others don't have confidence that Netflix can pull it off correctly. A YouTube user named kusshi said, "The fact that they used a modernised, pop version of Kiss Me is definitely the confirmation I needed to not watch this and ruin the original movie for me." Realistically, however, the true target audience for this movie is people who are too young to have even been born when She's All That came out.
Others feel that the movie did a pool job casting. Another YouTube user, ReignK, added, "Y'all can we agree that Addison Rae is a terrible actress normally the trailer masks the bad acting and when you see the film you get the brunt of it, but thankfully the trailer shows us how terrible of an actress Addison is." Hopefully, Addison will be able to prove the naysayers wrong and show the world that she really is ready to take on acting.
When Will He's All That Be Released?
He's All That is set to premiere on Netflix on August 27, 2021. This means that if you haven't seen the original, you'll have plenty of time to check it out before He's All That is released.
Tell us what's wrong with this post? How could we improve it? :)
Let us improve this post!