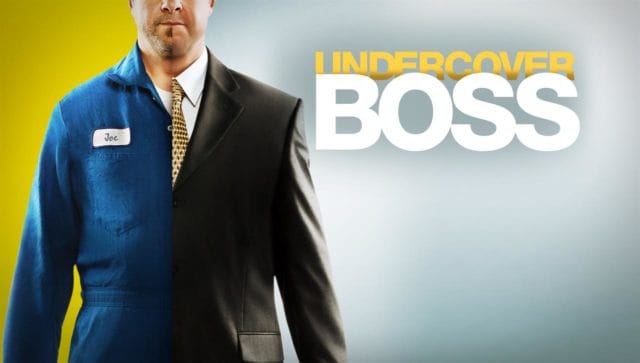 When the reality television series Undercover Boss first aired in the United States in 2010, it premiered in the slot following Super Bowl XLIV. Created to calm the growing public distrust for corporate America, it became the most popular show of the 2009 — 2010 television season. It received Emmy nominations in the Outstanding Reality Program category for each year from 2010 to 2013; winning the award for 2012 and again in 2013. The extremely popular series is franchised in 15 countries, and adored by fans. Here are five of the most amazing episode reveals:
Modell's Sporting Goods: Mitch Modell CEO – Season 4, Episode 1
Mitch Modell trains for a variety of jobs during his episode. He's not in great physical shape, so his employees find easier tasks for him. They give him a picture of what it's like to work at minimum wage on labor-intensive jobs. Modell considers how little he understands the work his employees do. He's embarrassed by the lack of communication between upper management and employees. Modell discovers that several of his stores are not properly stocked for his customers' needs. He meets Angel, who lives with her children in a homeless shelter. Before that, they struggled to eat and slept at bus stops. But, she encourages Modell to keep trying with the belief that life will get better for him.
Modell realizes that his company has curtailed spending at the expense of his most needy employees. He invites his four employees for his big reveal at CitiField; the home of the New York Mets:
He sends Connecticut store associate Tim on a 7-day all expenses paid family vacation, gives him a promotion and new store ambassador responsibilities.
He gives Christopher a lecture; asking him to stop missing work days. In exchange for perfect attendance for 90 days, he will give Christopher a check for $20K. He sends Chris and his brother Adrian on an exclusive trip with the Brooklyn Nets.
He gives a promotion to truck driver Kirk, promotes him to Yard Maintenance Supervisor; increasing his salary. He gives him a check for $50K taxes pre-paid.
He tells Associate Angel she is above and beyond any expectations. He promotes her to Assistant Manager. He gives her a $14,000 raise, and a check for $250K; telling her to move out of the homeless shelter immediately.
Diamond Resorts International: Stephen J. Cloobeck Chairman and CEO – Season 3, Episode 1
Cloobeck is the head of a half a billion dollar-company which sells time-share vacations all around the world, and of different varieties. His company motto is YES. Whatever a customer wants and needs, they get. He decides to visit some recent property acquisitions. Randy trains him to repair a roof air conditioner, but Cloobeck starts an oil fire. Sara makes him livid because she isn't properly trained to work at a company call center. He learns how to plaster and paint with Greg, but discovers that the painter's safety glasses are the cheapest version. While hand sanding, he learns that the resort needs electric equipment and additional maintenance staff. Front Desk Agent, Amanda, shows him that the company needs to better organize its guest intake policies.
Cloobeck invites his team members to his beach home for the big reveal:
He upgrades Greg's goggles and equipment, and increases his staff. He gives him a subscription to the meat of the month club, buys him an industrial freezer, and a new hybrid truck. He gives him a $20K bonus.
Cloobeck apologizes to Sara for intimidating her, and promises to train each call center employee personally. He sends her to Hawaii for vacation; all-expenses paid. He pays off her $15K student loans .
Cloobeck commends Amanda for her guest reception. He sends her to Ireland to work at one of his resorts there and gives her $50K to help her take care of her disabled mother.
Cloobeck promises Randy to pay off his $150K home mortgage, and $50K in cash to help him and his wife after their business loss.
MasTec: Jose Mas CEO – Season 3, Episode 13
https://www.youtube.com/watch?v=LigHegRFTvI
Jose MasTec runs a multi-billion-dollar company which provides infrastructure engineering and construction. The company is the second largest company in the United States which is Hispanic-owned, with more than 20,000 employees throughout North America.
Jose quietly struggles through four training sessions at various company sites, learning about the things which his father did to make the company great. He also learns what is needed for its future.
At the big reveal, he has the chance to make things better for the employees he encounters. Jose calls employees to the Freedom Tower, where Cuban immigrants were processed when coming to the United States. The street outside is named after Jose's father.
Jose plans community events with Wendy so that people understand the company better. He offers her $25K to pay for having all her teeth replaced. He gives her $30K to pay off all her family debt.
Kelvin and Alex Duran gave "rookie" Jose a lot of grief. He calls them out over it. He promises to get them the tools they need. He offers to pay for the brothers to go to school to get their lineman certificates. He sets up the Duran Brother Scholarship in Fort Meyers so that the brothers can choose one recipient each year.
Hugh is an experienced MasTec employee, so Jose invites Hugh to take his entire family to the Mas vacation home in the Bahamas; all expenses paid. Jose promises to visit his workers; honoring Hugh's memory of Jose's father. Jose gives Hugh $25K.
Jose offers to pay for Rick's wedding and honeymoon by giving Rick $20K. Jose gives Rick $25K to provide a caretaker for his handicapped sister-in-law's care.
Fast Signs: Carol Monson, CEO – Season 3, Episode 12
With 520 worldwide locations and revenue annually of over $300 million dollars, Fast Signs is the largest sign company in the world. Monson had to make many difficult decisions to keep the company working through tough financial times. Her surfing brother broke his neck as a teenager, becoming a quadriplegic. Her mother was a violent alcoholic who shot herself. Monson decided not to have children, and become work-focused.
Carol travels to four company sites. She trains with Jen, who believes the company needs better marketing materials. She learns from Sheldon that the company has no online ordering capability. She installs signs with Gary. They take a break and talk about Gary's life in a gang, dealing drugs, and facing life in prison without parole. The judge miraculously dismisses his charges. Gary tells her his family lost their house that day. Carol also meets Scott, a franchise owner. They install an outdoor sign; standing in a cherry picker in the wind.
She brings all the employees to her favorite Nellie Gail equestrian center in Laguna Hills, California for the big reveal:
She invites Sheldon to a new production test group. She gives him $10K for a dream honeymoon. She offers him $50K to pay his medical bills.
She gives Jen $10K for a romantic vacation. She gives her $20K to pursue her passions.
She gives Scott $10K to put into a college fund for his daughter Maya. She gives him $15K so that he can spend time at home with his daughter and wife.
Carol puts together a customized training program in Texas for Gary, and $15k for his church. She gives him a new car to improve his 2 and-a-half hour to work commute, and $50K for a house. He cries openly; humbly saying that the huge gifts should be for someone else.
Forman Mills: Rick Forman CEO – Season 6, Episode 8
Forman Mills is one of the fastest growing discount bargain store company, worth a quarter of a billion dollars. Rick Forman describes it as a huge flea market with unbelievable deals. He made money at flea markets as a kid, and then decided to locate his stores in unwanted inner city areas. The company has brought hundreds of jobs to communities which had none. Seeking valuable information before a huge company expansion, Forman goes undercover to check up on how his employees are doing.
Forman makes stops at four key locations in his company. He trains with Sales Associate Mshinda, who unsuccessfully attempts to teach him how to organize the sales floor stock. He trains with Back Stock Coordinator Elizabeth, who gives him fork-lift and freight wrapping lessons, but admits he is terrible. Nikia try to teach him her customer service skills, but he fails miserably with keeping the customers happy because he works too slowly. He meets with Kurtis, who tries to train Rick how to clean the smelly bathroom first. Rick is excited about being home at the first store his company ever opened. He did a terrible job cleaning the bathroom. He cut up boxes for recycling. Kurtis tells him the company doesn't care about the employee's futures. Kurtis mentors at homeless shelters and gives to others after recovering from being a homeless alcoholic. He invites Rick to go with him to the shelter, where they distribute items Kurtis has bought with his own salary.
During the final reveal, Rick invites the employees who trained him:
Rick pays off Elizabeth's car completely. He gives her three children $5K each for a college fund.
Mshinda is promoted to Merchandise Coordinator and her salary is increased by $25K. Rick pays for her son's next four years of college. Rick sends her and her kids to Disney World.
Rick offers to make Nikia Front End Manager and give her a $17K raise to keep her from leaving the company. Rick gives her $15 K for each child to better their lives.
Kurtis is made head of a new outreach program, and his salary is doubled immediately. Rick breaks down in tears when he offers to buy Kurtis a house valued at $250K so that Kurtis will never be homeless again.
Save
Tell us what's wrong with this post? How could we improve it? :)
Let us improve this post!