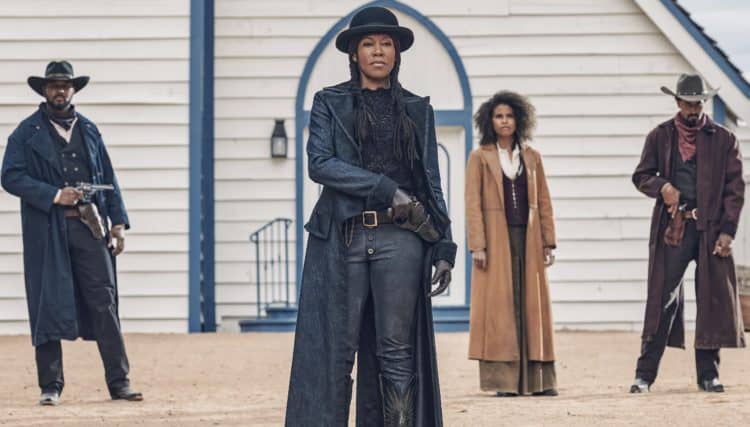 Though 2021 saw the return of movies in theaters, that didn't stop the rise of streaming and the exclusive movies that come with them. This article will focus only on films that were exclusively released on any streaming service, so movies like Black Widow or King Richard, which followed a theatrical and home release plan don't qualify for this list. Please note, that films are subjective so if you actively disagree with any of the movies on my list then feel free to write your top five films in the comments section. Let's get started with the first feature.
The Harder They Fall
Jonathan Majors heads an all-star cast in this thrilling western about an outlaw who discovers that Rufus Buck is being released from prison. He rounds up his gang to track down and murder the man that ruthlessly killed his family. Those riding alongside him are his former flame Stagecoach Mary, his right and left-hand men Bill Pickett and Jim Beckwourth, and a new ally willing to dish out some rightful justice. Buck has his own fearsome crew, and the two sides battle it out until the last one is left standing. While The Harder They Fall doesn't necessarily rewrite the rules of western films, this Netflix exclusive is packed to the brim with a colorful set of characters played by a game cast. The feature is highly stylish, and the soundtrack is a joy to listen to. The story is a fun throwback to notable classics and it's cool that an all-black cast gets to make their mark in a western. Not surprisingly, Idris Elba shines in The Harder They Fall as the main villain; His cool demeanor and swagger elevate his role of Rufus Buck; however, Jonathan Majors holds his own as the lead here. A top-notch and well-executed Netflix exclusive.
No Sudden Move
This modern-day neo-noir HBO Max exclusive follows a group of small-time criminals in 1954 Detroit, who are hired to steal an important document. Ultimately, plans go awry, and they search for the man that hired them, and his true purpose is revealed in a city that's rapidly changing. No Sudden Move would've been perfectly suited for Oscar season as this twisty noir story will keep you guessing until the very end. Once again, the all-star cast is used to great affect here and Steven Soderbergh does an excellent job at commanding such a complex story that's never confusing or boring. No Sudden Move is no Touch of Evil or Chinatown, but that doesn't make this feature any less entertaining.
Tick, Tick…Boom!
Lin-Manuel Miranda has been on a roll for the past couple of years. His directorial debut is a sharp film that follows Jon, a young theater composer who feels the pressure of not making it big by the age of 30. Unfortunately, Jon is feeling the heat from all spectrums of his life days before his make-or-break performance, notably his girlfriend Susan, who aspires to live beyond New York City, his friend Michael, who's dealing with a life-changing situation, and an artistic community that's being ravaged by the AIDS epidemic. Lin-Manuel Miranda is essentially flawless in his directorial debut, expertly balancing story and the musical transitions seamlessly. It also helps that Andrew Garfield is a tremendous actor, who shows his incredible range once again. Not only is it stunning that the actor can really sing, but the way he truly throws himself into the role of Jonathan Larson is fascinating. Given the subject, Tick, Tick…Boom! can get a little melodramatic at times, but the narrative never falls short of being good.
Boss Level
The time loop gimmick is becoming an increasingly crowded genre, but Boss Level manages to truly have fun with its premise, and it helps that Frank Grillo carries the film with ease. Grillo plays special forces agent Roy Pulver, who's trapped in a time loop that consistently repeats the day of his murder. Pulver must track down Colonel Ventor, the head of a powerful government program who has sent ruthless assassins to keep him from discovering the truth that could break the time loop. Boss Level's abundance of violence, action, and darkly comic moments are what really helps this film stand out in a good way; however, the surprising amount of heart and character development is what makes it better than your average streaming flick. The effects are top notch, the colorful characters light up on screen, and the time loop gimmick never wears thin. This feature would've easily fit as a summer blockbuster in theaters.
Zack Synder's Justice League
Zack Snyder finally got to make the Justice League movie that he wanted to release and it's strongly better than the mess that came out in 2017. For the first time ever, Batman, Wonder Woman, Aquaman, Cyborg, and The Flash join forces to save the planet from Steppenwolf, DeSaad, and Darkseid from destroying the planet. The long running time does mean that the film drags at certain points; however, stronger character development, better looking action sequences, and a naturalistic play on everyone's characters resulted in a film that was well worth the wait.
Tell us what's wrong with this post? How could we improve it? :)
Let us improve this post!