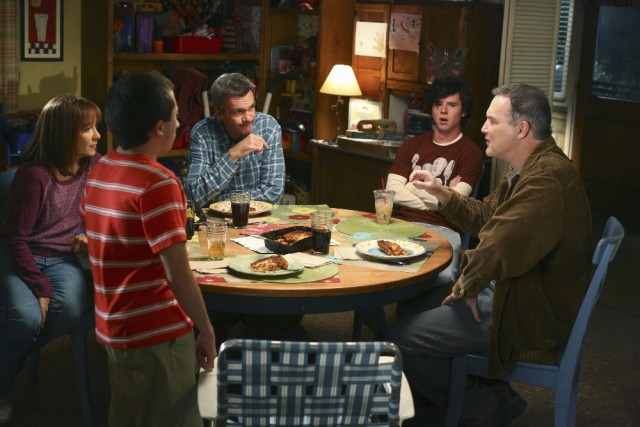 At the start of this season, there was much debate on The Middle as to whose year it will be. The second Year of Sue? Probable, as every year of dear Sue's life goes in her favor. The Year of Brick? Also likely considering he's the last kid in the house, so it's his time to shine. However, it seems the writers have rightfully decided to make this the Year of Mike.
Frankie outright asks Mike if his recent out-of-character choices are due to a midlife crisis, which he denies. His happiness and yearning for change that inspired the Hawaiian shirt and motorcycle is spreading into all aspects of his life. When his brother Rusty proposes he goes into business with him to pitch diapers with rival logos/pictures printed on them, Frankie immediately scoffs at the idea. Mike sees real potential there, and his level-headed approach to the business pitch pays off in the end.
It's always a treat when Norm MacDonald returns as Rusty, and now that he and Mike have sold their product idea, I hope this means we get to see more of him. If the Hecks manage to actually get rich from this crazy idea, I would imagine we'll begin to see lots more change in and around the family home. It would be the equivalent of the O'Connors winning the lottery in later seasons of Roseanne.
Also in this week's The Middle, Sue returns home for the first time in a long time – a whole 17 days, to be exact. She acts as if she'd been away from home for years the way she's ecstatic over the most silly things. Frankie's idea of a kitchen makeover means moving the toaster from one side of the counter to the other, which Sue loves. Anyway, though, the best part of Sue's story this week is that she reunites with Brad. He tries and fails to help her with her terrible roommate situation, but there is an even more important moment between these best friends. After all these years, Brad's finally ready to come out of the closet to Sue. She doesn't even need him to say the words; she simply hugs him and acknowledges that she knows. What a sweet scene!
Sue may also have finally solved her roommate problem by doing what she should've done weeks ago, or you know, after the first time she had to sleep in her computer chair because the roomie and her boyfriend pushed their beds together: reported her to the RA. If and when she gets another roommate assigned, I hope she's a better fit.
Elsewhere, Axl keeps himself preoccupied all weekend long with trying to prove to his parents that he's capable of driving Mike's motorcycle. He resorts to some pretty silly but humorous things, like jumping off the roof and eating whole sticks of long-since-expired butter. In the end, he does get to ride the bike but only as a passenger with Mike on there, too.
What did you think of this week's The Middle?
[Photo credit: Michael Ansell/ABC]
Tell us what's wrong with this post? How could we improve it? :)
Let us improve this post!