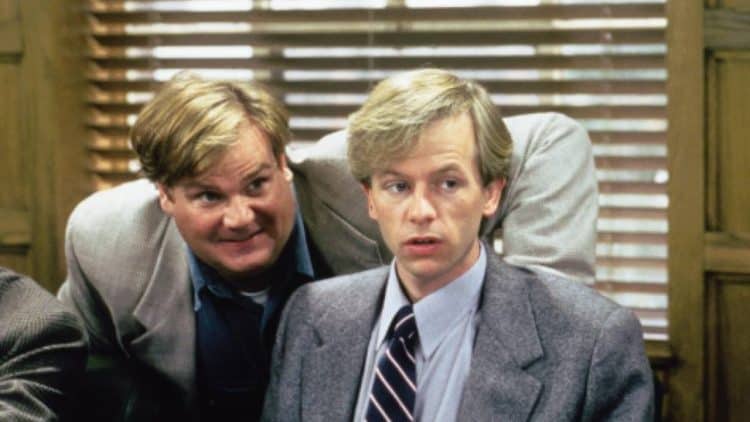 David Spade is a talented comedian and he can still make people laugh with his customary snide remarks and jokes that are kind of off-color and even hard to follow at times but are still comical in their own right. The only downfall of Spade is that when he had Chris Farley with him there was a lot more material the two seemed capable of delivering and it wasn't all on Spade's shoulders when it came to entertaining the audience. He's been able to hit a couple of movies out of the park since Farley passed away, but only one of them is a movie that he's been the lead in since he's one of those comedians that definitely shines brighter when he has a great supporting cast around him and a movie that actually plays to some of his strengths. He's not a big guy, a popular guy, or even an attractive guy by many standards. But when he's got the right cast, it doesn't matter since he's hilarious.
Here are some of his best movies to date.
5. The Benchwarmers
Richie is that type of underdog that never knows when to shut up it would seem but when confronted is quick to hide behind someone else and disappear. He's got at least some heart since he does join Gus and Clark when it comes to giving nerds and geeks everywhere a chance to stand up and enjoy the game of baseball just like everyone else. In fact throughout the movie he does manage to get a little better at the game though if one is to be fully honest the moment he plants his feet into a catcher's face mask he'd likely be tossed out of the game without fail. But thanks to this being a movie that's the kind of thing that's par for the course.
4. Grown Ups
This is a good example of what Spade can do when he has a decent to great cast around him to help out, since Kevin James, Chris Rock, Rob Schneider, and Adam Sandler are all great comedians in their own right and are able to make this a group effort that paid off. The second one received a lot more criticism than the first, but as Higgins, Spade was the kind of guy that hadn't grown up all the way yet and was still attempting to live life the way he wanted. With that being said though he was an entertaining part of the movie since he added in the immaturity that a lot of us have come to expect when Sandler is around.
3. Black Sheep
This was the last great film he did with Chris Farley and it's still considered something of a cult classic since the two made such a great duo that splitting them up never seemed like an option. But in this movie he plays a campaign manager who's given the unwanted task of keeping his candidate's troublesome brother out of reach until the end of the election. Unfortunately Mike is not the kind of guy that knows how to go low-key and as a result he and Steve are constantly at odds with one another in an attempt to get Mike's brother elected and unseat the current and very corrupt governor.
2. Joe Dirt
There's just something about this movie that makes it almost impossible not to love since Joe is the quintessential loser that never seems to get ahead in life and can't seem to find the right way to do so. He's had plenty of chances but the fact is he's not that bright and he's not all that good at, well, anything. But the experiences he's been through make for quite the interesting story after he's taken on a radio show to tell his life story and provide some comic relief for the DJ that's decided to take him on as a project. Throughout the telling however he reconnects with the woman he thought spurned him and finds out that he did have a home all along.
1. Tommy Boy
This is hands down the best movie that Spade and Farley did since it's the one that put them both out there as a comedic duo on the big screen. Tommy is the son of a wealthy and very intelligent man that dies during his wedding reception and has to find a way to keep the family company going after his father's passing. Richard is the unfortunate individual that knows the business inside and out and has to teach Tommy while trying to make numerous sales just to keep the company afloat so they won't have to sell out to the highest bidder. Together they go on a road trip that's a nonstop laugh riot and is ultimately able to keep the factory running.
Spade is good, but with Farley he was epic.
Tell us what's wrong with this post? How could we improve it? :)
Let us improve this post!