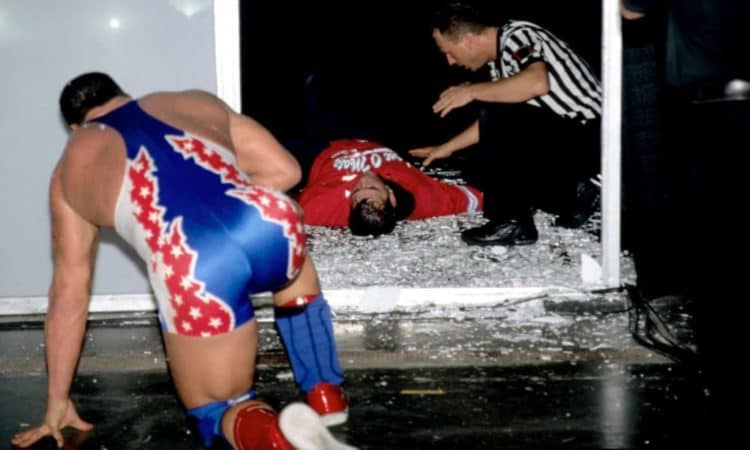 Hardcore wrestling has been popular for many years, with promotions such as ECW popularizing it in the 1990s. While the style isn't as popular as it once was, especially with WWE now being aimed towards a PG audience, there have been plenty of extreme and violent matches in the past. With Extreme Rules right around the corner, now is a perfect time to go back in time and take a look at some of the best extreme matches in WWE history.
10. Edge & Christian vs The Hardy Boyz vs The Dudley Boyz (TLC 2) – WrestleMania X-Seven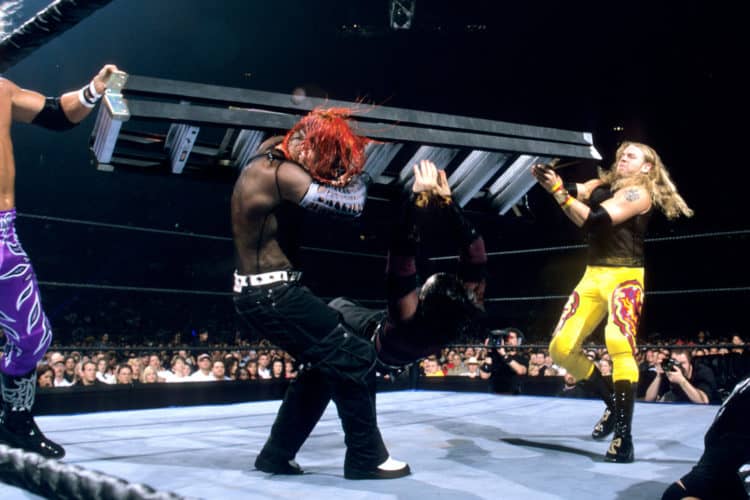 Matches that are considered "spotfests" are often criticized by fans, which is ironic considering TLC 2 is often hailed as one of the greatest matches of all time. Following on from the first TLC match at Summerslam 2000, the three teams faced each other once against at WrestleMania X-Seven in a classic match, full of many high-risk moments, including Bubba Ray and Matt Hardy falling from a ladder in the ring through four tables on the outside of the ring. Lita trying to cave in Spike Dudley's head with a steel chair, and the iconic spot which saw Edge spear Jeff Hardy from a 20-foot ladder. This match will forever rank as one of the greatest WWE matches of all time.
9. Kurt Angle vs Shane McMahon (Street Fight) – King Of The Ring 2001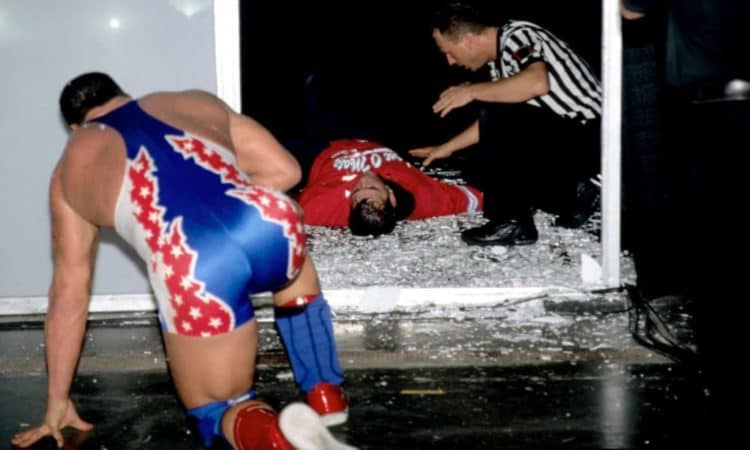 When Kurt Angle took on Shane McMahon at King Of The Ring 2001 it was his third match of the night, having defeated Rhyno in the semi-finals and then losing to Edge in the finals of the King Of The Ring tournament. Then he took part in a Street Fight which became infamous and was often shown in WWE's "Don't Try This At Home" video package. There was a planned spot for Kurt Angle to suplex McMahon through panes of glass that were part of the stage set. To make it safe the glass was meant to be sugar glass, which wouldn't cause damage to the performers. However, someone ordered the wrong glass and real panes were used, they were also reinforced so they wouldn't accidentally shatter when pyro fired in the arena. This meant that when Angle suplexed McMahon into them, he just bounced off and landed on his head. The spots eventually happened, with Angle trying twice on the first pane and three times on the second, opting to just throw him through the second one. It is difficult to watch, but a fantastic match overall.
8. Edge vs Mick Foley (Hardcore Match) – WrestleMania 22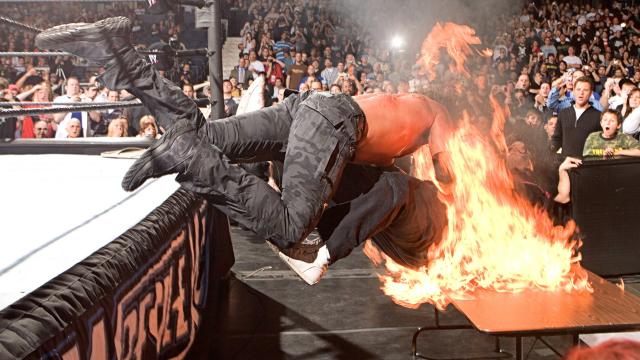 Despite being a top performer in WWE, Mick Foley never got his WrestleMania moment during his original run. So to ensure he had a great moment at the event he enlisted the help of Edge to put on a hardcore classic. As expected from the two the match was very physical, with lots of weapons and high-risk moments. But, the highlight of the match was when Edge speared Mick Foley through a flaming table, a moment that became a classic moment and finally gave Foley his WrestleMania moment that he will be remembered for.
7. Pat Patterson vs Sgt. Slaughter (Alley Fight) – WWF On MSG Network April 5, 1981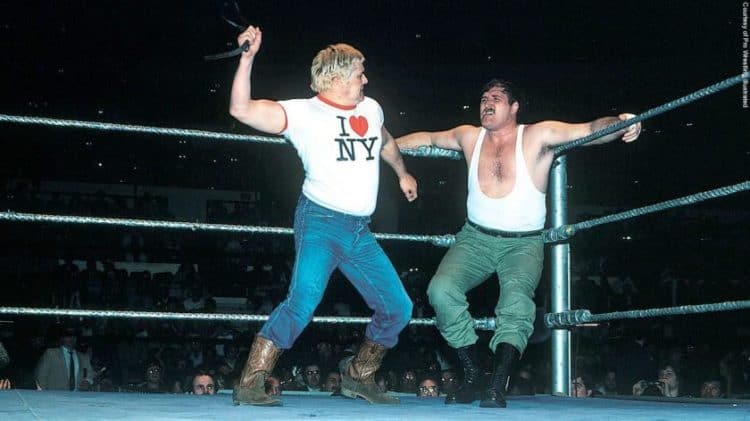 Pat Patterson and Sgt. Slaughter faced each other in a match with no referee or rules in Madison Square Garden. The match was designed to be a fight, and the excitement was only amplified after Sgt. Slaughter was busted open a few minutes into the match. It ended up being a bloodbath and is often described as hardcore before the term hardcore was coined. Due to being a house show, it is often forgotten about, but it is a legendary match that is worth watching.
6. John Cena (C) vs JBL (I Quit Match For The WWE Championship) Judgment Day 2005
While not as bloody as the main event of Judgment Day 2004, it was still a very brutal match, which saw both Superstars bleeding heavily throughout, certainly the most we've ever seen Cena bleed. Cena won the match after grabbing an exhaust pipe from a pickup truck that Cena came to the ring on. After the match, he used it to send JBL through a glass panel.
5. Tommy Dreamer and The Sandman vs The Dudley Boyz – ECW One Night Stand 2005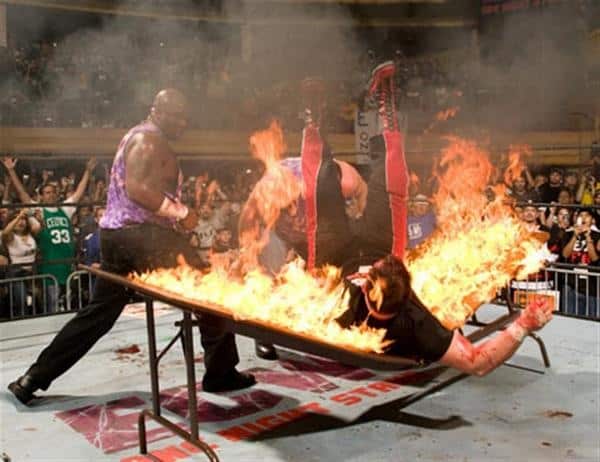 Following the success of the "Rise and Fall of ECW" DVD, a reunion PPV was held titled "ECW One Night Stand" in 2005, which saw many ex-ECW stars come together for an event, with wrestlers such as Chris Jericho, Rey Mysterio, Eddie Guerrero, and Sabu taking part. The main event saw Tommy Dreamer and The Sandman take on The Dudley Boyz. The 10-minute match was fairly short, with the entrances taking nearly as long, which included The Sandman coming to the ring through the crowd to Metallica's Enter Sandman. The highlight of the match was a powerbomb through a table set on fire to end the match. ECW may be gone, but this proved that it will never be forgotten.
4. Eddie Guerrero (C) vs JBL (WWE Championship Match) – Judgment Day 2004
The main event of Judgment Day 2004 wasn't extreme by design, but instead by accident. Around 1/3 into the match, JBL hit Eddie Guerrero with a steel chair. Guerrero then used a blade to make himself bleed, a common method for "getting color", except it went wrong. Eddie cut too deep and cut an artery, which caused blood to immediately pour from the wound. But, in 2004 the business still had a "show must go on" mentality and the match went on for approximately 15 minutes more, with the ring canvas being soaked in blood as it didnt stop. Guerrero was visibly weak but managed to finish the match. When he got backstage he went into shock due to the blood loss and was hospitalized.
3. Triple H (C) vs Cactus Jack (Street Fight For The WWE Championship) – Royal Rumble 2000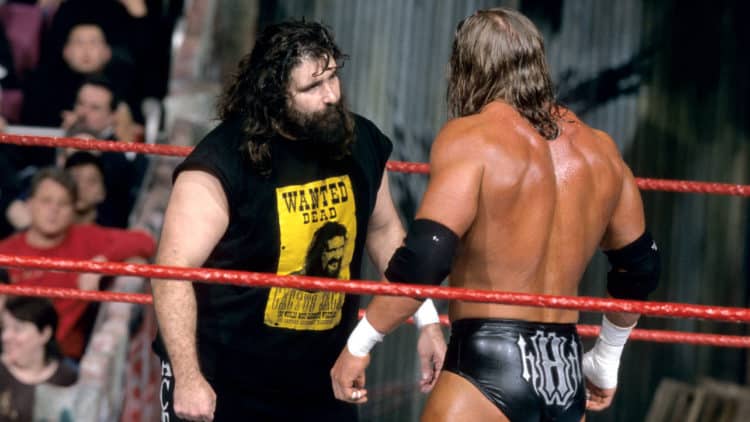 Triple H defended his WWE Championship in the main event of Royal Rumble 2000 at Madison Square Garden in a Street Fight against Cactus Jack in a 5-Star match. The two Superstars battled with plenty of chairs, barbed wire, and anything else they could use against each other. It was a match that looked like it could go either way and had fans on the edge of their seat. Mick Foley was winding down his full-time wrestling career at this point, so it is great that he got to headline Madison Square Garden at a major PPV, the same venue that he watched Jimmy Snuka and Don Morocco wrestle that made him want to become a wrestler. This match is Triple H and Mick Foley at their finest and it is essential viewing for any wrestling fan.
2. Mankind (C) vs The Rock (I Quit Match For The WWE Championship) – Royal Rumble 1999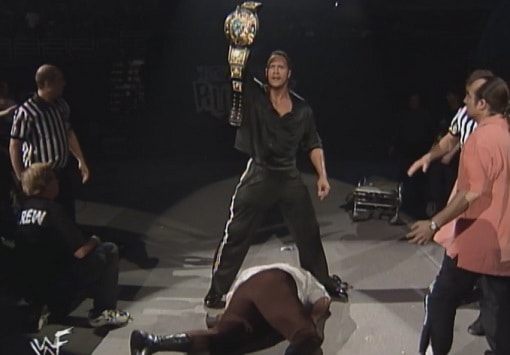 This one is difficult to watch. At the Royal Rumble in 1999, The Rock faced off against Mankind in an I Quit Match for the WWE Championship. As expected from the two, the match was incredibly hard-hitting, with both men dishing out lots of pain onto their opponents. The match will be remembered though for its finish, which saw Mankind handcuffed before being subjected to 11 shots to the head with a steel chair while being unable to protect himself. With what we now know about CTE, this is something that is mesmerizing to watch but should also come with a disclaimer. The agreed spot was just five chair shots, still not a great decision by Foley, but The Rock got carried away and just kept swinging. To make matters worse, Mick Foley's wife and two young children were in the audience watching, this was documented in the wrestling documentary "Beyond The Mat", which showed his family crying as they watched Mankind be hit across the head over and over. Despite it being one of my favorite matches of all time, it is still difficult to watch today and it is difficult not to get emotional watching Noelle and Dewey Foley upset while watching the match.
1. The Undertaker vs Mankind (Hell In A Cell Match) – King Of The Ring 1998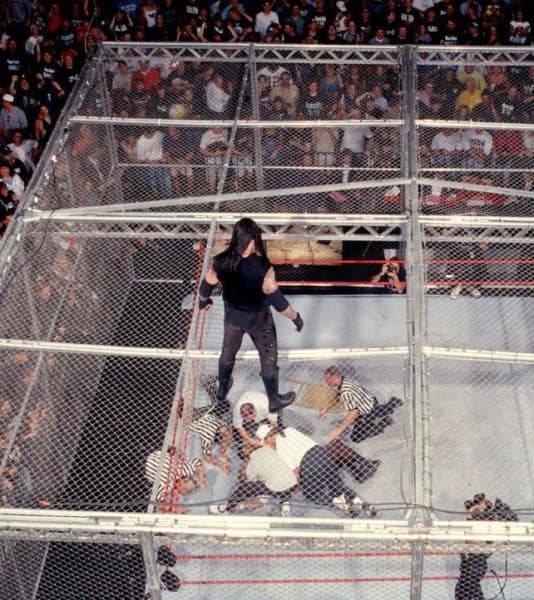 Mick Foley is featured in 40% of this list, which just shows how much he's willing to put his body on the line for our entertainment, but perhaps he crossed the line with this match. At King Of The Ring 1998, "Mrs. Foley's Baby Boy" stepped inside Hell In A Cell against The Undertaker, well mainly on top of Hell In A Cell. Knowing he couldn't compete with the quality of the Shawn Michaels vs The Undertaker Hell In A Cell match eight months prior, Mick Foley knew he had to do something that would shock people, so chose to start the match on top of the cell. Just moments into the match, Mankind was thrown off the top of the cell by The Undertaker, approximately 16 feet. As far as anyone was concerned, the match was over as quickly as it had begun, with Foley being stretchered out by paramedics. But, at least in Mick Foley's head, he didn't give us our money's worth, so he climbed back on top of the cell, and ended up being chokeslammed through the roof into the ring below. Foley has said that if had the energy to take the move properly and jump up, instead of simply falling back, he likely would have landed on his neck and potentially been killed, or certainly paralyzed. The impact of the fall caused a tooth to become loose and go through his lip into his nose. But, that wasn't to be the end of the match and the two Superstars fought for another few minutes, with Foley being slammed into thumbtacks before taking a Tombstone Piledriver for the win. Over 20 years on this match is still a spectacle to see and I don't think we will ever see anything quite like it again in the WWE, and that is probably for the best.
Tell us what's wrong with this post? How could we improve it? :)
Let us improve this post!