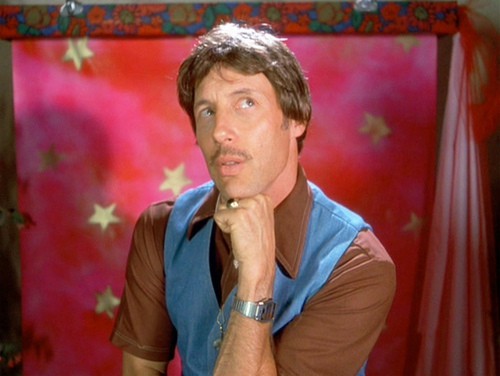 You've seen John Gries in a bunch of movies but you probably don't recognize him for one reason or another. The guy isn't much of a chameleon since he usually has the same look about him, though he does know how to wear each role and use it to great effect. He does blend in with a lot of his roles to such an extent that some people ignore him almost entirely and have to be reminded that he was in one movie or another or some people really like him and can pinpoint some of his most effective roles. There are quite a few movies he's played in that might surprise people since he's been around since the late 60s and is currently 63 years of age. Yep, he's one of the many that started out young and is still around, even if people don't always fully recognize him without one costume or another on since again, he does blend into a movie fairly well. One movie that people might recall that he was in was The Monster Squad, but there's a good reason for this considering that his human persona didn't have quite a much screen time as the character he played, the Wolfman. It was kind of a surprise to me too but upon going back to check it was a pleasant one to be certain since when one really looks at the guy he hasn't changed much in appearance over the years, just picking up a bit of grey hair and a few wrinkles along the way.
But if anyone remembers, the Wolfman was kind of an on-again, off-again ally of Dracula in The Monster Squad since the human side of his nature wanted nothing to do with Dracula's schemes while the beast went right along with the power-hungry vampire. In fact, there's actually a scene in which the human aspect is chained to a chair and looks drugged or perhaps just tired as Dracula waits for him to 'slip into something more comfortable'. It's not too hard to see how that role would slide by and not be remembered by a lot of people since as much fun as The Monster Squad was for a lot of us as kids, the movie didn't exactly make the leap into a legendary status that quickly and was largely forgotten for a while until it was revived by those that don't want the past to be forgotten and left behind.
John was also in Men in Black in the opening scenes since he was the guy transporting a van full of illegal immigrants across the border. That was pretty much where his involvement ended in that movie though, as Tommy Lee Jones kind of took over and didn't relinquish control that much until Will Smith came on the scene. He's taken part in quite a few movies but has almost always been a supporting actor or a type of extra that's there to serve a purpose and then disappear within a few scenes. But one part he took on opposite of Christopher Walken in The Rundown with Dwayne Johnson and Sean William Scott was kind of convincing since he played Harvey, a guy who was running a gold-mining operation in South America with his brother, played by Walken, and was in charge of security. Harvey was the kind of weasel-faced individual that you knew didn't have a lot of authority and would have been a little too weak without his brother there to do much of anything, especially since he couldn't control his temper. In other words, he was a toady, someone that had power because of someone else but didn't really know how to use it. But he did play the part well and it did come off without much of a hitch since watching him get his butt handed to him by Johnson was kind of funny. But of course, there's one role that a lot of people know and like that has been kind of a sticking point with some folks since they either like Uncle Rico from Napoleon Dynamite or they don't.
To be fair and honest, Uncle Rico is a jerk for the most part since he's the kind of guy that might have had greatness at one point in his life but had to watch it slip away when he let one dropped pass get in the way of his dreams. After that, he became a pretty miserable person who tried to get ahead in the shadiest ways he could think of, which were indeed crooked but not quite as diabolical as they could be. Somehow, Uncle Rico was almost easy to pity since he had once had a shot at life, but had, as you can already imagine, dropped the ball. As far as John Gries goes though, he's had a pretty successful career.