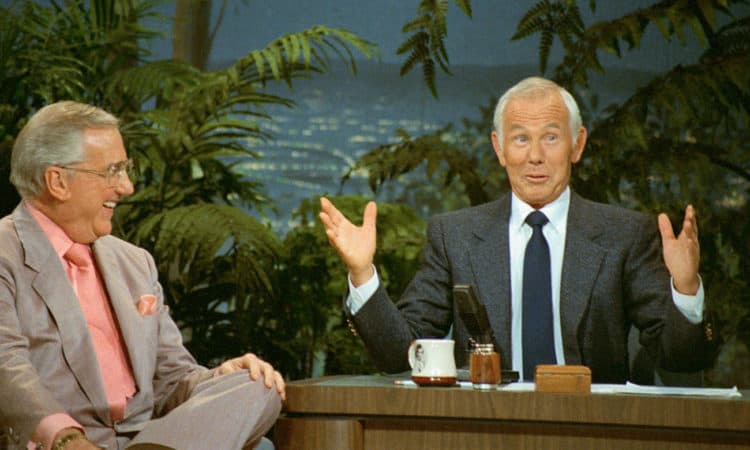 Johnny Carson made what late-night talk show is today. The host of The Tonight Show Starring Johnny Carson, which he helmed for three decades, the comedian paved the way for the success of future late-night hosts like David Letterman, Jay Leno, Conan O'Brien, Jimmy Fallon, and Stephen Colbert. Due to his lasting impact and legacy on pop culture, he is referred to as the "king of late-night TV." A former member of the Navy, Carson made a move to radio hosting, effectively starting his career in entertainment. He would eventually find his way to TV, succeeding Jack Paar in the Tonight Show franchise and becoming the third person to host the late-night talk show. There had been talks of a Johnny Carson biopic in 2013, but sadly, nothing ever came to fruition. Carson led an astounding career, one that should be honored with a proper biopic from a major studio. Legacy wrote of the host: "Johnny Carson was the undisputed king of late night for decades. As he presided over The Tonight Show, he invited thousands of stars into his studio to talk, laugh, perform and charm his audience. When he died on January 23, 2005, he left behind shoes that were hard to fill." If movie execs decided to develop a biopic on the late comedian tomorrow, here are a few casting suggestions to help them decide who should play the legendary funnyman.
Martin Short
If a biopic on Johnny Carson intends to mainly cover his later years, Martin Short would be the best person to play him on screen. Aside from the fact that the two share certain facial features, they're also around the same height. Martin Short was also a frequent guest of the Tonight Show Starring Johnny Carson when it was still on the air, the only actor in this list to have ever had the chance to be interviewed by the late host, so if there's an entertainer out there who truly knows Carson, it's Martin Short. Short is a comedy legend, so playing Carson in front of the camera shouldn't be too much of an issue for him. He was a featured cast member for Saturday Night Live, a show that he still continues to guest in. He also appeared in classic comedy hits like Three Amigos, Father of the Bride, and Mars Attack! Currently, he stars in Hulu's most popular crime-comedy show, Only Murders In The Building, starring Selena Gomez and frequent collaborator, Steve Martin.
Martin Freeman
Another actor that should be in the running for a hypothetical Johnny Carson biopic is Martin Freeman. With a little bit of makeup magic, Freeman should be able to portray the funnyman on screen perfectly. Martin Freeman is a British actor, so getting that distinct Carson voice should be a challenge. But for an actor of Freeman's calibre, that shouldn't be an impossible task. Martin Freeman has an impressive list of projects in his repertoire. He most notably played Bilbo Baggins in the Lord of the Rings prequel movies, The Hobbit: An Unexpected Journey, The Hobbit: The Desolation of Smaug, and The Hobbit: The Battle of the Five Armies. He is also a part of the Marvel Cinematic Universe, appearing as Everett K. Ross in Black Panther and Captain America: Civil War. Given these projects in his resume, Freeman shouldn't have any problems portraying Johnny Carson in front of the camera.
Ansel Elgort
Johnny Carson's early career is just as interesting as his achievements later in life. If movie execs decided to focus on Johnny Carson's rise to fame, Ansel Elgort would be an excellent candidate to play the comedian during his earlier years. Ansel Elgort is a spitting image of Johnny Carson when he was still a struggling entertainer, making him a strong contender for a potential Johnny Carson biopic. Elgort came into prominence for playing a lead role in the drama movie The Fault In Our Stars. Prior to that, he had a supporting role in the 2013 movie revival Carrie, starring Chloe Grace Moretz and Julianne Moore. Elgort has appeared in several blockbuster films, most notably the Divergent series and Baby Driver. Ansel Elgort is also in the 2021 movie adaptation West Side Story. He has an upcoming TV show titled Tokyo Vice, which he is also executive-producing.
Andrew Garfield
The best thing about casting Andrew Garfield is that he can essentially play Johnny Carson at any stage of his life. He was able to prove this ability in a recent biopic he did of disgraced televangelist Jim Bakker in The Eyes of Tammy Faye. Andrew Garfield played Jim Bakker throughout different stages, from when he was still a student at a Bible college to when he was convicted of fraud. As for his research on the role, Garfield said, according to Observer: "Luckily, I came to it kind of fresh and clear-eyed, and I didn't have much prior knowledge of Jim or Tammy. So I was able to just come in without judgement and kind of get underneath all of the general stuff that has been written or spoken about them, so that was a big bonus. And there's just a feast of material about Jim — books and autobiographies and biographies and exposés and reportage — and there's video footage of every dang show he ever did, and there's articles upon articles." The actor should be able to do the same for Johnn Carson. Andrew Garfield appeared in The Amazing Spider-Man and The Amazing Spider-Man 2. His filmography is full of biopics, which should make portraying Johnny Carson on screen a breeze for Andrew Garfield. He played Facebook co-founder Eduardo Saverin on The Social Network, army medic Desmond Doss in Hacksaw Ridge, advocate Robin Caavendish in Breathe, televangelist Jim Bakker in The Eyes of Tammy Faye, and playwright Jonathan Larson in Tick, Tick… Boom.
Tobey Maguire
Last actor on this list is Tobey Maguire. We all know Maguire from the first Spider-Man movies from 2002 to 2007, but he has since appeared in other projects as well. In 2013, he appeared opposite Leonardo DiCaprio in The Great Gatsby, playing Nick Carraway. He also played a character in the Josh Brolin movie Labor Day. In Pawn Sacrifice, he played a real-life person, chess grandmaster Bobby Fischer, a role for which he received critical acclaim. It seems that Maguire has a natural talent for playing real personalities, but he's just not given enough chance to do so. An opportunity to play Johnny Carson on screen should test Tobey Maguire's talent for biopics even further.
Tell us what's wrong with this post? How could we improve it? :)
Let us improve this post!