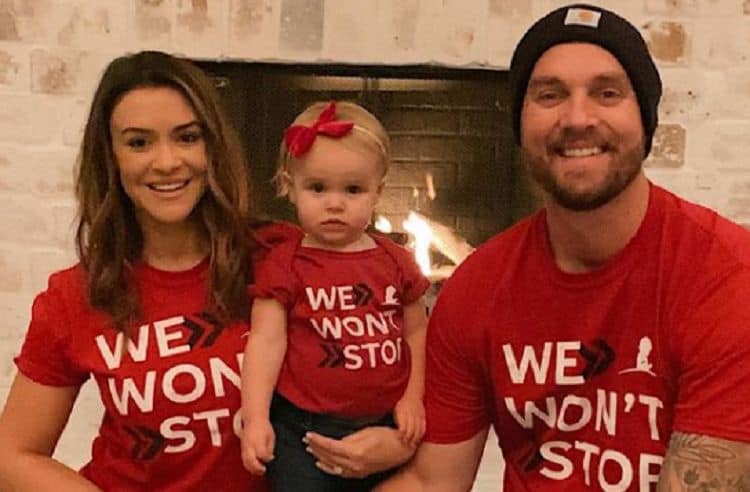 Taylor Mills is a woman whose name is all over the news right now. She recently announced that she is pregnant with her second baby, only a little more than a year after welcoming her first. She's married to country singing superstar Brett Young, and the world is so excited for their darling little family and their new addition. While it might seem to some like their story is one that happened quickly, it's not how things went at all. It's time to get to know the wife of one of the most famous singers in the country music industry. Trust us, you'll love her even more when you get to know her.
1. Their Love Story Seemed Quick
It seemed a lot like a whirlwind for fans when this couple began their engagement. Young asked Mills to be his wife back in February of 2018. They were wed November 2018, they welcomed their daughter in October of 2019, and they will welcome their second baby in the summer of 2021. It's a lot, but their romance is much older than this story.
2. She Went to College
Taylor Mills went to college. She attended Arizona State University, and it was through friends she had while she was there that she met her future husband. He saw a photo of her with some of his friends on Facebook, and he managed to figure out how to get them all together for a group situation. That's when they met.
3. They Didn't Begin Dating Right Away
It wasn't until several months after they met for the first time that they began dating. He'd just moved back to the OC, and she text him. We don't know what the text said, but it was something that absolutely made him fall for her, and they began dating. It was a long-distance thing, and he spent every other weekend driving from his home in the OC to her home in Arizona to visit.
4. They Broke Up
When she finished college, she moved to the OC to be with her. They were living in Los Angeles for a while, but the couple broke up after six years together. He was ready to go to Nashville and become a country music singer, and that was what broke them up. They spent more than two years apart, but it all worked out for them.
5. She's Got a Secret
They've actually been married longer than they say they have been. While they did have a big California ceremony back in 2018, they couldn't wait that long to become husband and wife. They got married in secret months before their big day. They didn't tell anyone but her sister about the entire thing, and no one had a clue when they 'got married' in California on their wedding day.
6. She's the Star of His First Record
Even though they broke up, he was still in love with her. When he was writing his first album, it was all about her. He never had any bad feelings for her nor her for him. They simply felt that they were not in the right place to be together, but he missed her.
7. Her Husband Calls Her a Muse
He wrote so much of his music about her, and he calls her a good muse. While we hate that their story includes a breakup, we do love that it was something that he gave to the world in the form of his music. We all gained a little something from that, and that is something we appreciate.
8. They are Very Much in Love
You can always tell by body language and the sweet words that people use to describe one another when they are talking about one another. These two are clearly very happy together even 10 years after their initial meeting, and we love that for them.
9. They're Excited About Their Family
Something they both agreed on when they got married is that they wanted kids right away. They were able to make that happen in next to no time at all, and it worked out well for their daughter. Additionally, they are now welcoming a second child, and they'll have two under two for a few months. It's going to be an adventure, but they seem like they're going to enjoy it.
10. She's Private
She loves to share her family and her love of life with the world, but she never shares too much. She appreciates her fans and the people who made her husband famous, but she also appreciates her own privacy and the privacy of her daughter – and soon to be second child – too much to share everything that they are doing in life with everyone else.
Tell us what's wrong with this post? How could we improve it? :)
Let us improve this post!