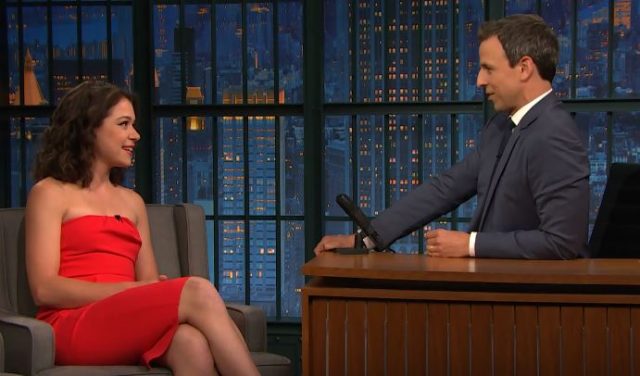 Tatiana Maslany was on Late Night With Seth Meyers last night to talk about the current season of Orphan Black, and as usual, a good portion of her interview was spent discussing the challenges of playing so many different characters on one show. For those who don't know, Maslany has played nearly a dozen clones throughout Orphan Black's four seasons, and as she told Seth Meyers, she had to play four different characters during her audition for the show alone.
"I did like four," she explained. "So I did Sarah, Sarah as Beth, Cosima, and Alison. So those are the four I knew about, and then they threw a bunch more at me."
When Meyers asked if the audition process was nerve-wracking for Maslany, knowing that she had to play four different characters in order to get the job on the show, she admitted that she just tried to not think about the pressure of it all. She actually tried to make herself "feel better" by rollerblading to her audition "like a very cool person would do."
And even though Maslany makes playing all the different clones on Orphan Black seem easy, she told Meyers that she wouldn't mind if a couple of them got killed off, especially since the writers are introducing more and more clones every season.
"I'm always like, they add a new one, and I'm like are we killing three others or–but no," Maslany said.
"So you actually have a real cold heart when it comes to those characters," Meyers said, laughing.
"I'm vicious," she told him. "I'm vicious. I'm just like murder them all."
Watch Tatiana Maslany talk more about Orphan Black in the video below:
[Photo via YouTube]