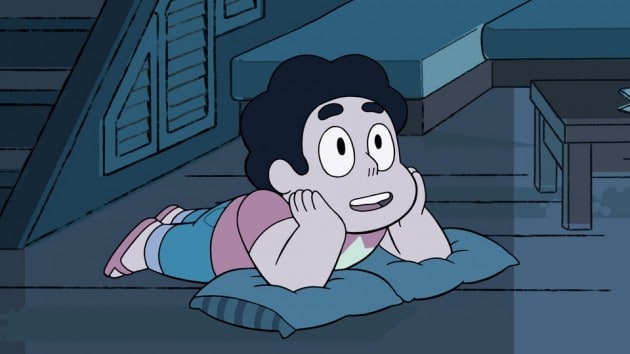 Steven Universe ends its week of new episodes with two fantastic final installments. "We Need to Talk" explored Greg and Rose Quartz's past, and "Chille Tid" followed the future mission of the Crystal Gems.
The entire story about fusing comes up because Greg sees Steven and Connie fuse into Stevonnie. Earlier in the season, we saw how Greg Universe met Rose and the Crystal Gems, and it was quite adorable. It's even better to see how a romance between a silly human man and an alien woman would evolve. Pearl showed off yet again, proving that even in the past she was very in love with Rose and liked dangling that fact in front of Greg. Pearl and Rose fuse into Rainbow Quartz, and Greg becomes determined to fuse with Rose if it's the ultimate connection between Gems.
While Pearl thinks it's impossible for a human and a Gem to fuse, Garnet encourages him to find his own way of dancing with Rose. This episode gives us a lot of insight into Garnet's psyche because she is a walking embodiment of love, so of course she would want Greg to fuse with Rose. Ultimately, Rose and Greg do not fuse in the Gem sense, but Garnet remarks that the fusion did work, just in a different way. It's really a sweet concept; Gems connect through physically fusing together, and humans connect through talking.
"Chille Tid" explored dreams and the real problem of Lapis Lazuli and Jasper at the bottom of the ocean. After a long day of searching for them, Steven, Amethyst, and Pearl resign to a slumber party. Steven has a dream and Lapis shows up, disrupting it. Steven also learns that Pearl has never dreamed before so he teaches her how to fall asleep, and what do you know, she's dreaming about Rose. Pearl and Amethyst determine that Steven can mentally connect with Lapis through his dreams, so he tries yet again. Lapis struggles to keep Jasper at bay, and tells Steven to leave her alone; she dedicates her entire existence to keeping Jasper under control. The episode ends on a bit of a cliffhanger, but I'm glad to see that we will follow the Lapis Lazuli plotline after all.
Cartoon Network announced last night that another Steven Bomb will start on July 13, so I can't wait for another week of high quality episodes like this one!
[Photo via Cartoon Network]
Tell us what's wrong with this post? How could we improve it? :)
Let us improve this post!