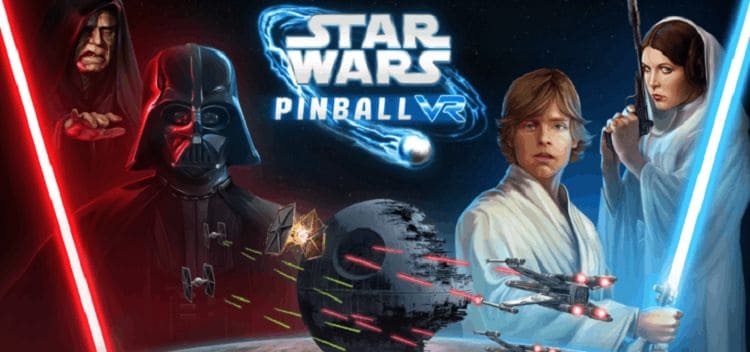 Did you get the pun in the title? (Hint: "these are not the droids you're looking for") Get it now? Anyway, that's enough about title puns; we're here to talk about Star Wars Pinball VR! Being the massive Star Wars fan that I am, I was very eager to get my hands on Star Wars Pinball VR for the Oculus Quest 2. After receiving a review copy of the game, I've finally found time to dive into the game and it is absolutely not what I was expecting. When I tell you I was blown away at the immersion that I experienced in Star Wars Pinball VR, I was blown away. So, how do we feel about Star Wars Pinball VR?
Star Wars Pinball VR
Visuals
Star Wars Pinball VR has some pretty sweet visuals, including the most immersive virtual reality perspective that I have yet to experience in a video game, by far. What do I mean by this, you ask? Well, by default, Star Wars Pinball VR throws you into a traditional first-person viewpoint in which you're just looking down at a pinball machine like you would in an arcade. However, at the push of a button, you can throw yourself into the middle of the action and actually play from the inside of whichever machine you've chosen to play. I actually discovered this by accident, but I haven't stopped playing from this perspective since I found it. I mean, when you can see The Ghost fly over you as you're playing a game on the Star Wars: Rebels table, to the Razor Crest traveling back and forth as you thwart IG-11's attempt to self-destruct, it's really a completely different experience when you play in the "Total Immersion mode."
Gameplay
Star Wars Pinball VR has a lot more content than I thought Zen Studios could possibly fit into the game, but it has so much more than just pinball. There's tons of various mini games, as well as an entire "Fan Cave" to deck out, customize, and entirely make your own. While the menu is a tad confusing, and not very user-friendly, there are plenty of other things to occupy your time like eight different tables to play on: the classic Original trilogy, one table from The Mandalorian, a Rebels table, Masters of the Force, Classics, and of course, a table for Rogue One. Each of these tables are designed in a unique way that shows off highlights from each Star Wars property, for example, the Rebels table shows off Ezra, Kanan, and The Grand Inquisitor, as well as everyone's favorite droid, Chopper. The Mandalorian table, of course, features The Mandalorian in a fierce battle between IG-11 and Din Djarin, and yes….The Child, aka Grogu (aka Baby Yoda), does make an appearance as well. Unfortunately, we have yet to see a specific table from the Prequel era (yes, I know Masters of the Force features Prequel-Palpatine and Yoda, but I want to see Revenge of the Sith and especially The Clone Wars), and the Sequel trilogy also seems to be missing from the lineup of tables, maybe they're planning this for some DLC in the future, or maybe Zen Studios just has no plans to add these Star Wars eras into the game. Who knows?
Audio
When it comes to Star Wars, there's no way that you can neglect the beautifully crafted scores that have come from the brilliant mind of John Williams, and Star Wars Pinball VR does not disappoint. There's an R2-D2 jukebox within the "Fan Cave" that allows you to unlock and play specific fan-favorite tracks from the Star Wars universe, including songs from the best soundtrack across all of Star Wars…Revenge of the Sith. It really feels like you could just sit back and chill out in the "Fan Cave" and just hang out with a couple of friends as you enjoy the surrounding Star Wars decorations.
So far, the Rebels table is my favorite, by far and I've got to be honest, it's definitely because of Chopper. Overall, I'm enjoying Star Wars Pinball VR a lot more than I thought that I would, even if I don't exactly know how to play pinball the right way (other than just aiming for what's shiny and blinking.) I'm really hoping that this game gets DLC at some point, because I would love to have even more content to play, however, I think it'll be a long while before I even get through the content that is already available in the base game as it is. If you love pinball, I would highly recommend this game. If you love Star Wars, I would highly recommend this game. If you love both, then I think that Star Wars Pinball VR is a no-brainer purchase.
Star Wars Pinball VR is currently available for $24.99 on Steam VR, Oculus Quest, and PlayStation VR.
Tell us what's wrong with this post? How could we improve it? :)
Let us improve this post!