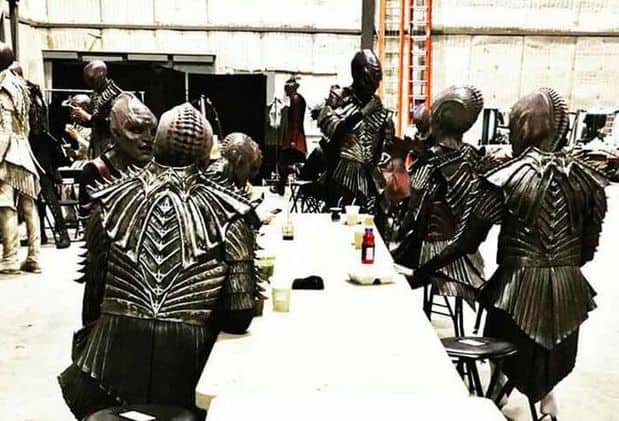 It's been only two weeks since CBS gave fans a glimpse of what Star Trek: Discovery has in store for us. And today we receive our first unofficial look at the Klingons. Suffice it to say these guys are probably not what most of us expected. The photo was apparently leaked by an extra on the set and shows Klingon actors on a break at Pinewood Toronto Studios. The photo was original posted on Instagram, snatched up by Facebook and now it's on twitter. The original caption reads " "Hanging out with my new Klingon Crew today on the set of the new #startrek."
While the costumes match with those shown in CBS's teaser trailer, the makeup is very different from anything we've seen with Klingons. Klingons were introduced all the way back in 1967 on TV's Star Trek. Initially they had bronze skin and were redesigned for the 1978 motion picture Star Trek. Over the decades the appearance of Klingons has continued its tweaks and today's photo is just another evolution of the alien race.
Looking closely these characters have a likeness to Xenomorph from Alien. According to CBR
Debuting in May on CBS before moving to its CBS All Access streaming platform, "Star Trek: Discovery" stars Sonequa Martin-Green as Lt. Commander Rainsford, "Number One" on the USS Discovery; Doug Jones as Lt. Saru; Anthony Rapp as Lt. Stamets; and James Frain as Spock's father Sarek. They're joined by Michelle Yeoh as Captain Georgiou of the USS Shenzhou; Shazad Latif as Kol, a Klingon commanding officer; Chris Obi as Klingon leader T'Kuvma; and Mary Chieffo as L'Rell, a battle deck commander on Kol's ship.
Here's the first glimpse:
Image via Twitter
Tell us what's wrong with this post? How could we improve it? :)
Let us improve this post!