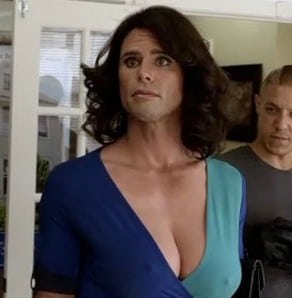 The Sons of Anarchy brain-trust brought us some much needed respite from the unrelenting darkness of recent weeks with tonight's "Orca Shrugged". Well, for the most part anyways, then they punctuated one of their funniest episodes yet by killing a baby, but I'm getting ahead of myself.
In some ways "Orca Shrugged" was one of the most political episodes of the season as well, MC style politics that is. One of the plot centerpieces this year is, naturally, Jax's role as president of Sons of Anarchy. The writing of this aspect of the season is superb in the sense that we aren't just getting a string of chest-thumping at Church scenes, but we are seeing Jax express leadership in various ways. Leadership in the club, leadership in his family, leadership in his community. In "Orca Shrugged" we saw Jax begin laying the groundwork for Samcro's prolonged presence in Charming, with a surprising reach across the aisle to Jacob Hale.
Okay I just can't contain myself anymore. The BEST part of this episode was the surprise appearance of Justified's Walton Goggins, who appears as a partially transexual hooker named Venus Van Dam. He/She is all woman from the waist up, and all man from the waist down. Venus is hired by the Sons to setup a local insurance agent who holds the political clout to make or break Jacob Hale's dream project, Charming Heights. Jax drugs the agent and brings Venus in to stage some compromising pictures. As if the scene wasn't great enough, True Blood's Marshall Allman also appeared for a cameo. During his few moments of screen-time he expressed some earnest love for the MC, I'm putting out the vibes to Kurt Sutter right now: make this guy a prospect! The whole blackmailing thing helps Samcro establish a protected venue for their 'companion' venture with Nero and definitely lays some groundwork for a Jacob Hale/Samcro mutually beneficial co-existence.
As for Roosevelt cozying up to the Sons of Anarchy, you can forget about that. Near the end of the episode the former-nomads staged a break-in at Roosevelt's house and his wife accidentally shot herself in the stomach trying to defend herself and her unborn child. On the way down, though, she managed to take a chunk out of one of the nomads, thus gathering some DNA evidence in the process. Oops. So now the clock is ticking to the moment that Roosevelt finds out the man responsible for killing his unborn child is wearing the Reaper. Ouch.
Other Factoids worth noting:
– Tara had a checkup on her hand and was given a boost of optimism. It seems like returning to surgery might not be out of the question for her.
– Nero fessed up to Gemma that Jax told him hands off, but it was in a moment positively charged with sexual energy.
– Jax and Galen FINALLY had a fist-fight, and it was awesome. Galen later shot up a couple of the Samcro bikes. Not cool!