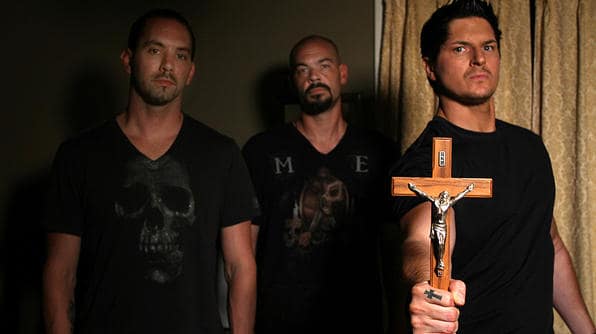 Could the show "Ghost Adventures" ever be a feature film? Probably not. The paranormal investigation show has been a successful documentary series on the Travel channel for 14 seasons. Like other successful paranormal investigative shows, "Ghost Adventures" follows a cast of ghost hunters as they investigate reportedly haunted locations and prove or disprove the allegations by obtaining evidence. Could "Ghost Adventures" be made into a feature film? Here are some reasons this is unlikely.
Ed and Lorraine Warren's legacy
Ed and Lorraine Warren were popular ghost hunters from the 1970's and 1980's. The husband and wife team of paranormal investigators founded the New England Society for Psychic Research in 1952. The couple most famously investigated paranormal phenomenon including the mysterious haunted "Abigail" doll, the Perron family home in Rhode Island, and the Lutz home in Ametyville, New York, and the haunting of a home that was a former funeral home in Connecticut, and a famous haunting in Enfield, England. During the last decade, these stories were turned into movies including The Conjuring films. Despite their longevity, the Warrens have often been criticized for sketchy evidence. It's difficult to believe that with all of the successful paranormal investigative shows that "Ghost Adventures" would be the one to turn into a movie. The show feels less legitimate than even the Warren investigations.
Critics
Several critics of "Ghost Adventures" have noted a lot of false evidence. "Ghost Adventures" spends a lot of time showing off "evidence" of the paranormal but not much time attempting to debunk evidence like some other paranormal investigation shows. The cast often over exaggerates when "evidence" is found and some past cast members have said that the producers encourage this and even have them re-tape reactions to some evidence. "Ghost Adventures" uses a lot of questionable equipment to investigate haunted places. When they seem to hear a disembodied voice through an EVP, the cast will repeat what they believe the words are a few times. Viewers who heard gibberish which could be debunked begin to hear the words that the investigators have interpreted.
Ego
Paranormal investigative shows are fun to watch, but as they go on, it seems that the cast can develop egos that add to the fun and excitement of the show but draws away from any seriousness attached to the investigations. Zac Bagans is a charismatic lead on the show. He instantly charmed us. We got to know him and he jokes around which is fun. He seems like a good investigator, but he also obviously hams it up for the camera. This makes "Ghost Adventures" an entertaining show to binge watch on a rainy afternoon, but I don't think many people would pay the price of a movie ticket to spend a couple of hours watching "Ghost Adventures" on the big screen.
The series is featured on "The Travel channel"
Let's face it, "Ghost Adventures" is not shown on the history or natural geographic channels. It's a staple series on the Travel channel. This is because it provides interesting places that viewers may want to visit. It's a fun adventure show to watch that takes you to interesting locations across the United States, Mexico and Europe. The show is successful because it's fun to watch. That doesn't necessarily translate to film.