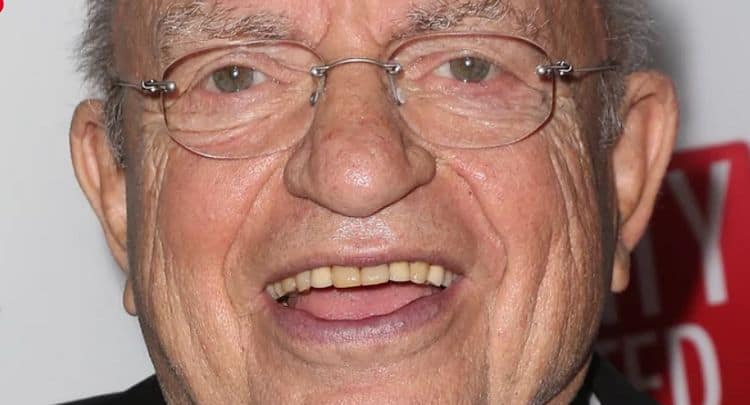 Even though we all know that death is an inevitable part of life, saying goodbye to someone is never an easy thing to deal with. Needless to say, countless people were saddened when news broke that legendary actor Lou Cutell had passed away at the age of 91. The talented star spent nearly 60 years in the entertainment industry and during that time he build a very impressive resume that included movie and TV roles. He was best known for his role in projects such as Alice and Pee-Wee's Big Adventure. Although he didn't always have the biggest roles, Lou left a lasting impression every time he stepped in front of the camera. Keep reading to learn more about Lou Cutell and his legacy.
Lou's Acting Journey
Lou was born in New York City, but he spent a good portion of his childhood in Los Angeles. Although we didn't find any information on what inspired him to become an actor, we do know that he began his career on the stage. In 1961, he was part of the Broadway production of The Young Abe Lincoln, and it didn't take long for other opportunities to start rolling in. He made his first on-screen appearance in 1964 in an episode of The Dick Van Dyke Show, and he continued to land minor roles in movies and shows. The amount of consistency Lou experienced over the years is one of the most difficult things to come by in the entertainment industry. Along the way, he also got the chance to work with some of the biggest names in the industry, and he earned their respect. No matter what kind of role Lou was playing, he always brought something special to all of his characters. He also had a level of versatility that allowed him to move seamlessly between genres. Lou's final on-screen appearance was in an episode of Grey's Anatomy in 2015. From what we can tell, he didn't have any projects in the works at the time of his death. In addition to his work as an actor, Lou was also an entrepreneur. He owned a men's clothing store called Le Dernier Cri (The Last Cry) which was located on Rodeo Drive in Beverly Hills. The store is no longer open although it's unclear exactly when it went out of business.
Lou's Legacy
One of the first sources to officially confirm Lou's death was Pee-Wee Herman's official Twitter account. In a series of tweets, Pee-Wee Herman shared heartfelt memories of his time working with Cutell. He wrote, "Besides my own film, my favorite thing Lou acted in was when he played an alien doctor in 1965's "Frankenstein Meets the Spacemonster." In real life, he was wonderful—sweet, caring and unassuming. He was also slyly and wickedly funny." Herman added, "Lou was surrounded by family who loved him when he passed. A couple of days before, I was lucky enough to be able to tell him how much he meant to me and that I'd never forget him. It's obvious and corny to say, but nevertheless true: he was amazing." Mark Furman, who was a friend of Lou's, also took to social media to express his sadness over the loss. In a post, he wrote, "After 91 years, and a great life, my friend Lou Cutell went home. A film, theater and character actor, member of the Academy Board of Governors. Big Larry in Pee Wee's Big Adventure, Ass Man in Seinfeld, Abe in Grey's Anatomy S12,E4. He took me to Lucille Ball's house in 1986. In the past few months, undergoing 3 days a week of dialysis at Cedar Sinai, Lou took a turn for the worse. He was to be home with family for Thanksgiving."
Even though Lou spent a good portion of his life in the entertainment industry, he was never someone who was obsessed with being in the spotlight. As a result, there is little information about his personal life available on the internet. We weren't able to track down any information on whether he was married at the time of his death or if he had any children. As of now, there has been no information regarding services. However, since Lou did like his privacy there is a good chance that his services will not be open to the public. While there's no doubt that his loss will continue to be felt by those who knew and loved him, his friends and family can also be comforted by the fact that his memory will live on forever through his work.
Tell us what's wrong with this post? How could we improve it? :)
Let us improve this post!