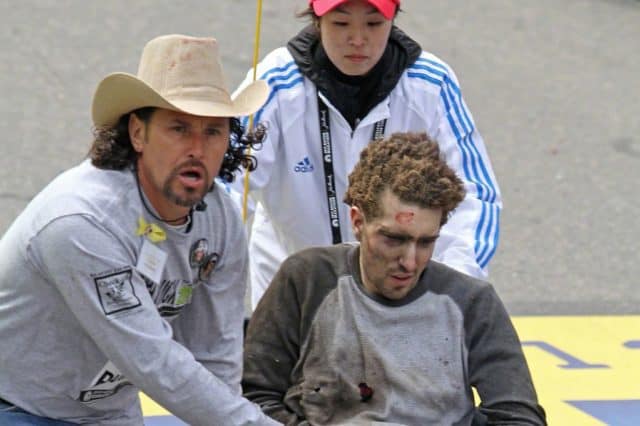 Jeff Bauman was one of the people who survived the Boston Marathon bombing. Due to that incident, he lost both of his legs but managed to make a recovery with the help of a wide range of people. In 2014, he released a memoir about the experience called Stronger, which has since been turned into a movie of the same name with Jake Gyllenhaal playing him.
Here are five things that you may or may not have known about Jeff Bauman:
At the Marathon to Cheer for His Girlfriend
In 2013, Bauman was standing at the finish line for the Boston Marathon so that he could cheer on his girlfriend at the time Erin Hurley and her roommates, who were competing in it. At the time when the bomb exploded, Hurley was still a mile out, while Bauman was caught by the blast. It was Carlos Arredondo who beat out the fire that had started up on Bauman's shirt before bringing him to the ambulance.
Provided Vital Clue to Investigators
While he was standing at the finish line, Bauman caught sight of a man in a cap, a hoodie, a dark jacket, and a pair of sunglasses who dropped a bag before leaving the scene. As a result, he was able to provide important information to the investigators about one of the two brothers who had carried out the bombing, which helped the police to narrow down their list of suspects in combination with other clues provided by other sources.
Given a Pair of Prosthetic Legs By Otto Bock
Bauman lost both legs because of the bombing. Afterwards, he was provided with a pair of prosthetic legs by Otto Bock, which are estimated to be worth around $100,000 per leg. For those who are curious, Otto Bock is a German manufacturer of prosthetics that has been a partner of the Paralympic Games since 1988 and will continue to be so until the end of 2020 at a minimum. Furthermore, it is famous for developing the Michelangelo Hand as well as the C-Leg, which boasts a computerized knee that can make automatic adjustments so as to better-suit the user's particular gait.
Is Not Wholly Comfortable with the Perception of Himself as a Hero
It is interesting to note that Bauman has had some struggles with the perception of him as a hero by the public. Instead, he has stated that he prefers to think of the people who helped him as the heroes, with examples ranging from his loved ones who stood by him to Carlos Arredondo, Allan Panzer, and other people who rushed in to help in spite of not knowing whether the scene was safe or not.
Bonded with Jake Gyllenhaal Via Shared Sense of Humor
As it turned out, Bauman managed to bond well with Jake Gyllenhaal through two things. First, they had respect for one another, as shown by Bauman citing one of Gyllenhaal's movies as being a huge inspiration when he was still a child and Gyllenhaal stating that he was somewhat intimidated by what Bauman had experienced before meeting him. Second, it turned out that they had a shared sense of humor, which is one of those things that help to make social interaction that much smoother.
Save
Tell us what's wrong with this post? How could we improve it? :)
Let us improve this post!