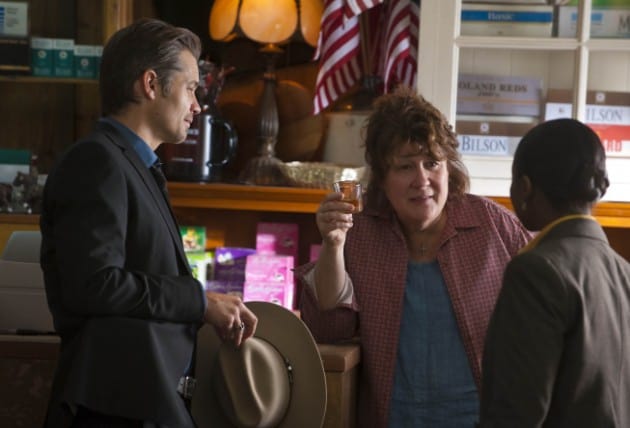 Justified returns to FX tonight to kick off its sixth and final season. I'll be covering the show all season long (and can't wait to watch and share my thoughts about tonight's premiere), but before Justified begins its swan song, I wanted to take a look back at the series and one of the things it has been most well-known for: crafting dangerous, dynamic, and, most of all, unique villains that have faced off against Raylan (Timothy Olyphant) each season. For the record, since Boyd (Walton Goggins) has essentially been a second lead throughout the series and will be the final foe that Raylan will find himself going up against in Season 6, he's ineligible to make this list. However, even without counting Boyd, there's no denying that Justified has provided us with some of the best "big bads" in modern TV history. Here's how they rank, from worst to best.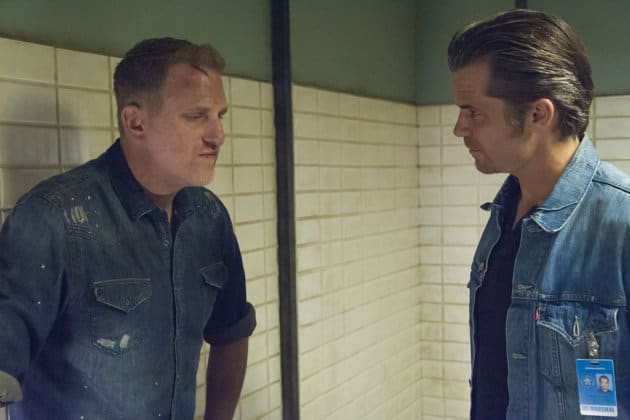 6. Daryl Crowe Jr.
Let's state the obvious: Justified's fifth season is the show's worst, and a lot of that is due to how weak the central antagonist of Daryl Crowe was. Sure, part of the problem was that Michael Rapaport was miscast as the Florida swamprat cousin of Dewey Crowe, but more of the blame lands on the Justified writing team, who never made Daryl stand out in anyway. He was a simple-minded, obnoxious thug, who inexplicably got the better of both Boyd and Raylan on more than one occasion. By the end of Season 5, he wasn't so much of a threat as he was a nuisance.

5. Bo Crowder
Bo Crowder wasn't a bad villain; he just paled in comparison to the charismatic cunning of his son, Boyd. Still, though, we can thank him for kicking the first season of Justified into high gear when he was released from prison, serving as our introduction to Harlan's wide-spanning criminal organizations and creating a better, more serialized version of the show. Plus, he's a part of the shootout in the Season 1 finale, "Bulletville," one of Justified's all-time best episodes, so that gives him some bonus points.

4. Nicky Augustine
Season 4 of Justified didn't really have a major villain, as it centered more on the mystery of who Drew Thompson was, and little-seen crime boss Theo Tonin's desire to find him. However, even if he didn't show up until the season's fifth episode, Mike O'Malley's Nicky Augustine made quite the entrance in his first scene (blowing a henchman's brains out in Wynn Duffy's Winnebago) and quickly became a huge threat to both Raylan and Boyd as they desperately searched for information on who Drew was. Also, in the Season 4 finale, Nicky's mission to kill Raylan, Winnona, and their daughter forced Raylan to make his most morally gray decision of the series, allowing for Sammy Tonin's men to assassinate Nicky. This choice has had lasting repercussions, forever changing the relationship between Raylan and his father figure and boss, Art.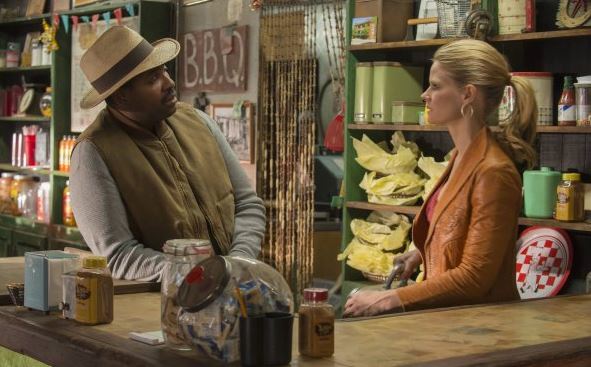 3. Ellstin Limehouse
I'm not sure if I would really classify Limehouse as a "villain," but he certainly was a major problem that Raylan had to deal with in Season 3 and Season 4. Limehouse is a complex character, and you're almost never sure of what he's going to do next. But one thing you can always count on is him protecting himself and the people of Noble's Holler. Mykelti Williamson does a fantastic job of giving Limehouse a type of fatherly warmth while never letting his sense of authority and ruthlessness fade away. Since he's the only member of this list that's still alive, I hope we see him again in Justified's final season.

2. Robert Quarles
Some critics weren't big fans of the eccentric Robert Quarles, who wreaked absolute havoc in Harlan during Justified Season 3, but I found him to be one of the show's most intimidating and memorable figures. Quarles was brash and unpredictable but never stupid, even when his increased drug use made him behave more erratically near the end of Season 3, and Neal McDonough was absolutely sensational in every scene he was in. The fact that he didn't get nominated for an Emmy for his performance still bothers me.

1. Mags Bennett
But someone who did get nominated and deservedly won an Emmy for her absolutely amazing performance on Justified was Margo Martindale, who played matriarch Mags Bennett, the central villain of Justified's second (and best) season. Mags is easily the most challenging and fierce foe (aside from Boyd) that Raylan has faced during Justified's run, as she was not only cruel and vicious (especially to her own family–remember when she took a hammer to Coover's hand?) but also deceptive and intelligent. And as we reflect on Justified's fantastic run during this final season, we should all raise a glass of Mags' famous apple pie moonshine and cheers to her memory, as her character helped elevate the show to new heights in its sophomore season, heights that Justified has yet to reach again. Here's hoping Season 6 can change that.
[Photos via FX]
Tell us what's wrong with this post? How could we improve it? :)
Let us improve this post!