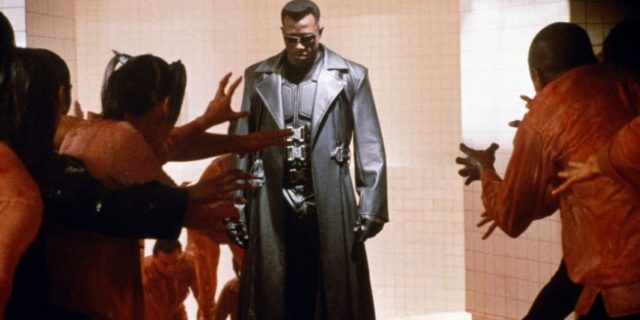 There were some great superheroes that came to the big screen in the 90's, and some that are still great but have gone through a few rough patches. In the 90's heroes were allowed to be edgy, brutal, and just off the wall awesome when it came to violence. They didn't have to worry so much about being PC or being family-friendly. Lately there's been a trend going around that's seeing superheroes going back to their roots and getting down with the violence when the moment calls for it, but the 90's were a time when it was just flat out crazy and over the top.
Those times aren't likely to come again, I think.
5. Robocop 2
The sequel to Robocop was in some ways better and worse than the original. There was a well-defined antagonist that didn't hide behind a faceless machine, kind of, but he was such an over the top villain that he was kind of goofy to be honest. Plus even as a machine it seemed like Cain couldn't kick his drug habit, as the robotic body actually seemed to run on the stuff thanks to the fact that Cain's brain was running it. Creepy.
4. Blade
The first Blade movie was awesome. From the opening fight scene to the last fight with Frost, where it got just a little corny. It was a new movie and a different type of hero on the big screen though so a lot was allowed by viewers. The no nonsense approach that Blade favored was a welcome break to simply jailing or somehow incapacitating the enemy. But then the sequel and the third film got made and it really went downhill.
3. Batman
Batman has always been a cool superhero and his legend thankfully hasn't been tarnished too much. But there are actors that should have never taken up the mantle and they know it at this point since it kind of marked their careers. Batman and Robin wasn't the best movie in the franchise, but then again neither was Batman Returns even though Michael Keaton played the role so perfectly.
2. The Crow
The Crow is another hero that doesn't adhere to the norm. He wasn't out for justice, he was out for vengeance and he took it. A lot of people tend to look up to fictional heroes because they do the 'right thing' by getting justice for the oppressed and those that have been victimized. However Erik Draven came back from the dead to exact the kind of justice that human nature has understood for a lot longer than what passes for justice now.
1. Teenage Mutant Ninja Turtles
It might seem odd to think that a movie in which the actors were wearing big rubber suits was actually more enjoyable than the current films that have been a CGI thrill ride. But despite the difference in effects and even the choreography the first TMNT movie was deemed authentic because they adhered to the overall appearance and mythos of the Turtles without going into any grand scheme that wasn't originally intended.
The superheroes in the 90's were simply there to do what they did best.
Tell us what's wrong with this post? How could we improve it? :)
Let us improve this post!