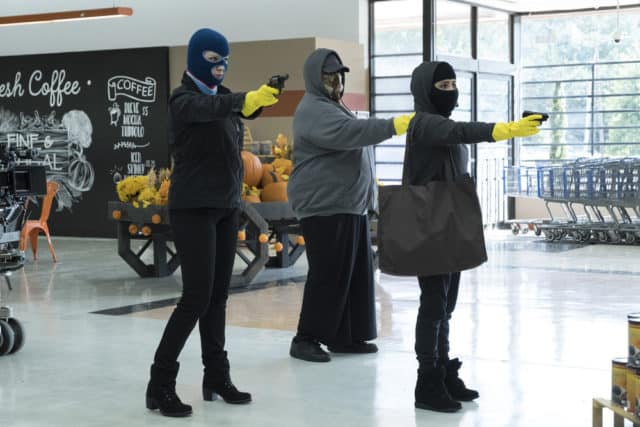 Retta (Parks and Rec, Girlfriends Guide to Divorce), Christina Hendricks (Mad Men), and Mae Whitman (Parenthood) team up in NBC's latest dramedy that features three mothers struggling to make ends meet and provide a better life for their families. When push comes to shove, they take drastic action and rob a grocery store. Unfortunately, things don't go as smooth as they planned and they end up in a bigger mess than originally expected.
The pilot starts off with giving background on the three women: Beth Boland — played by Christina Hendricks — is a stay at home mother whose husband is clearly cheating on her. He has eaten up their savings and their struggling. She needs to find a way to keep the roof over her kids heads and not kill her husband int he process. Ruby Hill — played by Retta — is a married mother of a sick child in need of an expensive treatment. Between her husband's job and her job at a diner, they don't have the funds for this treatment. She's a mother in desperate need trying to save her baby. And finally, Annie Marks — played by Mae Whitman — is currently sharing custody with her baby daddy and his new girl. He's planning on suing for full custody claiming she doesn't have it in her to take care of their kid. She works at the store and has the inside info into the layout and best ways of getting the money all three of them need.
What starts out as a joke, eventually turns into a plan. The three of them slowly but surely get to a point where they have to make a call and decide to just go for it. When they do pull off the plan, things don't go quite as planned. Their anonymous robbery ends up not so anonymous and they end up with way more money than expected. Where does a grocery store get their hands on money like that? Will they find themselves in the deep end?
This show features deep issues mixed in with comedic elements to highlight the actors brought on to carry out these roles. Brought to you by the creators of Grey's Anatomy and Scandal; this show is sure to keep you on the edge of your seats.
Tune into NBC on February 26th at 10PM to catch the pilot of Good Girls.