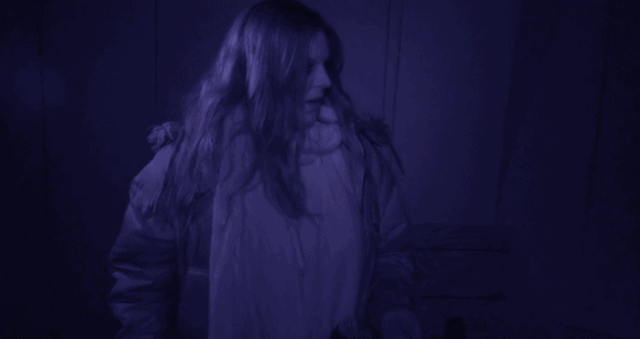 While we didn't cover Paranormal Lockdown's premiere last week, it was a huge hit for the Destination America network. The premiere last week on March 4th was watched by nearly 1 million viewers ranking Paranormal Lockdown as the highest rated series premiere ever in Destination America's history. In addition fans talked about the show more than almost any cable show on social media. It was the fifth highest tweeted about show during prime for cable (excluding sports) on Friday, March 4.
If you aren't familiar with the show, this is the official description from the press release from Destination America on Futon Critic:
In Paranormal Lockdown Nick Groff and Katrina Weidman push the limits of paranormal investigations by living in known haunted locations for an unprecedented 72 hours. Their belief that the longer they stay in the locations the more spirits will be willing to communicate with them is a strategy that has led them to capture groundbreaking and chilling evidence of the supernatural. In the premiere episode, they captured terrifying footage of a slithering entity that manifested into a figure, and future episodes have them being attacked, capturing distinct intelligent spirit voices, and inexplicable visual anomalies that are exposing the paranormal community to evidence that has never been discovered.
Here's what Destination America said about tonight's upcoming episode:
The second episode premiering tonight March 11 at 10/9c brings the two to the Anderson Hotel in Lawrenceburg, Kentucky. The spirits of some of the former flophouse residents, whose tragic suicides mirrored their bleak lives, are said to haunt the rooms. But among these spirits resides a dark entity, unleashing vicious attacks on the living. Over their 72-hour confinement their mental state deteriorates, and they risk physical and psychological harm to cast out the negative spirit… when suddenly something lashes out.
Here's something that lashes out. Me at this show! I'm scared enough as it is being a dad. Now I gotta see crazy stuff lashing out in Kentucky Hotels? Just kidding. Is this show addicting or what? I feel like it's even more addicting just to talk about which is clearly echoed by the show's astounding social media presence in only one week. It's like The Blair Witch project is back only this time the parties move from place to place and are basically scared the entire time, multiple times. Could I ever do a show like this? Nope, but watching it is fun. I cannot believe the courage it's gotta take to sit for 72 hours among the dead and spirits and all that stuff. Actually it might just be insane, not brave. Maybe a little bit of both?
I will say this. The closest I've ever been to a show like this was living in New Orleans for 4 years and hearing about the insane cemetery activity there. I can personally attest to being really freaked out every time I ate at Commander's palace which is right near a cemetery. Did anything happen? No but I can assure you if I sat there for 72 hours I'd have something to write about. I cannot wait for the show to be filmed somewhere in the bayou.
Anyway, here's a clip from Destination America to get you psyched for tonight.
Paranormal airs on Destination America on Friday nights at 10/9c.
Tell us what's wrong with this post? How could we improve it? :)
Let us improve this post!