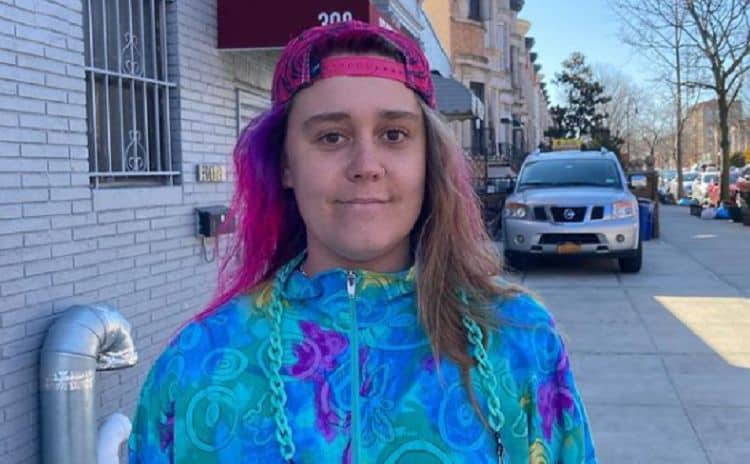 Nina Moran loves to skate and she always knew that it would take her places (literally and figuratively), but she probably never guessed that one of those places would be HBO. Nina broke into the spotlight in 2020 with her role as Kirt in the HBO series, Betty. The show focuses on a group of young skaters living in New York City. Despite not having much acting experience, you'd never be able to tell by watching her. Nina's portrayal of Kirt was smart, authentic, and fun. As fans get ready for the second season of the show, more and more people are interested in learning more about Nina. Keep reading to learn 10 things you didn't know about Nina Moran.
1. She Really Is A Skater
If you were wondering how Nina was able to learn so much about skating for her role in Betty, the answer is that she didn't have to. Nina is actually a skater in real life and she has been skating since she was 12-years-old. She told The Face, "The first skateboard I ever got was like a foot long – it was tiny. I found it in a yard sale in my neighbourhood with my mom. I was like, ​"Yo, I have to get it, it's a dollar." The other cast members in Betty are also skaters in real life. In fact, they were actually really a crew prior to doing the show.
2. Betty Wasn't Her First Acting Role
Many people will be surprised to know that Betty isn't the first time Nina got an acting opportunity. In 2018, she many of the other cast members from Betty were featured in a movie called Skate Kitchen. In fact, she essentially played the same character in the movie that she did in the show.
3. She Loves Inspiring Others
It goes without saying that skateboarding is a male-dominated sport and women are often discouraged from participating. Nina, on the other hand, is all for inspiring girls to get into skating and empowering them to know they can be successful. A lot of her social media content is even dedicated to highlighting women skateboarders.
4. She's A YouTuber
For those who are fans of Nina's the good news is that you won't have to wait until Betty comes back to see her again. She has a YouTube channel where she posts vlogs and other videos. Although she has just over 1,300 subscribers, her channel has gotten more than 8,000 views.
5. She's An Animal Lover
There are dog people, there are cat people, and then there are people like Nina who simply love animals. She has a wide variety of pets including mice and a bearded dragon. Her love for more exotic pets is another thing that she and her character in Betty have in common.
6. She's A Rapper
Skating isn't the only thing that Nina loves doing. She's also really into music and is an aspiring rapper and music has become a great way for her to deal with her anxiety. While talking to The Face she said, "Sometimes I record freestyles and post them on Instagram for, like, a second."
7. A Conversation On The Subway Led To Her Acting Opportunity
Sometimes the best opportunities in life come from the least expected places. That was exactly the case when Nina and her friends were discovered by director Crystal Moselle. Apparently, Crystal heard Nina talking on the subway and noticed that she and her friends were carrying skateboards. Crystal approached them and asked if they would be interested in doing a short film.
8. She's Very Active On Instagram
While it doesn't appear that Nina has any aspirations to become a social media influencer, she is a pretty active Instagram user. She posts skate clips on a regular basis and she also shares pictures and videos of her pets. She currently has more than 23,000 followers on the platform.
9. She's All About Good Vibes
Life isn't always easy and it can be easy to get discouraged and fall into a trap of negativity. Nina, however, does her best to avoid those feelings as much as possible. Nina is a laidback person and she's all about being around positive and spreading good vibes to everyone she comes in contact with.
10. She's A Private Person
Despite now being in the spotlight, Nina doesn't have any interest in sharing every detail of her life with the public. So far, she hasn't revealed much information about her personal life. Almost everything we know about her relates back to skating, and there's a very good chance it'll stay that way.