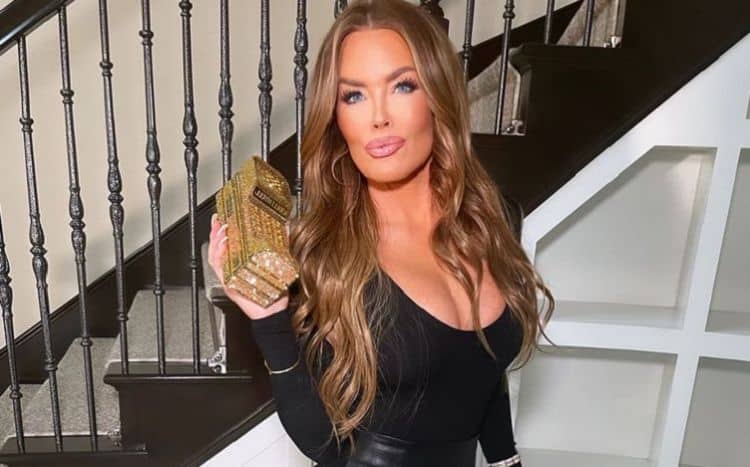 When the "Real Housewives of Orange County," is on television, they do bring the drama. There has not been a moment in 16 seasons in which one of these California women is not upset with another woman, and it's an entire situation. This season, it's a cast member by the name of Nicole James who is in the hotseat. You might not recognize her name because she's not in the season 16 credits, but she is rumored to have been the third of the brand-new cast members joining veteran housewives Heather DuBrow, Shannon Beador, Gina Kirschenheiter, and Emily Simpson – but she's been demoted. Why? And, who is she?
1. She's a Friend
We only know her because she is a friend of Heather Dubrow at the beginning of the new season. The women discuss her a little in the first episode, but it seems that she gets around. There is a rumor that she's been demoted because of something that happened with Heather, and we are going to find out if it is true.
2. Her Name is Causing some Controversy
It seems that when she's introduced, there is a little friction over her last name. Heather Dubrow has known her for eight years, and she's known her as Nicole James the entire time. However, it seems cast member Shannon Beador has known her for more than 15 years, and she never knew her by the name James. She's always known her as Nicole Weise. Emily, on the other hand, explains that she feels Nicole James/Weise/Whatever has simply been married so many times no one knows her name.
3. She Has a Son who Acts
What we do know about Nicole is that she is a mother. She has a son who is an actor, and he is based primarily in Los Angeles. Her son is Blake Weise, but it is unclear whether he lives with his mother, his father, or if he lives elsewhere when he is in LA working.
4. Her Daughter Goes to School with Shannon's
Her connection to Shannon Beador is strictly child-related. Her eldest daughter went to school with Sophie Beador when they were tiny tots in preschool. That's how the two met. Lauren and Sophie were simply classmates way back when.
5. Her Other Daughter Knows Heather's Daughter
Her more recent friendship with Heather also has to do with her children. Her youngest daughter, Presley, is the same age as Heather's daughter, Collette. They were in a class together when they danced many years ago. This made the two moms dance mom friends.
6. She Sued Heather's Husband
The rumor about her demotion stems from the fact that she allegedly decided to sue Dr. Terry Dubrow, the man married to Heather Dubrow, the father of her four children, and the love of her life. Allegedly, Nicole James decided to sue him because of a bad breast implant job he did, but we cannot verify anything at the moment.
7. She Is Not Married
Well, we cannot verify that she is not married, but there is no mention of a husband anywhere. She does post some photos of a man she appears to be dating, but she's not sharing a photo of him since the summer of 2021 on a date night outing. At the moment, it appears she might just be a single mom.
8. She's Financially Secure
Maybe not in the OC, but to many, her estimated net worth of $1 million is promising. She's estimated to have a net worth of $1 million as of 2021, but again, we cannot verify whether this is an actual amount or simply a guestimate online.
9. No One Seems to Know What She Does
What does Nicole James do for a living? We honestly don't know. She doesn't list herself as anything particular on her Instagram biography – she actually says nothing at all. She has approximately 7,000 followers, and she seems to have no desire to share what she does for a living with any of them. However, she does share a myriad of personal information online, such as the names of her kid's schools, their teachers, and more. It's not the safest thing to do.
10. She is a Mystery
Aside from photos of her kids and their home, their travels, and her ensembles, she's not sharing too much private information about her own personal life. She's not sharing her love life, whether or not she is married, dating, or single, or anything about how she earns a living. She's a mystery to most.