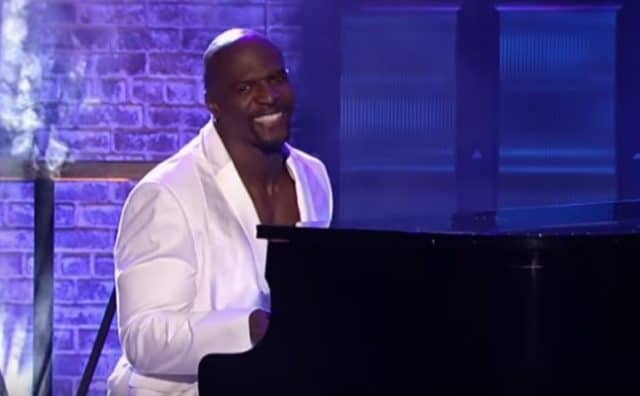 I had to stop it midway through Tyson's bit because I was just laughing too hard. Terry Crews and his pec-popping performance was interesting and pretty funny but Tyson coming out and just going off the wall nuts without really doing much to stay with the music was too much, I just had to bust up. Lip Sync Battle is something that you wouldn't have ever thought would be a good idea for a show after the few scandals that have been seen to strike several artists throughout the years. However making it into something fun is paying off since the show has managed to nab some of the greatest celebrities from around the music and film industries to come on stage and strut their stuff.
Hosted by LL Cool J and Chrissy Tiegen the show is basically just a big spoof that allows actors to come onstage and belt out whatever song it is that's been picked in order to see if they have what it takes to lip sync to the tune and make it look good. Some actors have done such an awesome job that you could barely tell that they weren't singing save for the fact that it wasn't their voice. Others, like Tyson, come out and do what they can for about a couple of seconds and then in the spirit of having fun seem to forget that they kind of need to mouth the words at least. It's okay though, it's still a lot of fun just to watch them come out and do their thing.
Terry Crews for instance is a big, muscular dude that looks downright scary if he's not in a good mood, and yet he's singing a song that's been easily labeled as a tune that's favored predominantly by adolescent girls. The point is that he seems like a man's man and wouldn't normally be caught dead singing such a song. But as he states at the end of the song he has a wife and four daughters, so there's a lot of estrogen in the house that can't really be escaped. Plus, a man's man is big enough to admit when he needs to get in touch with his feminine side in order to get along in his own home. Give Terry a lot of props, this song is definitely not masculine in any way but he pulls it off in a very awesome performance. Plus, if you ever watched the movie White Chicks then you might realize that he actually sang this song in that movie as well.
Tyson, sigh. He came out with a lot of energy at least and was definitely getting into it, but Tyson has never been much of an actor and that's a good part of what this show is, acting like you know the words. Hey, he's having a good time and is trying so that's what matters right? It's still just funny to see him bouncing around the stage like this as he does his absolute best to deliver the song and make it sound just as it did when Salt N Pepa were still hot.
https://www.youtube.com/watch?v=NCxdfCydeq0