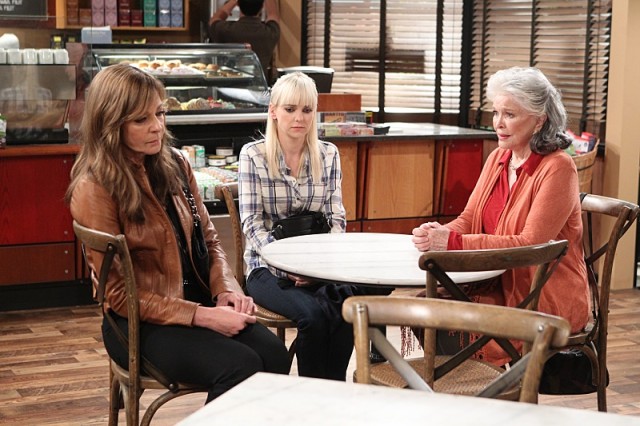 In the current television Golden Age we're living in, there are a lot of shows effectively blurring the line between the traditional comedy and drama genres, led by series like Fargo and You're the Worst. Mom might be the most challenging blend of all, a studio sitcom that refuses to lower itself to the common denominator of its genre counterparts. While it certainly adheres to traditional joke construction and story progression, Mom is anything but a typical comedy, using its humor more like a tool to help navigate much darker, emotionally challenging issues like alcoholism, depression, mortality – and in the case of this season's terrific premiere, finding inner peace.
When Bonnie's biological mother Shirley tracks down her and Christy through a private investigator, Bonnie finds herself facing the very source of her emotional problems: the mother who gave her up when she was four, leaving her in the system after her father died in a motorcycle accident. Bonnie doesn't know these details when she first hears of Shirley, of course, and "Terrorists and Ginger Bread" takes its time bringing the pain of Shirley and Bonnie's distant past to the surface in the present. But when it does, it delivers a touching, heartbreaking story that really digs into the core of Bonnie's character and the pain she's carried her entire life since she found out her mother didn't want her anymore.
Of course, there are plenty of reasons Shirley has for why this happened. Like Bonnie back in the show's pilot, there's a lot of apologizing and explaining happening from mother to daughter, a nice callback to Mom's roots, bringing one of the show's core conflicts full circle in an interesting way. Bonnie can't bring herself to forgive Shirley, especially after Shirley tells her she eventually moved in with a man who wanted nothing to do with children; as much as Bonnie tries to face her mother and support Christy's desires to explore what's left of their puny family tree, she can't get over the resentment she's harbored for the last five decades of her life. So she starts running, but as she realizes after running 18 miles out of town, ignoring or avoiding this conflict is only going to drive her back to the dark places she entered in the middle of Season 2 after Alvin's death, a fact helped along by Marjorie's always-poignant guidance.
What it leads to is another heartbreaking Mom climatic scene, one where Bonnie works through her anger for her mother and forgives her, but leaves her without offering the chance at reconciliation Shirley desires in the last few months of her life. Not only does her impending death set up another challenging death arc for Mom this season, but it also has stakes in the short-term, ending the episode with the sounds of Shirley crying behind the closed door of her house, while Bonnie walks away, a picture of her and her dead father in her hands. It shows just how hard the idea of true forgiveness is: even when we know it's something we have to do in order to save ourselves, it doesn't make it any easier. Letting something simmer for five years is emotionally damaging enough; letting it rest dormant in one's subconscious to sabotage a life for decades is an entirely different internal conflict, and one Mom handles with a predictably even keel.
With no major presence of any secondary cast member besides Marjorie, Mom's third season begins in a very focused place, 22 minutes centered on the interplay between three generations of Plunkett/Stabler women, showing one reconciled relationship (an always-precarious one, as Christy always reminds us) in the hope of fostering another, helping to bring peace to Bonnie and Christy both as they reconnect with what roots and branches of the family tree they have left. And like it often is on Mom, it doesn't make for a particularly hilarious affair, but as arguably the darkest comedy on television (though this season's You're the Worst is challenging for that title), Mom's difficult balancing act remains on full display in "Terrorists and Ginger Bread," with a mastery of tone so many shows on television (in both genres) direly lack.
[Photo credit: Sonja Flemming/CBS]
Tell us what's wrong with this post? How could we improve it? :)
Let us improve this post!