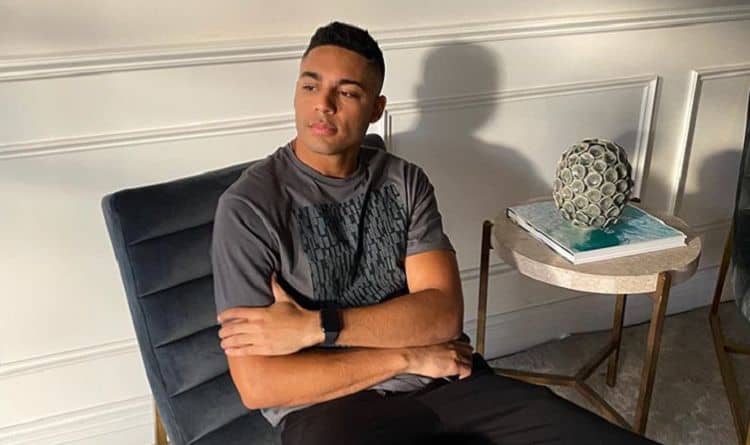 Michael Evans Behling bagged his first television role in "Empire" but has now cemented his television career with a supporting role in "All American." His dream is to be cast alongside his biggest influences, including Denzel Washington, and Leonardo DiCaprio. As for this year, Michael is hoping to get a recurring role television role or be cast in a film but before then, let's learn how he got into acting in the first place, among other details.
1. He gave up on acting when he was a child
Lupita Nyong'o said that every dream is valid, but not everyone will push you towards achieving yours; some are there to water it down instead of fuel it. Michael knew from an early age that he would like to be an actor when he grew up therefore when the teacher asked them to write an essay about who they would like to be in future he penned down his dream. Unfortunately, the teacher demoralized him, which made Michael choose to study sciences instead when he went to college.
2. Why he reconsidered pursuing acting
Michael's dream of becoming an actor remained a mirage until he saw the incredible performance of the late Heath Ledger in "The Dark Knight." Heath's portrayal as the Joker in the film remains one of the best of all the actors who have ever booked the character. For Michael, the film became his inspiration; thus, he reconsidered pursuing acting as a profession. He was so thrilled by the Joker's performance that so far he has watched the movie at least 100 times.
3. What he would study if he returned to college
It is not the first time to hear of a person who dropped out of college to chase their dream. However, the question remains if they would still be interested in going back and what they would study if they did. Michael left college, where he was studying a pre-med course, to get into entertainment. Although he believes acting is the right career path, if he were to return to school, he would get a business degree that would enable him to understand finance and taxes better.
4. He is involved in welfare programs
Michael grew up on a 10-acre piece of land where he learned to enjoy the outdoors. His family kept animals, and as Michael watched how they enjoyed roaming freely, he came to appreciate that animals too deserve a place to call home. Therefore he is an avid supporter of animal welfare programs. As for mental health awareness, Michael has had some dark days and knows that we cannot afford to label anyone based on what we see. He advocates for people to be more empathetic and check on friends and family reasoning that some are wearing smiles, but deep down, they are hurting.
5. The qualities of his ideal woman
Idealism does not exist, but that does not mean we cannot dream of finding our perfect match. Michael's soulmate would be a woman who has a sense of humor since he likes making people laugh. Additionally, she must be open enough to talk about anything with him, which also adds to the point of communication. After a hectic schedule, Michael would appreciate someone he can come home to and talk to about his day.
6. Other things he looks for in a woman
Whenever a woman walks into a room, the first thing that Michael will notice is her eyes before moving on to her teeth which have to be nice; otherwise, he will not even approach her. If they start talking and Michael notices that she is lying, that becomes an automatic deal-breaker; he likes to have someone he can completely trust. However, if you have set your eyes on him, Michael declared that he is already taken in his interview with xoNecole.
7. Why he did not pursue athletics professionally
Michael has always loved anything to do with the outdoors, and that included sports; therefore, when he joined college, he ran track and field at what he refers to as the highest amateur level. He was so good at running the 400m hurdles at Indiana State University that it might have been an alternative career. Unfortunately, when he broke his foot twice and had two extensive surgeries, he told Avant Magazine, that he had to give up on athletics.
8. He is a model
After injuring his foot, Michael's mother suggested that he should try modeling, which he did. So immediately after leaving Indiana State University in his sophomore year, Michael got himself an agency that landed him several commercials with leading brands such as Adidas, White Castle, Finish Line, Macy's among others. His favorite campaign to this day is the one he did for Macy's and Finish Line because it was shot in Indiana, his hometown, and he got along well with the team. His shirtless look shows someone who regularly works out, and Michael agrees that he has to portray his football star role in "All American."
9. That time he slept on the floor
They say nothing worth having ever comes easy, so we have to keep holding on even in the face of adversity. Michael knows this all too well; when he moved to Los Angeles, he had run out of money thus could not afford to rent his own place. Consequently, he stayed with a friend and slept on the floor trying to save every dollar that came his way, according to The Republic. After a while the actor had enough money to buy an air mattress. Still, his comfort once again was cut short when the mattress got punctured.
10. He has a clothing line
Michael is an enterprising young man who is ready to make a fortune not just through acting and modeling but in business as well. He uses every chance he gets during his interviews to let the public know that he has a clothing line, Designed at 5AM, for which he opened an Instagram account. He utilizes the social media platform to advertise his products which ranges from raincoats, hoodies, quarter-zip neck sweaters, embroidered shirts and many more.