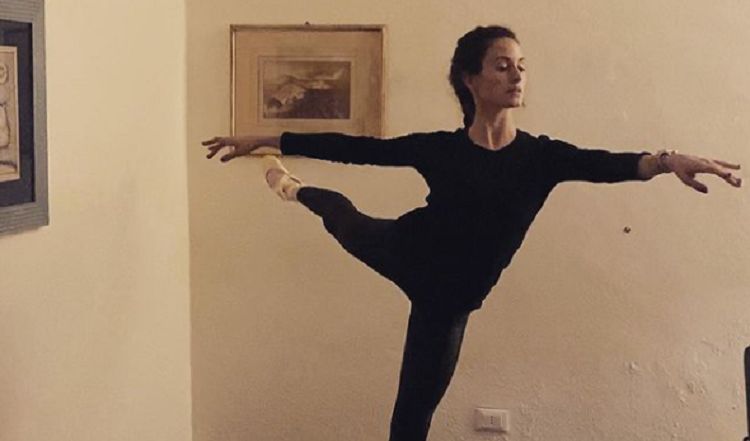 When Mick Jagger takes a personal family photo, the world takes notice. In July 2021, he took a rare photo with his long-time girlfriend and four-year-old son in which the three were embracing, and it's safe to say the world took notice. But, who is his long-time girlfriend? The legendary rock star and his lady love have been together a long time, they have a baby together, and we still know very little about her. If you're new to Melanie Hamrick, we can tell you just who she is – the mother of 77-year-old Jagger's four-year-old son and so much more.
1. She's Young
The thing about Melanie Hamrick is that she is quite young. She's 34 to Jagger's 77 – a 44 year age gap. She was born in 1987. She's younger than many of her boyfriend's own children. She spent her life training as a ballerina, and she spent it focusing on her own career. Dancing is how she met Jagger in the first place back in 2014.
2. They've Been Dating a Long Time
This is a couple that met back in 2014. They've been together more than seven years now, but they keep their relationship very quiet, very much to themselves, and very much in their own world. They do very little in a traditional sense, but they seem to make it work, and they seem quiet happy with the way things are going in their relationship.
3. Her Mother Isn't Totally on Board
According to a 2016 article posted by the Daily Mail UK, her own mother is not entirely thrilled that her own daughter was dating a man who is 44 years her senior. In fact, her daughter's boyfriend is several years older than even she is. It's a big age difference, but at the end of the day the rest of us aren't living in their shoes and, therefore, don't really have any reason to care.
4. She Met Jagger in Japan
He was on a tour with the Rolling Stones in 2014 in Japan when Jagger met Melanie. He was in a relationship with the exceedingly famous L'Wren Scott at the time, but she took her own life only three weeks after the date Jagger and Melanie met. He met Melanie in February, his girlfriend ended her life in March, and he and Melanie were photographed getting cozy on his hotel room balcony in Zurich that June.
5. She's a Ballerina
She is not just any ballerina, though. She's a top dancer in the United States, and she's recognized across the world. She is classically trained, and she has focused her entire life on her dancing. She is quite good, and she's made it very clear that dancing is her passion.
6. She's A Mom
She was 30 when she welcomed her son with Jagger His name is Deveraux. They welcomed their son four years ago after they'd been dating a few years. Their little boy has seven siblings thanks to Jagger's seven other children, and they are as old as 50.
7. She Keeps Her Life Private
Melanie keeps her private life very private, and that is something she's been doing since day one. She features a lot of her work and her son on her social media channels, but she often shares very little about Jagger. The fact that she shared a family photo of the three of them recently was enough to send the world into a frenzy.
8. She Does Not Live with Jagger
Despite the fact that he bought her a nearly $2 million home in Sarasota, Florida, in 2020, the couple does not live together full time. They are sometimes together as a family, but Jagger lives and works across the world and maintains homes in many areas of the country. They are not together often due to his work schedule and touring and her own dance schedule.
9. She's From Virginia
Melanie Hamrick was born and raised in Virginia alongside her parents and her sister. She began her training at the Chamber Ballet and later attended the University Ballet Academy as a scholarship student. Her training is extensive. She has been dancing her entire life, and she's widely recognized as one of the best.
10. She's with the American Ballet Theater
She joined the ABT back in 2003. She performed regularly with the theater, and all of her performances were sponsored. She has dozens of shows and performances to her name, and each one is better than the last.
Tell us what's wrong with this post? How could we improve it? :)
Let us improve this post!