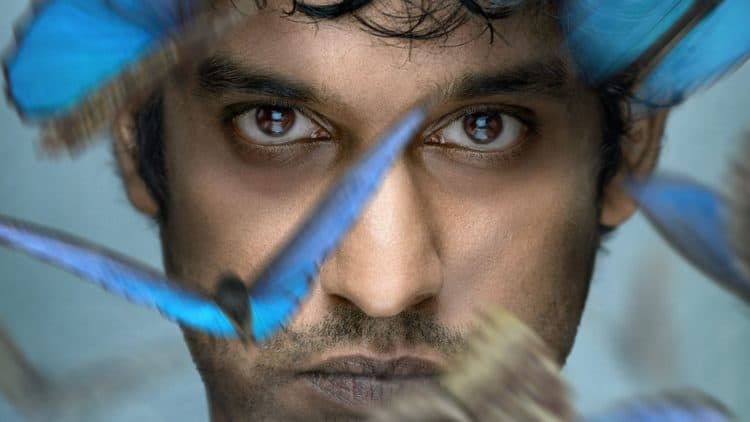 Originally released in April of 2021, Wakefield was a psychological mystery that quickly took viewers by storm. After the rights to the show were acquired by Showtime, Wakefield was released in the United States and it became even more popular. The show centers around a psychiatric hospital where a nurse begins to question his own mental state after working at the facility. Although Wakefield deals with some heavy subjects, the show also has a comedic side. Despite lasting for just eight episodes, Wakefield left a lasting impression on many people. The show also provided a great platform for many talented actors who we hope to see more of in the future. Keep reading to learn more about the cast of the Showtime series Wakefield.
Rudi Dharmalingam as Nik Katira
Rudi Dharmalingam was born and raised in England where he fell in love with acting at an early age. He was a member of the National Youth Theatre when he was younger and he went on to study performing arts at the University of Salford. He made his first on-screen appearance in 2003 and he has been a consistent presence ever since. Outside of acting, Rudi is a pretty private guy so there aren't many details out there about his personal life.
Geraldine Hakewill as Dr. Kareena Wells
Born in France, Geraldine Hakewill relocated to Switzerland with her family when she was less than a year old. She moved around several times before settling in Australia. We weren't able to find out how Geraldine fell in love with acting, but we do know that she received formal training from the Western Australian Academy of Performing Arts. She earned her first on-screen role in 2010 in a movie called Wasted on the Young. She spent the majority of her early career doing movie roles before she became more active on the small screen. In addition to acting, Geraldine is also a singer who performs under the name Geri.
Harry Greenwood as Trevor
Harry Greenwood has been acting for a little more than a decade, and during that time he has worked hard to build a solid resume. Things started to really take off for him during the early 2010s, and they have been going up since. Prior to Wakefield, he was known for his role in shows like Operation Buffalo and Bad Mothers.
Bessie Holland as Tessa Knight
Bessie Holland was born and raised in Australia and she has aboriginal roots. She made her TV debut in 2014 with a recurring role in the popular series Wentworth. Although she has less than a dozen acting credits at the moment, it's clear that she has a bright future ahead of her. She recently appeared in a mini-series called The Tourist which debuted in 2022.
Shapoor Batliwalla as Rashaal
If there's one thing that everyone knows about the entertainment industry, it's that nothing is ever guaranteed. As a result, there are many actors who struggle to find consistency and it appears that Shapoor Batliwalla has been one of them. Despite starting his career in the late 1980s, Shapoor took a more than 10-year hiatus between the 90s and early 2000s. Since 2003, he has been working sporadically, and being cast in Wakefield has been one of his biggest roles to date. In addition to acting, Shapoor is also an author who has released two books.
Dan Wyllie as James
Dan Wyllie is one of the most experienced actors in the cast of Wakefield. Not only has he been in the business for more than 30 years, but he has a very impressive on-screen list of on-screen credits that includes TV and movie roles. On top of all of the success he's had on screen, Dan has also had a solid theater career. Wyllie has also done some work behind the scenes as a writer. While he doesn't have any projects in the works at the moment, we feel confident that we'll be seeing a lot more of Dan in the years to come.
Victoria Haralabidou as Cath
Born and raised in the Soviet Union, Victoria moved to Greece as a teenager. She started working professionally in the late 90s although it took a few years for her career to take off. While performing is what she is best known for, Victoria also enjoys telling stories from the other side. She is a playwright and she just finished a new project in 2021. Victoria currently lives in Australia.
Alicia Gardiner as Jennifer
Alicia Gardiner is a formally trained actress whose range is undeniable. From the screen to the stage, Alicia always knows how to put on a good performance. Some of her credits prior to Wakefield include Offspring. In 2017, she also wrote two episodes of St Francis which is a show she also had an acting role in. When she isn't busy with work, Alicia loves spending time outdoors, traveling, and hanging out with friends and family.
Miritana Hughes as Seffa
Miritana Hughes is originally from New Zealand, and he is of Maori descent. He studied at the Western Australian Academy of Performing Arts where he graduated in 2000. Just a few years after, his career started to take off when he was cast in Julie Taymor's production of The Lion King. Although he also started doing on-screen work in the early 2000s, he didn't get a significant role until 2019 when he was cast in a TV series called Preacher. Like many of the other cast members, Miritana is a private person.
Mandy McElhinney as Linda Crowley
Mandy McElhinney was born and raised in Australia and she fell in love with performing at an early age. Unfortunately, though, her reason for wanting to put on a show wasn't exactly heartwarming. As a child, she was bullied for having red hair and she decided to become the class clown as a way to deflect. During her teenage years, she took acting and dance classes. Her on-screen career started in 1994 and her career really started to take off in the early 2000s. Although American viewers may not be familiar with Mandy outside of Wakefield, she is well known in Australia for being in shows like Love Child and Squinters. Mandy's younger sister, Hayley, is also an actress.
Felicity Ward as Collette
Felicity Ward is a multi-talented performer who started her career making people laugh as part of a sketch comedy show called The Ronnie Johns Half Hour. In the late 2000s, she moved into stand-up comedy where she found a good deal of success and comedy continues to be what she is best known for. Outside of Wakefield, she doesn't have a lot of TV experience, but that hasn't stopped her from putting on great shows every time she gets in front of the camera. Unfortunately, Felicity doesn't have any upcoming tours and she also doesn't have any acting projects in the pipeline. That said, we know it won't be long before she's working on something.
Sam Simmons as Pete Seaman
Sam Simmons is another Wakefield cast member whose career has been mostly focused on comedy. Like Felicity, he was also a cast member in The Ronnie Johns Half Hour. While it's clear that making people laugh is what he loves to do, Sam also has lots of range. Not only is he a great performer, but Sam is also a talented writer.
Guy Simon as Mr. Invisible
Guy Simon is an Australia native who has aboriginal roots. He studied acting at the National Institute of Dramatic Art (NIDA) in Australia. He only has a handful of acting credits, but those who have seen him work would never be able to tell. He is a talented actor who brings something special to every role he plays. Guy also has lots of theater experience and it's clear that the stage is his first love.
Nadie Kammallaweera as Jeshna
Nadie Kammallaweera's acting journey began more than 20 years ago, and she has been on quite a rollercoaster ride during that time. She got her first significant opportunity in 2016 when she was cast in The Young Pope. Although her work has been somewhat sporadic, we are hoping that more regular opportunities start to open up for Nadie. While she doesn't come from a family with a history of acting, Nadie isn't the only creative Kammallaweera. Her father is a well-known Sri Lankan writer named Jayathilaka Kammallaweer.
Monica Kumar as Renuka
Monica Kumar is a natural and she never has any issues lighting up the screen. Wakefield was her first big acting role, but she handled the opportunity like someone with lots of experience. On top of her live-action work, Monica has also done voice acting. Additionally, Monica didn't just act in Wakefield, she is also listed as a production assistant.
Richie Miller as Omar
Richie Miller's role in Wakefield was his first on-screen opportunity. Unfortunately, there doesn't seem to be much information online about Richie. This is probably due to the fact that he doesn't have much acting experience on top of him being a naturally private person. Hopefully, we'll be able to learn more about him in the future.
Tell us what's wrong with this post? How could we improve it? :)
Let us improve this post!