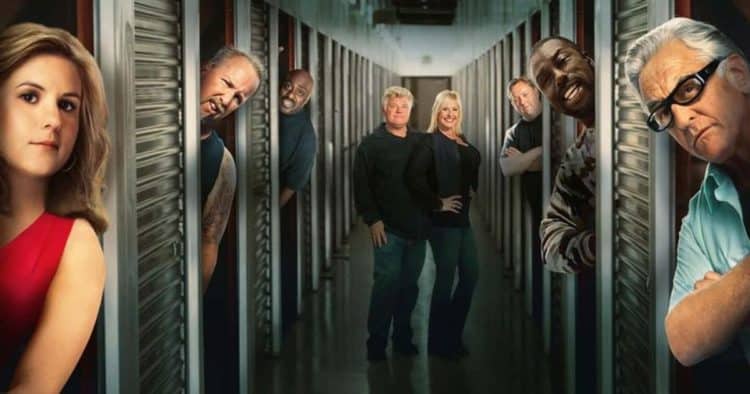 We've all heard the saying 'one man's trash is another man's treasure', but Storage Wars takes that idea to a new level. The series follows a group of people who make their living by bidding on abandoned storage units with the hopes that they'll be able to sell whatever's inside. These auctions can get pretty intense, and sometimes they don't result in anything valuable. Even if you're not the kind of person who likes to rummage through other people's old belongings, Storage Wars has an addictive quality that makes it easy to get sucked into. Now in its 14th season, viewers are excited about seeing the bidders in action once again. Keep reading to meet the cast of season 14 of Storage Wars.
Darrell Sheets
Darrell Sheets has been a cast member since season one and he's still going strong. Darrell is the type of bidder who isn't afraid to take big risks. While some bidders shy away from risky behavior, Darrell has seen lots of his decisions pay off in major ways over the years. He has become a major fan favorite because he brings a lot of excitement to the show. Although he no longer collects things, he's still passionate about what he does and it's a skill he hopes to pass down. It'll be interesting to see what kinds of storage units he decides to go after in the new season.
Brandi Passante
When Brandi Passante started her journey on Storage Wars, she was working with her ex-boyfriend, Jarrod Schulz. However, Jarrod didn't return to the show after he was charged with domestic violence between seasons 13 and 14. Brandi isn't letting any of that stop her, though. She is back and better than ever. Even though she's working alone, Brandi seems prepared and confident. Outside of the show, Brandi and Jarrod look to have gone their separate ways and her social media activity shows her living her best life and getting ready to enjoy her next chapter. She even got a tattoo of the word "free" on her finger to symbolize her taking control of her life after the relationship. Many fans have expressed how happy they are that Brandi is taking care of herself.
Rene and Casey Nezhodas
There are some people on Storage Wars who prefer to bid alone, but others work better in pairs. Married couple Rene and Casey Nezhodas are prime examples of teamwork making the dream work. Since joining the cast during season four, Rene and Casey have been excited to share their journey with the world. They are the proud owners of a thrift store and they are always looking for new items. Rene is known for being extremely knowledgeable and he always knows exactly how to make the most out of a deal.
Kenny Crossley
Kenny Crossley didn't join the show until season 10, but it didn't take him long to become a fan favorite. Even though he's relatively new to the world of bidding on storage units, Kenny learned the ropes from the legendary Barry Weiss and he does his best to put those lessons to good use. This season, he seems to be developing a tight bond with Brandi so it'll be interesting to see if the two decide to start bidding together at some point. Outside of the show, Kenny is a musician and he is also the host of a podcast. Since being on TV, he has also built a pretty solid following on Instagram that includes more than 30,000 people.
Ivy Calvin
Ivy Calvin has been around since the early days of Storage Wars and he has almost 20 years of experience bidding at auctions. Ivy owns a store called Grandma's Attic and he's all about finding the perfect items for his customers. He's even willing to travel to find the best deals. Ivy is well known for being the kind of bidder who doesn't play any games. He comes to each auction with a goal and he doesn't deviate from the plan. Outside of the show, Ivy is pretty quiet when it comes to his personal life and he doesn't post very often on social media.
Dan and Laura Dotson
Dan and Laura Dotson are another husband and wife team who become TV stars thanks to Storage Wars. Unlike the other people on our list, however, Dan and Laura aren't bidders – they're auctioneers. Their skills on the mic are extremely impressive and they have been in the business for almost 40 years. Not only do they help make the auctions possible, but they are also a great addition to the show.
Tell us what's wrong with this post? How could we improve it? :)
Let us improve this post!