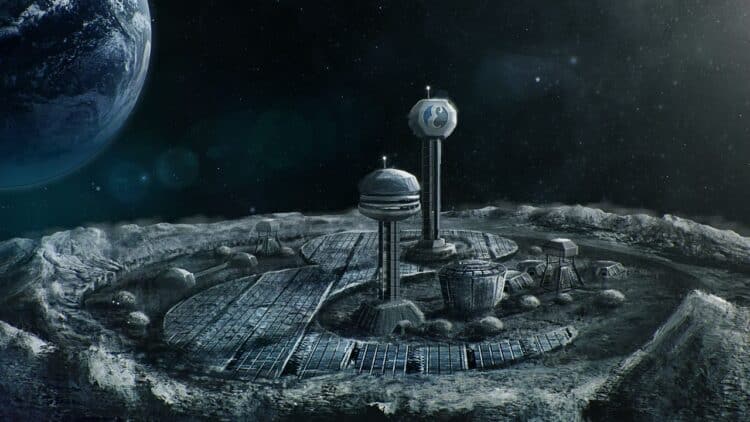 AMC+ is set to drop a star-studded series in June, and it has the perfect recipe to become the next biggest sci-fi series of the year. Moonhaven is scheduled to premiere on AMC+ later this year, and this ambitious project is helmed by TV veteran Peter Ocko, who creates, writes, and executive-produces the show. Ocko is best known for his work on shows like Pushing Daisies, The Office, The Leftovers, Elementary, Black Sails, and most recently, Lodge 49. Here is a description of the plot of the show, according to Deadline: "The suspense thriller focuses on Bella Sway, a lunar cargo pilot and smuggler 100 years in the future who finds herself accused of a crime and marooned on Moonhaven, a utopian community set on a 500 square mile Garden of Eden built on the moon to find solutions to the problems that will soon end civilization on Mother Earth. A skeptic in Paradise, Bella is sucked into a conspiracy to gain control of the artificial intelligence responsible for Moonhaven's miracles and teams with a local detective, Paul Serno, to stop the forces that want to destroy Earth's last hope before they are destroyed themselves." Moonhaven is an intriguing addition to AMC+'s profile and one that sci-fi fans are anticipating. It also features an exciting cast of characters. If you are interested to learn about the actors set to appear in this show, look no further. Here are the cast members of the upcoming AMC+ sci-fi series Moonhaven.
Joe Manganiello
Joe Manganiello will be starring in the upcoming AMC+ sci-fi series Moonhaven. He will be playing the character of ex-military man Tomm Schultz. The Hollywood hunk is best known for his role in the Magic Mike movies, but his breakout role was as Alcide Herveaux in the hit HBO series True Blood. Manganiello's most recent movies include Rampage, Drunk Parents, Bottom of the 9th, The Sleepover, Archenemy, Shoplifters of the World, Zack Snyder's Justice League, The Spine of Night, and most recently, Metal Lords. On TV, he's worked on Big City Greens, A.P. Bio, Bubble Guppies, No Activity, and The Big Bang Theory. Manganiello is also best known for being the husband of Modern Family alum Sofia Vergara. In an interview reported by People, Manganiello detailed his first encounter with the bombshell, saying: "As we're walking around, who comes swooping down in front of us for about 100 yards is Sofia Vergara," he said. "She was wearing this dress that looked great on her, and I just could not take my eyes off of her."
Emma McDonald
Relative newcomer Emma McDonald will be starring in Moonhaven alongside Hollywood superstar Joe Manganiello. She had previously worked on The Picture of Dorian Gray. The U.K.-based actress came into prominence for her role in the stage production of Pride and Prejudice at the Sheffield Crucible theater.
Dominic Monaghan
Dominic Monaghan has been confirmed to join the cast of Moonhaven. Most people would recognize the British actor from his role as Meriadoc "Merry" Brandybuck in the Peter Jackson film trilogy The Lord of the Rings. The first Lord of the Rings was his film debut. More recently, he had appeared in movies like Star Wars: The Rise of Skywalker, Edge of the World, Mute, Atomica, and Radioflash. He is set to appear in the upcoming movie Last Looks, which is currently in post-production. On TV, he's appeared on shows like Sofia the First, A Midsummer's Nightmare, Bite Club, and The Legend of Vox Machina. Monaghan has also had some extensive video game work. Aside from voicing his movie character in the Lord of the Rings games, he also voiced and acted in motion capture for Quantum Break and Call of Duty: Vanguard.
Kadeem Hardison
Kadeem Hardison will be joining the cast of AMC+'s latest sci-fi series Moonhaven. He will be playing the role of Arlo Noon in the series. He is best known for playing Dwayne Wayne in the sitcom A Different World, which is a spinoff of The Cosby Show. The actor's more recent film work includes B.C. Butcher, Queen of Hearts, The Christmas Pact, Paddleton, and Psych 2: Lassie Come Home. On TV, he worked on shows like Supernatural, Black Monday, Teenage Bounty Hunters, and Grown-ish.
Amara Karan
Amara Karan will be playing the role of Indira Mare in the upcoming series Moonhaven. Karan gained recognition for her film debut role in The Darjeeling Limited, playing the role of Rita. Since then, she's appeared in movies such as St. Trinian's, The Task, All in Good Time, A Fantastic Fear of Everything, Jadoo, Those Four Walls, and The Death and Life of John F. Donovan. Karan also has an extensive TV resume, having appeared in shows like Goodness Gracious Me, Stan Lee's Lucky Man, The Night Of, Bancroft, The Twilight Zone, and Midsomer Murders, Currently, she stars in Hope Street, playing DC Leila Hussain. In an interview with Interview Magazine, Karan was asked whether there was one project that opened doors for her, and she responded with the movie that made her famous: "The Darjeeling Limited. I noticed when that film came out—also I was in St. Trinian's at the same time—the scripts were flooding in from America. It was a really cool, interesting time. It was a huge international platform. That film is shot in an exotic country and it was released all around the world, but it's got Americans in it, and it's got a fantastic script and story behind it. Like The Night Of, which I feel will do [the same] for me again. People all around the world can invest in this story. Even though it's very quintessentially New York, American, there's so much in it for all of us to invest in."
Ayelet Zurer
The American Israeli actress first garnered the attention of worldwide audiences after Steven Spielberg cast her as Eric Bana's wife in the Oscar-nominated film "Munich." She's since starred opposite Tom Hanks in the box office hit "Angels & Demons" for director Ron Howard and in "Man of Steel" opposite Russell Crowe among others. More recently starred in the title role of the Apple TV+ original limited series "Losing Alice" for which critics have lauded her performance as "brilliant," "a work of art" and a "nuanced tour de force," transitioned into Netflix's fan favorite, "You," and next stars in AMC's "Moonhaven" limited series (July 7th Premiere)
Tell us what's wrong with this post? How could we improve it? :)
Let us improve this post!