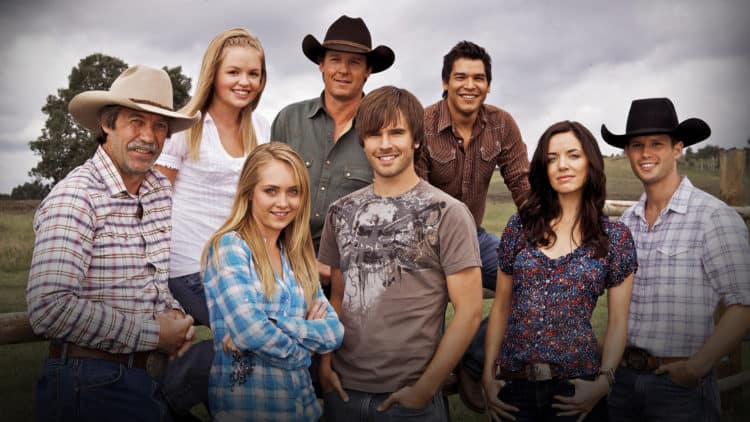 When the series Heartland debuted in 2007, no one could've imagined that it would still be growing strong a decade and a half later. In fact, the series is officially Canada's longest-running drama. The show is based on the book series of the same name and it centers around the Fleming family and life on their ranch in Canada. During its time on the air, Heartland has become a fan favorite and it's proven to be the kind of show that has a little something to offer everyone. Now in its 15th season, the series is still going strong and the story still has a lot left to offer. Although many of its cast members weren't that well known beforehand, being on the show has turned them into stars. Keep reading to learn more about the cast of season 15 of Heartland.
Amber Marshall as Amy Fleming
Amber Marshall was born and raised in Canada and she got into the entertainment industry at an early age. She was only around 12 years old when she made her on-screen debut in a TV series called Super Rupert. She continued to earn minor TV and film roles throughout the early 2000s. However, being cast in Heartland has been a major break for her. Since being on the show, her fan base has grown tremendously and she has reached people all over the world. Outside of acting, Amber is an equestrian who has been riding horses for most of her life. Needless to say, she spends a lot of time outdoors during her free time.
Ruby and Emmanuella Spencer as Lyndy Marion Borden
Ruby and Emmanuella Spencer may be just four years old, but they've already shown that they have what it takes to steal the show. The adorable identical twins made their on-screen debut in Heartland and we have a strong feeling we'll be seeing a lot more of them in the years to come.
Michelle Morgan as "Lou" Fleming Morris
Michelle Morgan has been in the industry for more than 20 years and during that time she has earned the respect of her colleagues and the admiration of viewers. However, even though she had a long career before Heartland, the TV show is her biggest role to date. On top of the work she's done as an actress, Michelle is also a writer, director, and producer.
Shaun Johnston as Grandpa Jack
Shaun Johnston is a formally trained actor who spent years honing his skills as a performer. All of the hard work he's put in has certainly paid off, and he has a long and successful career to show for it. His resume has more than 80 acting credits and he has been part of some very well-known projects. In his time away from work, Shaun is a diehard hockey fan.
Jessica Steen as Lisa Stillman
With two parents who are professional actors, the apple certainly didn't fall far from the tree when it came to Jessica Steen. She was still in elementary school when she started her acting career. Although many people who enter the industry as children struggle to find success as adults, that hasn't been the case with Jessica. Prior to Heartland, some of her credits include NCIS and Flashpoint.
Kerry James as Caleb Odell
Like many of the other actors in Heartland, the series is Kerry James' biggest opportunity so far and he has made the most of it. During his time on the show, he has become a fan favorite, not just for his acting talents but also for his good looks. Kerry is an outdoors kind of guy and you can usually find him enjoying the beauty of nature.
Madison Cheeatow as Jade Verani
Madison Cheeatow is a talented actress who brings something special to every scene she's a part of. Her role as Jade Verani in Heartland has given her the chance to share her talent with a wide audience, and she has become a star along the way. While acting is high on her priority list, nothing means more to her than family. She is a devoted wife and mother of two and she loves spending time with her loved ones. Madison is also the host of a podcast called Who's Knocking.
Aidan Moreno as Rick Adderly
Unlike many of the other cast members on the show, Aidan is originally from England. Thanks to the success of Heartland, however, he has become recognizable to people all over the world. Aidan is also a talented musician who has released an album called My Kind of Trouble.
Ava Tran as Parker Yang
Ava is a newcomer to the Heartland cast, but she is already proving to be a great addition to the cast. Even though she's just 12 years old, but she can hold her own with no problems. When talking about her character, Ava told CBC, "We are very much alike because I care about the environment, I have strong opinions about things. And she's 12 and I'm 12. And yeah, it's just really cool to just put my own ideas into my character".
Tell us what's wrong with this post? How could we improve it? :)
Let us improve this post!