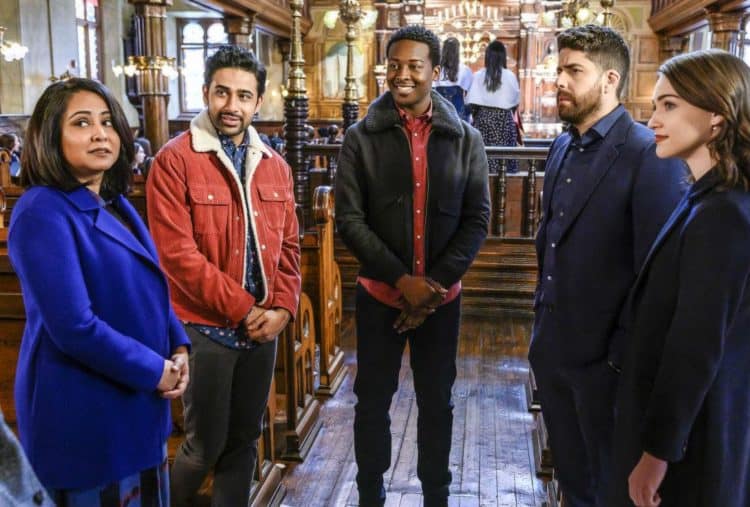 'God Friended Me' is a comedy-drama series that was co-created by Steven Lilien and Bryan Wynbrandt. It is about a podcaster called Miles who is an atheist and a podcaster. He is sent a friend request from an account called 'God' on Facebook. 'God' sends him friend suggestions, and all these people need help and live in New York City. The first friend is a doctor who has lost a patient and nearly loses his girlfriend. The second person he meets is a struggling magazine writer called Cara who he befriends. Cara and Miles' hacker friend try to help him discover who is behind the 'God' account. The series was launched on May 2018, and season 2 premiered on September 29, 2019. Here is your chance to meet the cast of "God Friended Me."
Brandon Michael Hall
The lead role of atheist podcaster Miles Finer is played by Brandon Michael Hall. He television work for which he is best known is 'Search Party' and 'The Mayor'. He has also appeared in several films, including 'Cecile on the Phone', 'Monster Party', and 'Lex Bomb'. Before turning professional, he studied drama at Juilliard School in New York City.
Violett Beane
Car Bloom is played by Violett Beane, who is an American actress who is originally from St. Petersburg, Florida, although she grew up in Austin, Texas. Her first television role was as Taylor in 'The Leftovers'. She has also had roles in television series including 'The Flash', 'Chicago P.D.', 'The Residents', and 'Legends of Tomorrow'. IN films, she has had roles in 'Slash', 'Tower', 'Truth or Dare', and 'Flay'. Beane is passionate about animal welfare. She is a vegan and has posed nude in support of this lifestyle for PETA. She was brought up as a Quaker.
Suraj Sharma
Suraj Sharma plays the role of Rakesh Singh, who is a hacker and a friend of Miles. Singh is a BAFTA-nominated actor who shot to fame when he starred in the film 'Life of Pi'. This Indian actor was born in New Delhi, India. Since starring in 'Life of Pi', Sharma has had roles in many other films. Some of these include 'Million Dollar Arm', 'Burn Your Maps', 'The Hungry', and 'Killerman'. Prior to 'God Befriended Me', Sharma has only appeared in one other television series. This was 'Homeland', in which he played Aayan Ibrahim for seven episodes between 2014 and 2015.
Javica Leslie
Ali Finer, Miles' sister, is played by Javica Leslie. She is a German-born actress who moved to Maryland when she was young and then was raised close to Washington D.C. Her first major role was playing the lead in the television film 'Killer Coach'. She has also worked in series including 'McGyver', 'Prototype', and 'Chef Julian'. Leslie has also worked extensively in theater. She loves keeping fit and athletic activities as some of her hobbies include swimming, dance, track sports, boxing, Muay Thai, and fitness training.
Joe Morton
The character Reverend Arthur Fine is Miles' father and he is portrayed by Joe Morton. This actor is sometimes linked to director John Sayles, as he has appeared in three of Sayles' films; 'The Brother from Another Planet', 'City of Hope', and 'Lone Star'. Morton has had roles in many other movies. These include 'American Gangster', 'Stealth', 'Terminator 2: Judgement Day', 'Apt Pupil', 'Of Mice and Men', 'Paycheck', and 'Ali'. In television, he is best known for playing Eli Pope in 'Scandal'. He won a Primetime Emmy Award for Outstanding Guest Actor in a Drama Series for his performance in this series.
Erica Gimpel
Erica Gimple is probably best known for playing Coco in the international hit series 'Fame'. Other television series in which she has had roles include 'Profiler', 'ER', 'House', 'Criminal Minds', 'Boston Legal', 'Veronica Mars', 'Touched by an Angel', 'JAG', and 'Santa and Pete'. Gimpel has also enjoyed a successful career in the film industry and has become a successful singer and songwriter. In God Befriended Me', she is playing Arthur's girlfriend Trisha. This was a recurring character in season one but is now a main character for season two.
Parminder Nagra
One of the recurring characters in season two is Pria, who is played by Parminder Nagra. This English actress shot to fame when she played Jess Bhamra in the 2002 film 'Bend It Like Beckham'. She is also known for playing Dr. Neela Rasgotra in ER from 2003 to 2009. Nagra has also had roles in 'The Blacklist' and 'Agents of S.H.I.E.L.D.'. She was in a seven-year relationship with photographer James Stenson before they married in 2009. In the same year, she gave birth to their son Kai David Singh Stenson.
Rachel Bay Jones
Another actress with a recurring role is Rachel Bay Jones, who is playing Susan. This actress and singer has enjoyed a successful career in musical theater. In the 2013 Broadway revival of 'Pippin' she played Catherine. She then played Heidi Hansen in 'Dear Evan Hansen', for which her performance earned her the 2017 Tony Award for Best Featured Actress in a Musical. 'God Friended Me' is he first television role. However, she had already played Beth in the 2018 film 'Ben is Back'. Jones' also has a role in the 2019 film 'Critical Thinking' and appears in two 2019 episodes of 'Modern Family'.
Kyle Harris
Kyle Harris is playing the role of Eli. Harris is an actor, singer, and dancer who began his career in entertainment in 2007, and has worked on Broadway and on television. The television role for which he is best known is Cameron Goodkin on the Freeform series 'Stitchers', for which he was nominated for a Teen Choice Award. However, he has also had many smaller roles in multiple television series and short films. In 2019, he married Stefanie Brown.