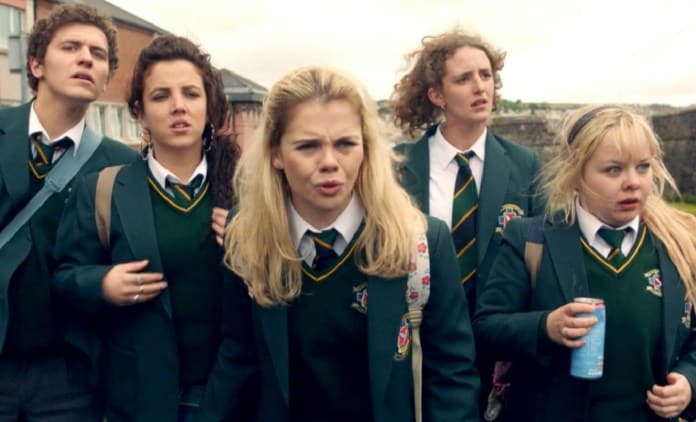 Derry Girls, a show set in '90s Northern Ireland, tells the story of four girls who attempt to live as typical teenagers despite the political turmoil happening in their hometown of Derry. While each of them is indirectly affected by The Troubles, the conflict happening in Northern Ireland during the time, they are more concerned about their personal insecurities and everyday struggles as teenagers who are only starting to understand themselves. Vox called the show the "best teen show out right now," writing: "The magic of this show is in the way it allows its teenage girls (and James) to experience the embarrassing indignities and awkwardness of being teens, through its story of growing up in extraordinary times and trying to not let those extraordinary times negate a teenager's right to live a hilariously ordinary life." The show has already released two seasons, delighting us with the antics of Erin, Orla, Clare, Michelle, and James. In anticipation of its upcoming third season, which is supposed to be its last, here's an introduction to the cast of characters for anyone who may be new to the nostalgic TV series.
Saoirse-Monica Jackson
Saoirse-Monica Jackson plays 16-year-old Erin Quinn, the primary protagonist of Derry Girls. An idealistic woman who envisions herself as a literary genius, Erin is usually ambitious but is often shut down by her family and friends. In an interview she did with The Guardian, the publication took note of the striking difference between her character and Saoirse-Monica in real life. "As Erin, she's become famous for her contorted facial expressions – snub nose wrinkled, lips curled, eyes rolling to suggest unfettered contempt, lust, or the deep sense of injustice central to being a teenager. In person, Jackson is unsurprisingly rather more contained: quick to smile and laugh, but also thoughtful, even cautious." Outside of Derry Girls, Saorise-Monica Jackson has appeared in shows like The Five, Broken, and The Crystal Maze. In 2020, she appeared in two episodes of Urban Myth. On the big screen, she's made appearances in Liverpool Ferry, Finding You, and Coffee Wars. Jackson is set to make her DC debut appearance in the movie Flash, which is currently in post-production and promises to release in 2022.
Louisa Harland
Louisa Harland plays Orla McCool on Derry Girls, Erin's eccentric and oblivious cousin. On film, she's appeared in major productions, like Standby, Sunday Tide, Boys From County Hell, and Lost in London, which starred and was directed by Woody Harrelson. On TV, prior to joining the main cast of Derry Girls, she played roles in Love/Hate, Doctors, Harley and the Davidsons, Eden, and Finding Joy. In 2020, she played a character for episodes of The Deceived. In an interview she did with the Belfast Telegraph, Harland explained the complications of doing comedy as a young woman entertainer. "It is so terrifying being a woman and doing comedy because there's this belief that women are not as funny. I think the fear of doing comedy as a woman is huge. So definitely if people find what you do funny, that is very gratifying."
Nicola Coughlan
Nicola Coughlan plays Clare Devin, one of Erin and Louisa's best friends. Perpetually anxious and rule-conscious, Clare Devin almost always pours cold water on her friends' exploits, always anticipating dire consequences for misbehavior. Aside from her role in Derry Girls, Coughlan is perhaps most popularly known for her much-acclaimed role as Penelope Featherington in the hit Netflix show Bridgerton. In an interview she did with Radio Times, Coughlan revealed that she cried while reading the script for Season 3 of Derry Girls, the show's last. "I don't think I can say much about specific things like about James and Erin, but I think there's no way people are going to be disappointed. It's really magical. I cried and cried and cried when I finished reading the scripts. Because, you know, it's our last one. It's bittersweet, but I think we're sending it off in style."
Jamie-Lee O'Donnell
Jamie-Lee O'Donnell plays Michelle Mallon, another member of Erin and Louisa's gang. Uncouth and promiscuous, Michelle is often depicted as the purveyor of their group's misbehavior. Prior to joining Derry Girls, O'Donnell had a regular role in the Northern Irish drama 6Degrees, appearing in the show for a total of 18 episodes. She is set to appear in a lead role for the TV movie Screw, which will premiere this year. On the big screen, she makes an appearance in the upcoming romantic drama Redeeming Love, starring Abigail Cowen. In an interview, she did with the Irish Independent, she said that her role in Derry Girls had made people assume she's a party girl. "They expect me to be wild," she said, "and a lot of them end up buying me shots and want to video me drinking them. And I'm thinking, 'It's not that sort of night.' I think people are shocked that I'm a lot quieter than they thought. They think I'm going to be this really boisterous and wild person but I'm not really."
Dylan Llewellyn
Dylan Llewellyn plays James Maguire, Michelle's cousin and the only boy in the group. Often mistreated for being English, James eventually wins everyone's hearts and becomes, as Michelle tells him, a Derry girl himself. Before joining Derry Girls, Dylan played a role in the British soap opera Hollyoaks, appearing in the show for a total of 94 episodes. Llewellyn is set to appear in the biographical drama series Pistol, portraying Sex Pistols guitarist Wally Nightingale. GQ caught up with Dylan Llewellyn in 2019 to ask him about his work on Derry Girls. He explained to the magazine how he snagged the role of James Maguire. "I was doing part time work in a little coffee shop—actor's life, I guess—and my manager was rooting for me to do well. So, I got the call during work and told him it was my agent and he goes, "Go!" I nicked outside and got the green light. Ever since watching The Inbetweeners I had always wanted to get into a comedy series and that dream came true then. Everyone in the cafe was quite happy for me, and they also said I would always have a place there."
Tell us what's wrong with this post? How could we improve it? :)
Let us improve this post!